BIFF take 3 families from North Cotabato town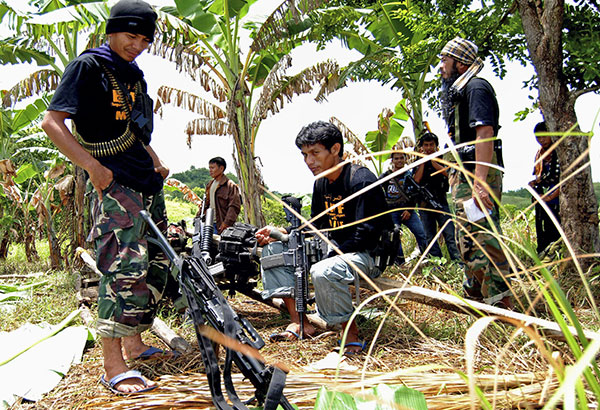 NORTH COTABATO, Philippines — Members of the Bangsamoro Islamic Freedom Fighters have been holding captive since Wednesday morning three families snatched amid firefights with barangay tanods in Pigcawayan town.
The Army's 602nd Infantry Brigade confirmed on Wednesday afternoon that BIFF gunmen who laid siege to Barangays Simsiman and Malagakit in Pigcawayan, North Cotabato took the families.
The brigade, which operates in North Cotabato province, said in an advisory that the bandits are using the captives as human shields to prevent soldiers from getting close to their positions.
Some 300 BIFF bandits attacked the two barangays after dawn Wednesday, provoking a running gunfight with volunteer community watchmen and local militiamen.
Five bandits were reportedly killed while two local members of the Citizens Armed Forces Geographical Unit, Resty Segundera and Angelo Verona, were wounded in the initial exchanges of gunfire.
Two other BIFF groups looted houses and took farm animals left by barrio folk who fled in haste when gunshots and explosions reverberated through their villages.
Classes in public schools in the conflict-stricken barangays and nearby areas were immediately cancelled by principals on order of Mayor Eliseo Garcesa, Jr., chairman of the Pigcawayan municipal peace and order council.
Capt. Arvin Encinas, public affairs officer of the Army's 6th Infantry Division, told The STAR that personnel of the 34th Infantry Battalion will restore government control to the besieged Barangays Simsiman and Malagakit.