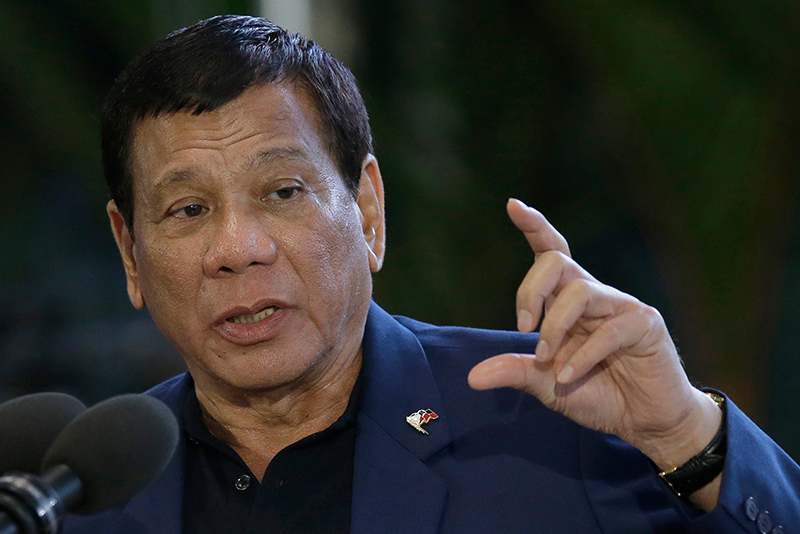 President Rodrigo Duterte previously claimed that the Maute group has links with the IS, which adheres to an extremist interpretation of Islam and promotes violence against non-Muslims. He said wanted terrorist Isnilon Hapilon has been named leader of the IS in the Philippines and is seeking to establish a caliphate in the country. AP/Aaron Favila
IS leader ordered Marawi siege – Rody
(The Philippine Star) - June 11, 2017 - 4:00pm
Maute assets seizure pushed
MANILA, Philippines - The leader of the Islamic State (IS) himself ordered the siege of Marawi City, which has been ravaged by prolonged clashes between government forces and Maute militants for the past three weeks, President Duterte said yesterday.
Speaking to reporters in Cagayan de Oro City, Duterte said IS leader Abu Bakr al-Baghdadi "specifically ordered the conduct of terroristic activities in the Philippines."
"We had known all along the buildup here in Marawi. That is why if you were tracking my statements in public, (what I said) was, 'Do not force my hand into it.' Because there were already terroristic acts… the victims were innocent men and women and children," Duterte said.
"We suffered several casualties. I did not expect it to be that serious. Now, lumabas na si Baghdadi mismo (it turned out that Baghdadi himself), the leader of the ISIS, has specifically ordered terroristic activities here in the Philippines," he added.
Duterte previously claimed that the Maute group has links with the IS, which adheres to an extremist interpretation of Islam and promotes violence against non-Muslims. He said wanted terrorist Isnilon Hapilon has been named leader of the IS in the Philippines and is seeking to establish a caliphate in the country.
The Philippines was a bit complacent on the looming threats in Mindanao, according to the President.
"But the military and the police, they warned me that it has become critical in Mindanao," he said.
Duterte also took a swipe at critics of his decision to declare martial law in the entire Mindanao region, calling them "fools."
"Alam mo kung hindi talaga bobo 'yan mga oppositors (if they were not fools), you know, you have to declare martial law in southern Mindanao," he said, adding that the militants could always slip to Lanao del Norte and Basilan to evade government forces.
"Now, they are on the run. You have to pursue them. And if they are collared, they might just opt to (sow) terror. Bombings here, bombings there."
Duterte claimed that the drug problem was used to divert the government's attention away from the terrorists.
"Sabi ko, nilululong mga tao natin sa droga. Dito sa Mindanao, 'yung Maute, simpleng pangkaraniwang negosyante. 'Yun pala, sige sila produce ng shabu para magkaroon ng problema ang gobyerno at ma-divert ating attention (They are trying to make drug addicts out of our people. In Mindanao, we thought that the Mautes were just simple businessmen. It turned out, they were producing shabu, so the government can have a problem and be distracted)," he said.
"So, habulin natin ang drugs, pero 'di natin alam na what was fueling, ang nagbibigay ng gasolina sa terrorism ay ang droga (So, let us chase drugs but we did not know, what was fueling terrorism is drugs)."
Stop money flow
Senators yesterday asked the authorities to seize or freeze assets of the leaders and relatives of Maute militants to stop the flow of money reportedly funding the operations of the IS-linked terror group in Mindanao.
Sen. Panfilo Lacson, chairman of the Senate committee on public order and safety, and Sen. Francis Escudero, chairman of the Senate committee on banks and financial institutions, cited laws that can be used to stem the flow of funds to the Maute group.
"The Human Security Act, as amended, shall apply, although seizure of assets in favor of the government can only be accomplished after due process, meaning only the court can order the same," Lacson said, referring to the country's anti-terrorism law enacted in 2007.
Escudero said the Anti-Terrorism Financing Act of 2012, the Anti-Money Laundering Act, as well as forfeiture laws, can be applied to members of the Maute clan or suspected financiers.
"Those businesses connected to the Mautes should be seized and frozen so that all sources of funding for their terroristic activities should be blocked," Sen. Joseph Victor Ejercito said.
Authorities in the past days have arrested leaders of the extremist group, including the parents of its founders Abdullah and Omar who have been caught carrying bundles of cash and were found to be operating or owning several business establishments.
Security officials said the Maute group appeared to be well-organized and have access to funding.
Last Friday night, Maute matriarch Ominta Romato was arrested in Masiu, Lanao del Norte as she was trying to escape along with two wounded men and seven women.
Romato, also known as Farhana, is the first wife of Cayamora Maute and mother of brothers Omar and Abdullah. Farhana and Cayamora, who was arrested earlier by government forces, are said to be the masterminds behind the Maute operations.
Civilians reported Romato's presence in Barangays Unda Dayawan and Tamboro Cormatan, both in Masiu town, after she was seen buying vehicles and firearms days before the attempted getaway from Lanao del Sur.
Her reported safehouse was in Dayawan but she was arrested in Tamboro Cormatan.
An M-14 rifle, four rifle grenades, two improvised explosive devices and an undetermined amount of cash bundled with Landbank money bands were recovered from the vehicle that she and her group used to try to escape.
Romato is said to be a fiercely astute businesswoman and politician.
She reportedly manages several business interests, including renting out several buildings in Quezon City and other key cities in the country.
She is also said to have administered the Maute-owned houses in Iligan, Cotabato and Davao cities.
Armed Forces of the Philippines - Eastern Mindanao Command deputy commander Brig. Gen. Gilbert Gapay said Romato "has so many houses" that if Cayamora is considered "big fish" in the Maute group, Romato is an even bigger fish.
"Romato is the mastermind of the Maute group, the couple have all the money. It is important that she should also be arrested," Gapay said.