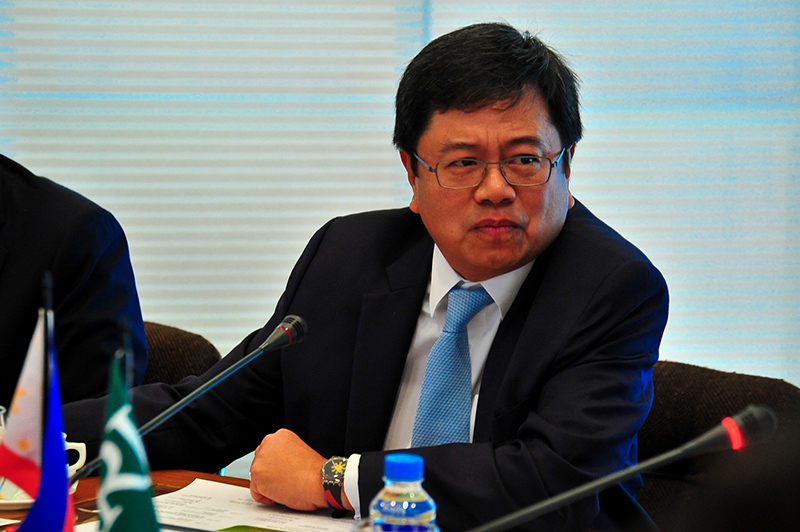 BPI president and CEO Cezar Consing also assured clients that the bank's system was not hacked but only suffered a "glitch" as it "picked up the wrong file" Tuesday evening. IRRI, file
MANILA, Philippines - An "internal processing error" in the system of the Ayala-led Bank of the Philippine Islands (BPI) caused panic and confusion yesterday.
Incoming Bangko Sentral ng Pilipinas (BSP) governor Nestor Espenilla Jr. said the system of BPI, the third largest bank in the country, was not hacked.
Espenilla also said the BSP would investigate the incident as BPI gave assurance the problem would be fixed immediately and no one would lose money.
"We'll investigate as soon as the dust settles and customers are made whole," he said in a text message yesterday.
BPI president and CEO Cezar Consing also assured clients that the bank's system was not hacked but only suffered a "glitch" as it "picked up the wrong file" Tuesday evening.
"This is a data processing glitch. I have to emphasize: this is not a hack at all. This is an internal issue, and so what we have to do is we had to take our systems down this morning," he said in a television interview.
In a separate advisory, BPI said it has identified an internal system error that caused some transactions occurring between April 27 and May 2 to be double-posted as of June 6.
"We have identified the root cause of this error, and are temporarily suspending access to electronic channels to speed up rectification," BPI said.
"We anticipate full resolution of this error within today. We wish to reassure our clients that this matter will be resolved expediently and that none of them will lose money from this incident," the bank added.
BPI senior vice president Catherine Santamaria maintained that the listed bank has the highest security standards amid rumors that it was a bout of hacking or scam that affected its system.
"Let me emphasize to the public: there is no money that physically went in or physically went out. It's a system data error. It looks like your account balances either went up or down but the money is in the bank," she said in a hastily called press conference.
She also promised the incident would not happen again as BPI has very strict and high standards in place.
Pia Roman-Tayag, head of the BSP's Financial Consumer Protection, said in a separate press briefing the regulator is focusing on helping BPI resolve the issue before conducting an investigation.
"So we are letting them fix the internal issue and that is also our focus now, so that we can also assuage the fears of the consumers. Once this is established and once this is fixed, of course the BSP will also investigate and look into the matter," she said.
Tayag also said the glitch was only confined within BPI and did not affect other financial institutions.
She reiterated the BSP has issued several circulars on technology risk management and operational risk management where banks are required to identify, report and rectify risks affecting their operations.
"Actually, the policies and regulations are there as well as the enforcement. We just have to see how the banks are putting in place their own controls. We will look into this matter and as we always do, how other banks are looking at operational and technology risks such as this," she said.
But she said it is still early to discuss the sanctions that could be imposed against BPI for the incident.
"At this point we cannot speak of enforcement action because we have to do our own investigation first and we don't want to focus on that yet because the priority really now is for the records of the consumers to be fixed and we want the bank to focus their attention on that," she added.
BPI clients vent ire via Twitter
BPI also yesterday extended the working hours of all branches of BPI and BPI Family Savings Bank until 7:30 p.m. to service the banking needs of the affected portion of its eight-million deposit base.
But irate BPI clients used their social media accounts to vent their ire against BPI and the BSP.
"Even if BPI resolves the glitch today, cracks are showing in their system. With available options, might be a good idea to switch banks," @Pinoymommy tweeted.
Some clients received additional amount, while others got negative status.
"As of the moment, most of my workmates and I had a negative balance on our BPI payroll account. Is this a system problem? @TalktoBPI," MaryJane Nario posted in her Twitter account.
@JonasisYohan tweeted "OMG! Some BPI clients are getting amounts up to P100k added to their accnt and some are on a negative status."
Senators to BPI: Be transparent
Senators asked yesterday BPI to be transparent and provide timely updates to its clients on the reported computer glitch to allay fears of the public of possible security breach in its system.
Sen. Francis Escudero, chairman of the Senate committee on banks and financial institutions, said BPI and BSP should tap the help of the National Bureau of Investigation Cybercrime Division.
"I don't want to make any conclusions until it has been thoroughly investigated by competent authorities," Escudero said.
Sen. Grace Poe expressed trust in the BPI, which she said has a proven track record.
"It's good that they came up with this advisory immediately but we would like to know what caused this… They should come out with a report on what caused this so that people will not be left in the dark and have unnecessary worries about their accounts. They should be able to uphold the trust given to the banking institutions," she said.
BPI is the country's third largest bank in terms of assets with P1.45 trillion, following BDO Unibank Inc. of retail and banking magnate Henry Sy with P2.2 trillion and Metrobank Group of taipan George SK Ty with P1.55 trillion.
BPI's net income grew 25.6 percent to P6.33 billion in the first quarter of the year from P5.04 billion in the same quarter last year due to the strong earnings of its core businesses. The bank's total deposit base stood at P1.4 trillion as of end March this year. – With Paolo Romero