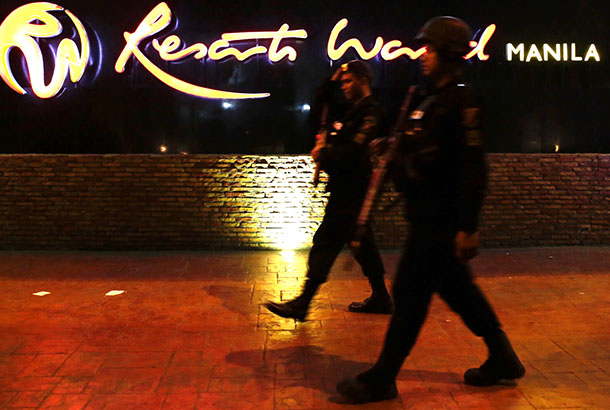 Smoke rises from the Resorts World Manila complex, early Friday, June 2, 2017, in Manila, Philippines. Gunshots and explosions rang out early Friday at a mall, casino and hotel complex near Manila's international airport in the Philippine capital, sparking a security alarm amid an ongoing Muslim militant siege in the country's south. AP/Bullit Marquez, file
Duterte to Resorts World: Where were the exits?
MANILA, Philippines — Where were the exits?
President Rodrigo Duterte is wondering why the victims of the Resorts World attack were not able to leave the casino and ended up dying of suffocation.
"The hotel has to explain to us bakit walang mga exit agad (why there were no exits). They (victims) hid in the small rooms, in storage (facilities) and in the toilets, in the comfort room and they died of suffocation and to think there is only one son of a b**** running a rampage," the president told reporters in Subic Bay Sunday.
"Who would ever think one man could cause (deaths) without really knowing it? Without intending to kill people? But the fact is the reaction was to go inside the room. Just one question, bakit walang exit na marami (why did they not have many exits?)?" he added.
Duterte he has apologized to the families over the incident, which was initially perceived to be a terrorist attack.
"I'm sorry it had to happen," the president said.
Duterte also cursed at Resorts World gunman Jessie Javier Carlos, who was said to be heavily in debt before he staged the attack.
"He's a habitual gambler. Not even an addict. So he lost everything in his life tapos naging gago (then he became a fool). He lost his mind," the president said.
"E wala namang kalaban ayaw naman pumatay ang p***** i** niya, bakit pa nandamay ng tao (He did not have any foe, he did not plan to kill people, why did that son of a b**** had to kill innocent people)?" he added.
The president believes that the Resorts World incident was not a terrorist attack. He admitted though that a terrorist attack could happen anytime.
"It's not terrorism, the terrorism happened in London," he said referring to the London Bridge attack that left seven persons dead.
"But it can happen. Remember this always: Whatever happens, the extraordinary or unnatural, Murphy's Law will take over….We always say if a thing can go wrong it will go wrong. Can it happen? It can happen, believe me," he added.
Duterte said that, in case of fire, people should place a wet handkerchief over their faces to avoid suffocation while going out of a burning building.
"That's one of the ways of survival. The other one is go beside beautiful woman. You'll be saved. You'll be inspired to rescue her," the president said in jest.