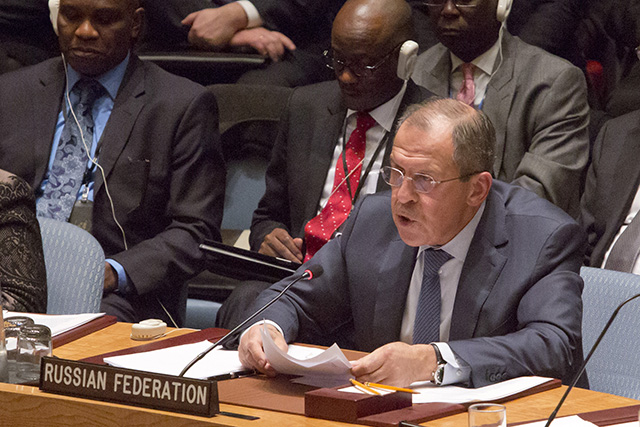 Russian Foreign Minister Sergey Lavrov said President Rodrigo Duterte's visit to Russia helped develop a stable relationship between Manila and Moscow. AP/Bebeto Matthews, File
Russia vows to help Philippines fight drugs, terrorism
(The Philippine Star) - May 25, 2017 - 4:00pm
MOSCOW – Russia's top diplomat yesterday expressed his country's commitment to help the Philippines in its fight against illegal drugs and terrorism as he thanked the Duterte administration for its efforts to enhance ties between the two countries.
Russian Foreign Minister Sergey Lavrov said President Duterte's visit to Russia helped develop a stable relationship between Manila and Moscow.
"I would like to reiterate our commitment to working together in security sphere, in fighting terrorism or fighting drug trafficking and other matters," Lavrov told Foreign Affairs Secretary Alan Cayetano during their bilateral meeting here.
"Thank you once again to you and colleagues' support during this work together with us," he added.
Duterte was supposed to stay here until May 26 but was forced to cut short his trip because of the terrorist attacks in Marawi, which prompted him to declare martial law in Mindanao.
"I would like to once again reiterate our solidarity with the leadership of the Philippines, with the nation of Philippines and to express our sympathies and condolences to those who were hurt (in the attack)," Lavrov said.
He also welcomed the signing of bilateral agreements in the fields of security, nuclear energy, transportation, investment, industry, culture and arts, tourism and foreign affairs. He said other important documents on law enforcement, military and technical cooperation are now in their final stage of preparations.
Cayetano thanked the Russian government for welcoming Duterte and his delegation and for understanding the President's decision to return home earlier than scheduled.
He also thanked Putin for rearranging his schedule to meet with Duterte last Tuesday.
"I want to reiterate the President's commitment to strengthen the relations between Russia and the Philippines in many areas, a commitment to forge true friendship and real brotherhood between Russians and Filipinos," Cayetano said.
He added the Philippine government was looking forward to welcoming Russia Prime Minister Dmitri Medvedev in Manila in November for the Association of Southeast Asian Nations summit and related summits.
Cayetano expressed hope Duterte would still be able to visit Russia in some future time, to which Lavrov replied: "I can assure you that we'll be happy to see him anytime."
Cayetano also heaped praises on Lavrov, whom he described as a "legend" in international relations.
10 agreements signed
On Wednesday, the Philippines and Russia signed 10 cooperation agreements, which seek to promote cooperation in the fields of security, trade, tourism, agriculture, transportation, science and culture and the arts.
"The signing of these agreements manifests the interest and desire of both the Philippines and Russia to pursue a wide range of areas of cooperation," Cayetano said.
"It is especially important that these agreements are expected to contribute to economic growth and development and to peace and security of the country as a whole, including Mindanao."
Cayetano said Russia is amenable to Duterte's request for a soft loan for the purchase of arms.
"The response of the Russian Federation through President Vladimir Putin was generous. They said: 'We have the framework in place through our agreements to cooperate,'" he said.
Duterte on Tuesday asked Putin for a soft loan to purchase arms that would be used in the fight against rebels and terrorist groups.
Putin did not respond right away, but Cayetano said the Russian president reacted positively.
He said Russian Federation officials told the Philippine delegates to make the proposal and they would study it and vowed to exert efforts to accommodate it.
Defense cooperation
The Philippines and Russia signed a defense cooperation agreement that would allow them to conduct training and seminars and develop relations in military education, medicine and history.
The agreement will pave the way for consultations, military port calls and observer participation in military exercises.
Also signed was a memorandum of understanding between the Philippine National Security Council Secretariat and the Security Council of the Russian Federation on cooperation in security.
Two trade related agreements – the memorandum of intent between the Philippines' trade department and Russia's economic development ministry and the memorandum of understanding on cooperation in industry development – were inked to foster mutually beneficial trade and investment cooperation.
The Philippines and Russia also signed a memorandum of understanding on food security, which aims to promote cooperation in agriculture and fisheries research, livestock breeding, processing and transportation and storage of agriculture and fishery products and other agricultural products.
A joint action program for 2017 to 2019 was likewise signed to promote tourism and exchange of best practices between the Philippines and Russia.
Tourism Secretary Wanda Teo said the government wants a slice of the three million Russian tourists who visit Southeast Asia every year.
The foreign ministries of the two countries signed a plan for consultations to discuss ways to further strengthen their ties.