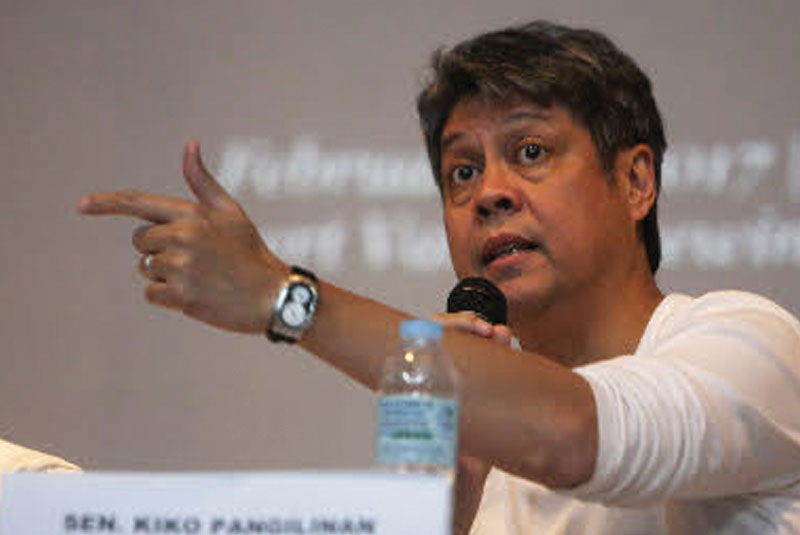 Sen. Francis Pangilinan, president of the Liberal Party, said that the Congress will look into the basis of the declaration of martial law in Mindanao. Kristine Joyce Campaña, File
Congress to look into basis of declaring martial law, says Pangilinan
MANILA, Philippines — Sen. Francis Pangilinan on Wednesday said that the Congress will look into the basis of President Rodrigo Duterte's declaration of martial law in Mindanao.
"While martial law is an option available to the President and we respect this exercise of discretion, we in Congress will exercise our constitutional duty to look into the basis of the declaration and determine whether or not there is basis for its continued imposition," Pangilinan said in a statement issued on Wednesday.
"Central to all this is to ensure that the constitutionally guaranteed rights of our citizens are protected and that the exercise of the martial law powers of the President are checked," he added.
The statement came after Duterte declared martial law in Mindanao on Tuesday night following clashes between the military and the Maute group in Marawi City.
The Maute group, also known as Dawlah Islamiya Philippines, boasts of loyalty to the Islamic State of Iraq and Syria and uses the black ISIS flag as its revolutionary banner.
"The president has called me and asked me to announce that as of 10 p.m., Manila time, he has already declared martial law for the entire island of Mindanao," Presidential Spokesperson Ernesto Abella said in a press conference in Moscow, Russia on Tuesday night.
He added that the declaration of martial law is necessary to "suppress lawless violence and rebellion and for public safety."
The Constitution requires the president to submit a report in person or in writing to Congress within 48 hours from the proclamation of martial law.
Congress may revoke the proclamation through "voting jointly, by a vote of at least a majority of all its members in regular or special session," Article 7, Section 18 of the Constitution reads.
Pangilinan, president of the Liberal Party, urged government forces to contain and control "a spillover of violence" to other places.
He also made an appeal to the public to cooperate in evacuation efforts and vigilance "in the face of martial law."
"Our painful experience with the imposition of martial law under the Marcos dictatorship should serve as a reminder that we must, as citizens, stay vigilant as the awesome powers of government concentrated on the executive can lead to rampant abuses," the senator said.
Duterte, meanwhile, cut short his official visit to Russia to deal with the crisis in Marawi City.