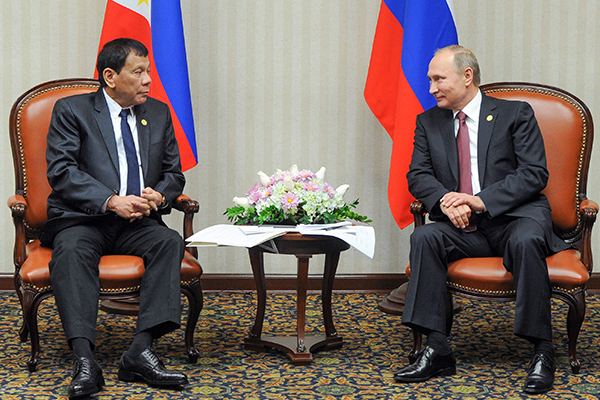 President Rodrigo Duterte will discuss possible political, defense and military cooperation with Russian President Vladimir Putin in his official visit to Moscow next week. Mikhail Klimentyev, Sputnik, Kremlin Pool Photo via AP
Duterte's Russia trip to mark new chapter in Manila-Moscow ties
MANILA, Philippines — President Rodrigo Duterte will leave for Russia on Monday for a four-day 'landmark' visit that is in line with a decision to pursue what the government calls an independent foreign policy.
Agreements on security, legal assistance and trade are expected to be signed during the May 23 to 26 visit, which, officials said, would mark a new chapter in the ties between Manila and Moscow.
These agreements include defense cooperation, military and technical cooperation, a treaty on mutual legal assistance in criminal matters, a treaty on extradition, and a memorandum of understanding on cooperation in the field of security between the two countries' national security councils.
Duterte will also meet with Russia Prime Minister Dmitry Medvedev and President Vladimir Putin on May 24 and 25 to discuss key issues and ways to strengthen political, military and economic cooperation.
The visit will not be the first time the Philippine president will meet with the Russian leaders.
Duterte had a bilateral meeting with Medvedev on the sidelines of the Association of Southeast Asian Nations (ASEAN) summit in Laos last September. He also met with Putin during the Asia Pacific Economic Cooperation (APEC) meet in Peru last November.
During his meeting with Putin, Duterte slammed what he called the "hypocrisy" of the US and other western countries and their supposed bullying of smaller nations.
Duterte then claimed that he and Putin have become "fast friends."
The Philippine president is also scheduled to deliver a policy speech at the Moscow State Institute of International Relations. He is expected to discuss his independent foreign policy and his thoughts about achieving peace and security in the region.
Duterte will also talk about his economic policies and encourage businesses to invest in the Philippines during the Philippine-Russia Business Forum in St. Petersburg, about 650 kilometers away from the Russian capital of Moscow.
The Philippines and Russia celebrated 40 years of diplomatic relations last year but officials said the engagement between the two countries remain at a "nascent" stage.
Growing ties
Some experts believe the relationship between the Philippines, which has veered away from excessive dependence on the US, and Russia has the potential to grow.
In an address delivered in Moscow in 2014, Carlos Sorreta, then the director of the Philippine Foreign Service Institute, said Russia is now seeking the cooperation and active participation in East Asia. The strategy was highlighted by Russia's hosting of APEC in Vladivostok in 2012, he added.
Sorreta noted that members of the ASEAN, which he described as a "child of the Cold War, born and bred with the objective of halting the spread of communism," had stood on opposite sides during the Cold War.
"This time around, Russia is not attempting to assert itself in the region through power and ideology. The preferred path is cooperation and active participation in the vibrant markets of East Asia," he said.
In an article published on the website The Diplomat, journalist Samuel Ramani said Russian policymakers have started to view the Philippines as a "linchpin in their strategy to economically engage the ASEAN bloc."
The change in perspective has been triggered by the Philippines' economic vibrancy in recent years, Ramani added.
Citing Russian analysts, Ramani said the Philippines could be the key in Moscow's ambition to forge a free trade agreement between the Eurasian Economic Union and ASEAN.
In an article posted on Russia Beyond the Headlines, New Zealand-based journalist and foreign affairs analyst Rakesh Simha said Filipinos appreciate that Russia is building its relations with Southeast Asia on an ideology-free basis.
Simha noted that Russia is not taking sides in the South China Sea disputes and that it is not antagonistic in nature.
"Russia is applying pressure in the Pacific in order to offset Western pressure in Ukraine and Eastern Europe. But in the ASEAN region, Russia is more interested in commerce and influence rather than geopolitical maneuvers. So Moscow will not side with China against the others in South East Asia," Simha said.
Officials are hopeful that Duterte's visit could lead to stronger ties with Russia, which one official described as "cordial albeit modest in scope and depth."
"We consider this visit as a landmark that will send a strong message of the Philippines' commitment to seek new partnerships and strengthen relations with non-traditional partners such as Russia," Foreign Affairs Assistant Secretary Maria Cleofe Natividad said in a press briefing last Friday.