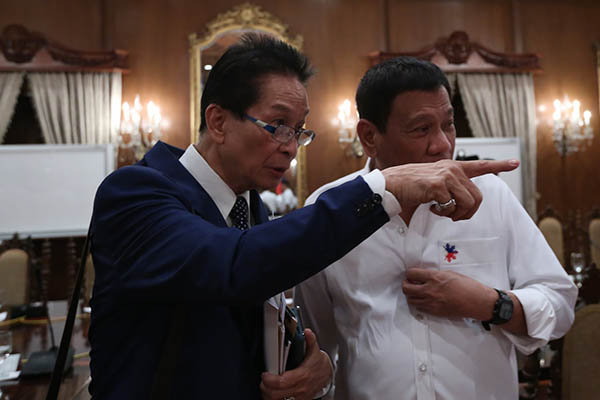 Chief Presidential Legal Counsel Salvador Panelo said the Constitution allows the President to enter into agreements with foreign firms involved in exploration of mineral resources. King Rodriguez/PPD, File
'Joint exploration does not mean conceding SCS claims'
MANILA, Philippines - The head of President Duterte's legal team believes that conducting joint exploration with China and Vietnam in the South China Sea is not tantamount to conceding sovereignty.
Chief Presidential Legal Counsel Salvador Panelo said the Constitution allows the President to enter into agreements with foreign firms involved in exploration of mineral resources.
Supreme Court Senior Associate Justice Antonio Carpio warned that entering into joint development with China in the South China Sea would require conceding sovereignty to Beijing.
"I don't think so. Under Article 12, Section 2 of the Constitution, the president can enter into international agreements with foreign corporations for the exploration and utilization of mineral resources as provided by the law," Panelo told reporters yesterday in Malacañang.
Carpio made the remark after former House speaker Jose de Venecia proposed that the Philippines, Vietnam and China "discard occasional enmity and exaggerated pride" and consider conducting joint energy exploration in the South China Sea.
A paragraph under Article 12, Section 2 of the Constitution states that the President "may enter into agreements with foreign-owned corporations involving either technical or financial assistance for large-scale exploration, development, and utilization of minerals, petroleum, and other mineral oils according to the general terms and conditions provided by law, based on real contributions to the economic growth and general welfare of the country."
The Constitution requires that in such agreements, the state "shall promote the development and use of local scientific and technical resources."
Asked if he is in favor of a joint exploration in the South China Sea, Panelo said: "Our policy is this: is it beneficial to the interest of our county?"
"It really depends (on the details). We have to explore all possibilities," he added.
The Philippines is embroiled in a maritime dispute with China over some areas in the South China Sea, an important sea lane where about $5 trillion worth of goods pass through every year.
China claims about 90 percent of the area but this is being contested by the Philippines as well as Vietnam, Malaysia, Brunei and Taiwan.
Panelo stressed that all disputes can be resolved through peaceful dialogue.