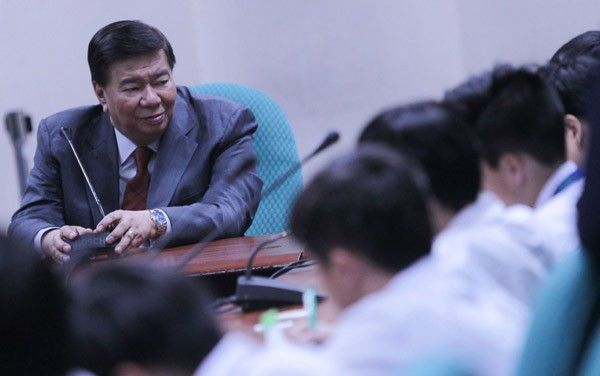 Senate Minority Leader Franklin Drilon said he is proud of the minority bloc for being the most productivein the Senate.
Franklin Drilon/Released
Drilon proud of 'productive' Senate minority
MANILA, Philippines — With more bills passed than it has members, Senate Minority Leader Franklin Drilon said he is proud of the Senate minority for being the chamber's most productive lawmakers.
Drilon, who used to be Senate president pro tempore until ousted by the majority bloc, said that seven of the 10 bills of national significance passed by the Senate were authored and sponsored by members of the minority.
"The minority bloc has been working hard all this time," Drilon said. "We did the lion's share of the work in passing landmark legislation and bills of national significance."
Aside from Drilon, Liberal Party senators Francis Pangilinan, Paolo Benigno "Bam" Aquino IV, Leila de Lima, and allies Risa Hontiveros (Akbayan) and Antonio Trillanes IV (Nacionalista Party).
The seven bills the minority passed include the Affordable Higher Education Act for All (Aquino); Free Internet Access in Public Places Act (Aquino); Expanded Maternity Leave Law (Hontiveros); Mental Health Act (Hontiveros); Philippine Food Technology Act (Trillanes); Speech Language Pathology Act (Trillanes); and the adjustment to the present peso value of the amounts in the 87-year old Revised Penal Code (Drilon).
"These bills, once enacted into laws, will have a direct positive impact on the lives of our people. We studied and prepared hard for these bills so that they will withstand Senate scrutiny," Drilon said.
He added that their legislative performance should only prove that "the minority was never and will never become a stumbling block to a productive Senate."
"Our being vocal against some policies of the government should not be mistaken as obstructionism or as part of an imagined destabilization," Drilon said, adding that the minority bloc has shown support on legislative proposals benefitting the country and the people despite being critical.
Drilon said that they will continue to push for other important measures when Congress resumes in May. He said 20 of the 32 bills pending for second reading were authored and sponsored by the minority bloc.
These include the Coconut Farmers Industry Development Act, Sagip Saka Act, the Corporation Code, Pagkaing Pinoy Para sa Batang Pinoy, Philippine HIV and AIDS Policy Act, increase in allowances of government employees through the Cost and Living Allowance and Personnel Economic Relief Allowance, Teachers Supply Allowance Act, among others.