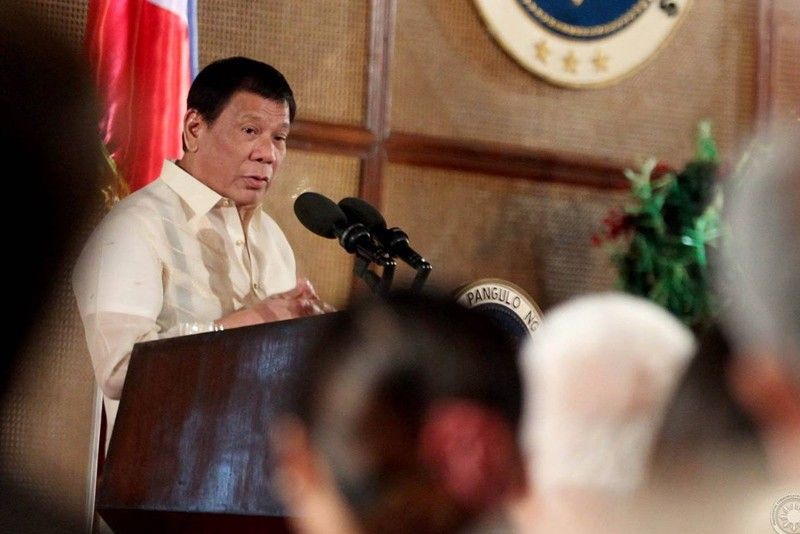 In this Jan. 9, 2017 photo, President Rodrigo Duterte speaks before the newly-appointed officials during the oath-taking ceremony at the Rizal Hall of Malacañan Palace.
PPD
Challenging bishops to resign, Duterte hurls invectives at church
MANILA, Philippines — Describing the Catholic Church as "full of shit," President Rodrigo Duterte on Tuesday hurled fresh tirades at bishops and priests and even expressed readiness to step down if he is wrong about their misdeeds.
Duterte, who has been at odds with the Catholic Church over his brutal war on illegal drugs, said bishops should also resign if he is proven right about the sex and corruption scandals involving the clergy.
"I challenge you now. I challenge the Catholic Church. You are full of s***. Mabaho kayo lahat (You are all filthy)," the president said during his dialogue yesterday with families of the 44 police commandos who died in the 2015 Mamasapano clash.
"I'll make you a deal. Read this book and if I feel that almost everyone has read it, then go back to me and tell me binastos ko ang relihiyon at nagsisinungaling ako (I disrespected religion and I lied) and I will resign, I will resign," he added.
"I will deliver my letter of resignation on bended knees. I will place it on (the monument of Jose) Rizal at Luneta as a Filipino. Pick it up there provided you bishops will resign."
Duterte was referring to the book "Altar of Secrets," a book written by the late journalist Aries Rufo, whom the president erroneously described as a "narrator" of the Catholic Bishops Conference of the Philippines. The 2003 book contained reports about the sex and corruption scandals involving members of the clergy.
Duterte resorted to personal attacks and name-calling to criticize the Church, which has been expressing concerns over the spate of killings linked to his crackdown on illegal drugs.
He accused retired Bishop Teodoro Bacani Jr. of having two wives and even called him a monkey.
"P***** i**** Bacani, dalawa pala asawa pareho ko tapos pag magsalita ang unggoy na 'to (This son of a b**** Bacani has two wives and yet this monkey talks like he is faultless)," Duterte said.
Bacani, the former bishop of Novaliches, was accused of sexual harassment in April 2003. He resigned from his post in the same year.
Reopening old wounds
Duterte then rehashed his rhetoric about the alleged homosexuality in seminaries and the supposed failure of the Church to uplift the lives of its faithful.
Duterte also chided bishops for supposedly asking former president Gloria Arroyo to provide them with Pajero sports utility vehicles despite the constitutional provision on the separation of Church and state.
"That son of a b**** vehicle is so expensive and you asked for it even if many Filipinos have nothing to eat," he said.
The Philippine Charity Sweepstakes Office (PCSO) claimed in 2011 that some Catholic bishops got Pajeros supposedly in exchange for their support for Arroyo.
Then PCSO chair Margarita Juico then apologized to the Senate after it was discovered that the bishops did not get pajeros but cheaper utility vehicles, which were then used for charitable missions in far-flung areas. The bishops have returned the vehicles to the government.
Duterte also accused priests of having bad breath while administering confessions and of having dirty hands while giving communion.
"Do not go to confession. When you face those crazies, sometimes (they did not brush their teeth). What did you eat last night?" he said.
Duterte, who claimed to have been molested by a priest when he was young, said he would one day write a book about politicians and clergymen who are portraying themselves to be faultless. He said he would call the book "Hypocrisy."
"You, bishops have been lording it over for so long. Was Christ crucified in a golden cross?" the president said.
Duterte bragged that he won the 2016 presidential race by a landslide despite efforts by some clergymen to discredit him.
"I won by six million votes even if you attacked me. What happened to tour politicking?" he said.
"Politicians are afraid to curse you. I am the only one who can do it."
Despite his anti-Catholic tirades, Duterte advised Filipinos to develop a relationship with God.
"There is a God. You better cultivate your relationship between you and God," he said.
More than 80 percent of Filipinos belong to the Catholic Church, which was introduced to the Philippines by Spaniards in 1521.