Duterte admits: Not sick at APEC, I avoided Obama
December 13, 2016 | 12:53pm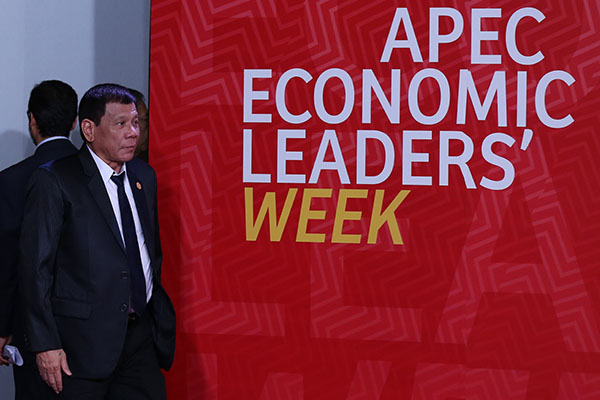 MANILA, Philippines — President Rodrigo Duterte on Monday evening admitted he purposely skipped the Asia-Pacific Economic Cooperation (APEC) leaders' gala and the traditional family photo in Lima, Peru to avoid having an awkward situation with outgoing US President Barack Obama.
At his speech at the Wallace Business Forum, Duterte backtracked on earlier official explanations that he chose not to attend the highlight of the event because he was not feeling well.
"I was there. I attended the meetings, actually. Do not believe those idiots out there. But you know, Obama was there, and because we had an exchange of words, I was just trying to avoid an awkward situation," Duterte said.
Duterte said he feared that Obama would not accept his "gesture of handshake or his getting out of the way to avoid him."
"Because I did not want to create a scene, an awkward situation, I just stayed on the sidelines. That's the truth, I was avoiding an awkward situation, especially an international awkward behavior," Duterte added.
Despite his spokesperson's earlier statement that the president skipped some key events in APEC due to jet lag, Duterte said his previous excuse that he had an upset stomach was not true.
"I did not have a bum stomach; do not believe it. That was just an excuse. But really, I would not know how to react if he would just push my hand," he said.
READ: Ramos hits Duterte for skipping APEC gala dinner, family photo
Duterte also previously admitted that he intentionally skipped the Association of Southeast Asian Nations (ASEAN)-US Summit in Laos last September as a matter of principle.
The White House earlier called out possible human rights violations in Duterte's violent drug war. Duterte responded by lashing out at Obama, telling him to "go to hell" and called him a "son of bitch."
Duterte also reprimanded the US for its abuses as a colonizing power at the turn of the century. The White House then canceled the planned bilateral talks between the two leaders in Peru.
Former President Fidel Ramos critizied Duterte for skipping the APEC gala dinner. "As president, it is his duty to be there at all times kahit na masama ang pakiramdam (even if he's not feeling well)," Ramos said on November 21.