Rock against Marcos: Group protests Libingan burial
Janvic Mateo
(The Philippine Star) - June 29, 2016 - 12:00am
MANILA, Philippines – Stones bearing the names of victims of human rights abuses during martial law have been placed at an empty gravesite supposedly allotted for the late president Ferdinand Marcos at the Libingan ng mga Bayani.
An initiative called Bawa't Bato was launched Sunday to protest the pronouncements of president-elect Rodrigo Duterte supporting the burial of Marcos at the heroes' cemetery.
A call to action posted on Facebook read: "In the center of our Cemetery of Heroes lies a hole – across the Tomb of the Unknown Soldier, beneath the Philippine flag at half-mast. It is intended for a man who is neither hero nor patriot, who denied millions dignity, and died not in glory but in shame.
"We can each place a stone: at his grave or in places stained by the atrocities of martial law – memorializing its thousands of victims, and for us tens of millions who've not lived as we all deserved in the decades since. We can each place a stone: our silent symbols of dissent – heaped high upon any monument built there, burying now and constantly the vainglory and lies."
On Sunday, the first batch of stones bearing the names of the victims was placed at the gravesite.
Bubut Vasquez, one of those who took part in the activity, said in a Facebook post: "This is just the start as more stones with more names are laid so that their memories shall not be forgotten. This is a public space and all are welcome to pay their respects and honor the real heroes."
Messages encouraging Filipinos to take part in the initiative are posted on social media.
Organizers said: "Bring a rock to the proposed gravesite for Ferdinand Marcos at Libingan ng mga Bayani. Write a name of one of the martial law victims or a personal message, if you happen to have a pentel pen with you. Drop the rock inside the grave site, as a sign of your dissent and in memory of all those who suffered and died for our freedom."
Among those who are part of the initiative are the Martial Law Chronicles Project, UP Samasa Alumni, Claimants 1081, Nameless Heroes and Martyrs, Akbayan Youth, Akbayan, Dakila and TBWASMP.
Poll protest reset
Meanwhile, the camp of Sen. Ferdinand Marcos Jr. has reset today's scheduled filing of an election protest before the Presidential Electoral Tribunal against vice president-elect Leni Robredo to accommodate more witnesses and evidence.
Abakada Rep. Jonathan de la Cruz, political adviser of Marcos, told The STAR they have consolidated their complaint with cases involving other party-list groups which have also filed election-related cases.
"We are expecting the PET to resolve our protest in six months," he said.
They have already gathered enough evidence and will seek a recount or setting aside questionable results in at least 30 areas, he added.
De la Cruz said they are filing the election protest because they owe it to those who voted for Marcos and to the entire Filipino people to find out what really happened in the May 2016 elections.
"We believe that we have enough evidence to show that there was massive rigging and manipulation of votes," he said.
In an advisory the camp of Marcos said he will file his election protest at 11 a.m. today at the Supreme Court.
A press conference will follow immediately at Max's Restaurant along Maria Orosa street, Manila.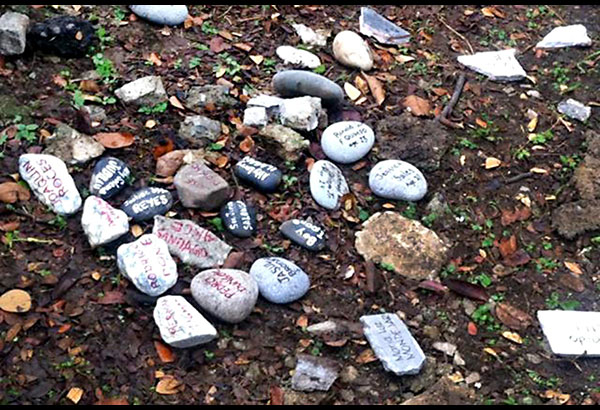 Written on the stones were the names of those kidnapped, tortured or killed during martial law
Ilocanos back death penalty
In Laoag City, Ilocos Norte Gov. Imee Marcos expressed support for president-elect Duterte's plan to re-impose the death penalty against criminals, especially those involved in illegal drugs.
Marcos vowed "total compliance" of Ilocos Norte for the death penalty, as she promised to continue the battle against crime and illegal drugs in her province.
She emphasized the importance of protecting the rights of the citizens, especially the youth and victims of heinous crimes.
She urged her provincemates to report suspects as well as advise those involved in drug-related activities to surrender to authorities as early as possible.
"Surely our police are ready and we are also ready to charge the culprits," she added.
Earlier this year, the Ilocos Norte Provincial Anti-Illegal Drug Special Operation Task Group arrested several local officials involved in the illegal drug trade.
Marcos condemned the officials as she assured the people of the provincial government's continued efforts in ensuring a safe and peaceful province through effective law enforcement. – With Perseus Echeminada, Artemio Dumlao, Ariel Paolo Tejada