Rodrigo Duterte formalizes presidential bid
November 26, 2015 | 9:47pm
MANILA, Philippines (First published 12:14 p.m.) — After spending months denying his intention to run for the country's top post, Davao City Mayor Rodrigo Duterte on Friday filed his certificate of candidacy for president.
Despite reports that he planned to submit his documents on the December 10 deadline for substitute candidates, Duterte withdrew from the Davao City mayoral race and signed documents for his presidential candidacy.
Commission on Elections (Comelec) spokesperson James Jimenez said Duterte's certificate was filed at the main office in Manila through a representative.
"Substitutions are allowed until December 10," Jimenez said on his Twitter account.
Duterte entered the presidential race under the Partido Demokratiko Pilipino-Lakas ng Bayan, or PDP-Laban, as substitute of anti-corruption advocate Martin Diño, who withdrew his certificate on October 29. Diño named Duterte as his possible replacement.
According to Section 19 of the Commission on Elections' Resolution 9984, the substitute should belong to and should be nominated by the candidate's party.
On Friday, Duterte's daughter, former Davao City Mayor Sara Duterte, also formally submitted a document to substitute his father in the city's mayoral battle.
Duterte's executive assistant Bong Go, wearing a shirt that says "No is go" apparently referring to Duterte's earlier hesitation to run, released a photo showing the iron-fisted mayor withdrawing his bid for reelection on Friday at the Comelec office in Davao City.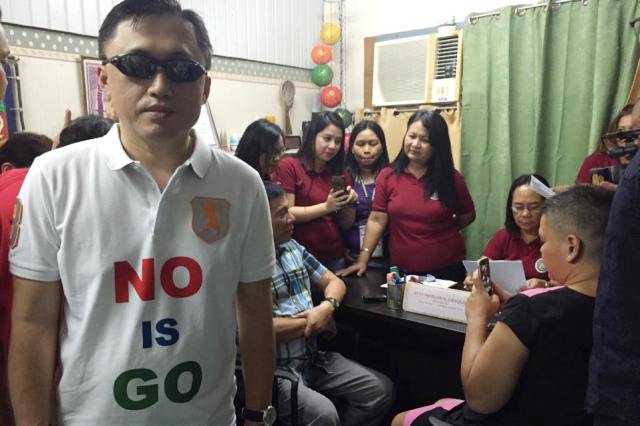 In this photo released Friday, Nov. 27, 2015 by his executive assistant Bong Go (foreground), Davao City Mayor Rodrigo Duterte withdraws his certificate of candidacy for reelection at the Commission on Elections' Davao City office.
Over the weekend, Duterte announced that he is intending to run for president.
Reacting to reports Duterte may formalize his candidacy on December 10, Duterte for President 2016 movement founder Mar Masanguid said Duterte he may opt to formalize it ahead of the deadline.
"Before the deadline 'yan," Masanguid said earlier on Friday in a phone interview with Philstar.com.
Masanguid said filing the certificate of candidacy for president days before the deadline will allow the aspirant to address problems that may arise, such as on requirements and qualifications.
RELEATED: Duterte not OK with debates but vows attendance if urged
Earlier this week, Duterte named Sen. Alan Peter Cayetano as his running mate.
Confirmed na jud nga si Alan Peter Cayetano ang VP ni Mayor Duterte! #dutertecayetano2016

Posted by Mugstoria on Thursday, November 26, 2015