Marwan leaves behind 300 bomb makers in Mindanao
January 30, 2015 | 3:20pm
COTABATO, Philippines — Malaysian terrorist Zulkifli bin Hir alias "Marwan" may be dead, but the government still has a huge task ahead: To locate the whereabouts of some 300 bomb makers he trained in Central Mindanao over the past two years.
Rebel sources on Friday confirmed that Marwan had roamed freely in Central Mindanao, in the swampy border of North Cotabato and Maguindanao, to train recruits on handling explosives and fabricating bombs with materials from rebel armories, such as B-40 anti-tank rockets and mortar projectiles.
"About 50 of the recruits he trained were ethnic Maranaw jihadists from Lanao del Sur and Marawi City," one of the sources, who asked not to be identified, said in the Maguindanaon vernacular.
Marwan was said to have frequented Lanao del Sur, particularly the Cararao hinterlands and the Unayan area in the province, where his recruits are being coddled by armed groups.
A highly-placed Maranaw government health worker, who spoke on condition of anonymity, said Mt. Cararao, in fact, has never been bereft of jihadists identified with Marwan and his Maguindanaon cohort, Abdul Basit Usman.
This is contrary to an earlier finding by a joint inquiry initiated about two years ago by combined officials of the Army's 603rd Brigade and representatives of the Moro Islamic Liberation Front.
Army combatants and MILF members marched through dense jungles and crossed rivers to reach Mt. Cararao to verify bilaterally the reported presence of terrorists there, but found none.
"The people they were searching for knew a joint verification team would be arriving. They dispersed in the surroundings and calmly watched the soldiers and MILF members walk around their hideouts which they abandoned temporarily to avoid detection," the health worker said.
"They even took footages of them roaming around using mobile phones," he added.
Marwan last met with his Maranaw contacts in Mamasapano town in Maguindanao in the middle of 2014, or thereabouts, a Muslim local executive hinted.
The jihadists from Lanao del Sur traveled to Maguindanao via the Cagayan De Oro-North Cotabato route and reached Mamasapano through the Midsayap-Datu Piang Highway.
A footage showing the chartered vehicle of the Maranaws crossing two long bridges, apparently those connecting Barangay Ulandang in Midsayap to the town proper of Datu Piang in Maguindanao, was uploaded on a Facebook account of an extremist group in Lanao del Sur a week later.
President Benigno Aquino III and the figurehead of the MILF, Hadji Murad Ebrahim, had both confirmed that Marwan was killed on January 25 by members of the police's Special Action Force (SAF) that raided his hideout in an outskirt at the border of Barangays Mangapang and Tukanalipao, both in Mamasapano.
The confirmations, however, came only after the SAF operation, which resulted in the demise of 44 police commandos killed by MILF rebels while pulling out of the area, sparking public uproar.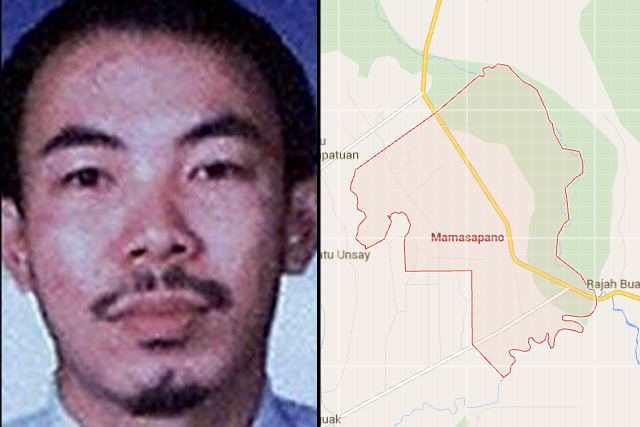 Southeast Asia's most wanted terrorist Zulkifli Abd Hir, also known as Marwan, is believed to have been killed in a Philippine National Police operation in Mamasapano, Maguindanao on Jan. 25, 2015. AP | Google Maps
There are talks that Marwan, while in Mamasapano, had sired two Maguindanaon women with a son each, one of them now in Sarangani province, the other in President Quirino in Sultan Kudarat, being coddled by relatives.
Marwan's recruits
A barangay official, who has relatives in both the MILF and the outlawed Bangsamoro Islamic Freedom Fighters (BIFF), said among Marwan's recruits were some 30 women, mostly Maguindanaons.
"Three of them spoke to each other in Subanen dialect, indicating they were from somewhere in the Zamboanga peninsula," the source said.
Authorities confirmed on Friday the two Marwan-trained bombers killed Monday night, when a bomb they were to bring to the town proper of Pikit, North Cotabato exploded prematurely while in transit.
Jomar Palaguyan and Asraf Mohammad were riding a motorcycle together carrying a box containing the improvised explosive, which went off while at Quezon Street in Pikit, en route to the town plaza.
Senior Inspector Sindatu Karim, chief of the Pikit municipal police, said they have learned, from feedback by barangay folks and sources from Moro groups, that Palaguyan and Mohammad were recruits of Marwan and Usman.
Local government units in oft-bombed municipalities are bracing for possible retaliations by followers of Marwan.
The attempt by Palaguyan and Mohammad to set off a powerful improvised explosive device in Pikit was already a part of their move, according to military intelligence sources.
Army officials in North Cotabato said there were signs that Marwan's recruits were behind the foiled attempt to topple down last Tuesday another power relay tower of the National Grid Corporation of the Philippines in Pagalungan town.
Two NGCP steel pylons, one in Pagalungan and another in Barangay Batulawan in Pikit, were destroyed one after another by bombers just two weeks ago, causing power outage in parts of Maguindanao and North Cotabato and all 37 barangays in Cotabato City.
The bombers strapped separate IEDs on the columns of the NGCP tower the bombers were to destroy last Tuesday.
Farmers in surrounding rice farms, however, noticed the explosives, enabling Army and police bomb experts to promptly dispose them.
Why was Marwan a free man?
For peace activists, some of them involved in foreign-assisted peace-advocacy programs, as well as local officials and members of the Islamic and Christian religious communities, the big question is why Marwan was able to roam freely in Central Mindanao.
The relative freedom of Marwan, a Malaysian wanted for deadly bombings in the country and abroad, was despite security agreements binding the MILF and the government to help each other maintain law and order in the region.
Under the July 1997 Agreement on General Cessation of Hostilities, the government and the MILF are to help each other, through a "joint ceasefire committee," interdict criminals and terrorists in isolated areas in the south.
The security pact, meant to ensure the cordiality between the government and the MILF, in essence declared Moro rebel strongholds off limits to lawless groups, including kidnappers, extortionists, drug traffickers and, most importantly, terrorists, regardless of their local and foreign affiliations.
"There is also a question on why the MILF and the BIFF have 'shared territories' in Mindanao even as the BIFF is known for its radical and extreme organizational stature and its being so opposed to the peace process," said an education official in Maguindanao.