EU to Philippines: Stop 'wheel of torture,' cruel tactics
MANILA, Philippines — The Philippines has the legislation in place to stop degrading and inhuman treatment of inmates but it needs to implement its provisions, the European Union said Thursday.
EU Ambassador to the Philippines Guy Ledoux said that perpetrators of torture must be brought to justice to end the culture of impunity and to encourage stakeholders to double efforts to stop the practice.
"While a significant improvement to the legal environment in torture prevention in the Philippines through the enactment of the Anti-Torture Law in 2009 can be noted, much still needs to be done to implement it and hold those responsible for torture cases accountable," Ledoux said in a statement.
He said that the EU has noticed positive gains under the Aquino administration to curb the authorities' practice of inflicting severe pain and suffering for fun or even in exchange for information.
However, Ledoux said there remains much work and collective effort to be done to eliminate the humiliating act.
"Torture is not only a tragedy for its victims – it is also degrading for those who perpetrate it, and inevitably it harms the welfare of societies which tolerate such outrages," the official said.
Medical Action Group (MAG) executive director Edeliza Hernandez said that a horrific example that torture points to a "culture of impunity" in the country is the "wheel of torture" discovered by the Commission on Human Rights in Biñan, Laguna earlier this year.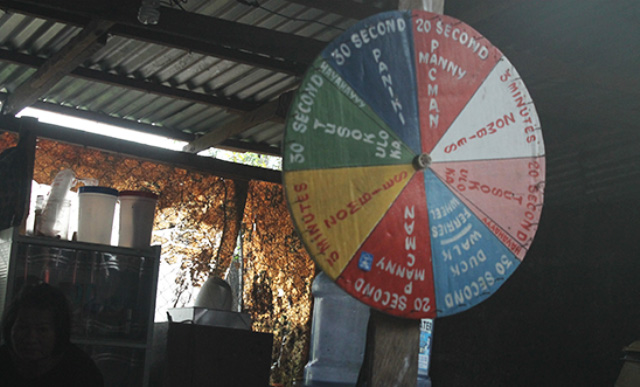 'Torture wheel,' a roulette wheel allegedly used to pick a list of torture techniques meted out to prisoners. CHR
In the game, authorities pick a list of torture techniques meted out to detainees purportedly to force them to a confession.
Ledoux also praised efforts of the Commission of Human Rights and civil society organizations in monitoring the torture cases and in addressing the legal and medical concerns of the victims of torture.
On Thursday, the EU and civil society organizations renewed their commitment in a forum to end cruelty during the International Day in Support of Victims of Torture.
The forum aimed at forming concrete solutions to implementation of the Anti-Torture Act of 2009. The findings discussed were based on a report by the United Against Torture Coalition, a network of civil society organizations.
Emmanuel Amistad, Task Force Detainees of the Philippines executive director, cited anti-torture day declaration "as important step to urge the authorities for a more systematic and diligent implementation of the Anti-Torture Law to ensure perpetrators are brought to justice, and to ensure zero-tolerance of torture in all detention and custodial facilities nationwide."
Since 2006, the EU has provided more than €6 million (P360 million) to support civil society's efforts to address various human rights issues in the Philippines.