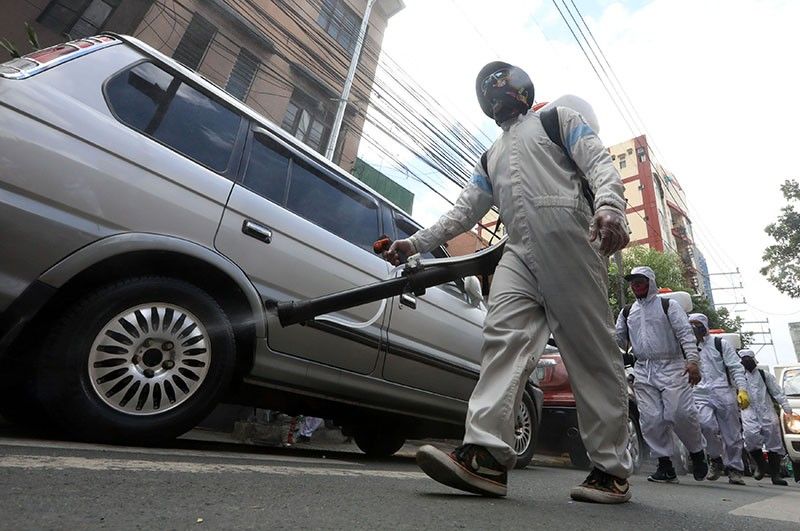 General community quarantine in the Philippines
LATEST UPDATE: July 13, 2020 - 3:14pm
LOCATION:
+ Follow Story
1 hour ago
COVID-19 cases in Zamboanga City continue to spike as 11 additional cases were reported Sunday night, bringing the number of active cases to 116.
According to the local inter-agency task force, five of the new virus-infected individuals are health workers, three are locally stranded individuals, two are from the community and one is a returning overseas Filipino.
City Health Officer Dr. Dulce Amor Miravite attributes the spike of the number to the testing capabilities of the city which runs at least two testing laboratories. — The STAR/Roel Pareño
3 hours ago
Baguio City Mayor Benjamin Magalong, who has been designated as "tracing czar", emphasizes the need for skills for contact tracers and contact tracing e-system.
The contact racing e-system will have data collection tools, geographic information system and link analysis.
"We will radically change our contact tracing system," Magalong says in Filipino at the Laging Handa virtual briefing.
6 hours ago
The Department of Health announces 2,124 new cases of the coronavirus disease. This brings the total number of COVID-19 infections in the Philippines to 55,259.
The health department also reports 2,009 new recoveries and 162 deaths as of July 12.
July 7, 2020
The Department of Information and Communications Technology lauches wfh.gov.ph to provide telecommuting resources for government employees
"The launch of wfh.gov.ph serves to support the President's agenda of unhampered and efficient service to the people," says DICT Secretary Gregorio Honasan II.
"We encourage our government employees to visit the website and find the right resources to help guide them transition into a remote working lifestyle," he adds.
July 6, 2020
The Department of Health on Monday reports 2,099 new COVID-19 cases (841 "late" cases and 1,258 "fresh" cases) in the Philippines, bringing the national total to 46,333.
The health department also confirms 243 new recoveries, pushing the total number of recovered patients in the country to 12,185.
The six additional deaths also raises the death toll to 1,303.
July 3, 2020
The local government of Valenzuela announces that daycare students received Nutri-Packs as the general community quarantine has been extended.
"Public daycare students will get their 2nd Nutri-Pack from the city government... We want to make sure they have enough nutritional intake during these quarantine times," Mayor Rex Gatchalian says.
July 1, 2020
Senate Minority Leader Franklin Drilon agrees with Finance Secretary Carlos Dominguez III that quarantine restrictions in Metro Manila and other economic centers need to be relaxed soon.
"I support Secretary Dominguez's call to ease restrictions in the National Capital Region and Calabarzon and put them under the modified general community quarantine," Drilon says in an e-mailed statement.
"I'm afraid that any further delay in the easing of quarantine restrictions in these two economic centers will cause further damage to our economy and our people who have lost their livelihood."
July 1, 2020
Health Secretary Francisco Duque says Metro Manila, Benguet, Cavite, Rizal, Lapu-Lapu Mandaue, Leyte, Ormoc,.Southern Leyte, Talisay City to be placed under general community quarantine.
June 29, 2020
La Trinidad town hall in Benguet province on Monday resumes its operations after a week on lockdown for an intensive contact tracing and disinfection after four front liners tested positive of COVID-19.
La Trinidad Mayor Romeo Salda imposed the lockdown at the municipal hall and other areas around the municipality on June 18.
Three police officers of the La Trinidad Municipal Police Station and a municipal health worker assigned at the operation center at the municipal hall also tested positive during the conduct of the expanded mass testing for frontline workers in the Cordillera.
All 277 LGU employees were all swabbed and tested negative while disinfection activities were done in the different offices and facilities in La Trinidad, Salda said, as this will become their "new normal". — The STAR/Artemio Dumlao
June 27, 2020
Government Service Insurance System says the state pension fund has extended its COVID-19 loan moratorium program for members, pensioners and other borrowers by another month or until June 2020.
"The extension will provide relief to many government employees and pensioners whose families are having financial difficulties because of the COVID-19 crisis. We earlier implemented a three-month moratorium from March to May 2020," GSIS President and General Manager Rolando Ledesma Macasaet says.
"However, with the continuing crisis and quarantine measures, we made it a four-month moratorium to tide over our members and pensioners," he adds.
June 25, 2020
Sen. Nancy Binay asks the Department of Transportation and the Land Transportation and Franchising Regulatory Board anew to act on the plight of traditional jeepney drivers who are coping with the impact of the COVID-19 pandemic.
"Ano na ba talaga ang plano ng DOTr at LTFRB? Parang pinapahaba lang nila ang kalbaryo ng mga kababayan nating namamasada... Kung makakabalik, 'wag nang maraming dahilan. Kung 'di na makakabalik, 'wag nang paasahin at linawin sa mga operator at driver kung ano ang plano at gagawin ng gobyerno sa 250,000 na tsuper at operators," the senator says.
"Masakit tanggapin na tila hinayaan na lamang ng gobyerno na unti-unting maupos ang kabuhayan ng ating mga jeepney driver. 'Yung harap-harapang ipapamukha sa kanila na 'di sila kasama sa hierarchy ng essential sectors--walang ayuda, walang plano, walang suporta," Binay adds.
June 23, 2020
Presidential Spokesman Harry Roque says the public can now dine in restaurants until 9 p.m.
Roque reminds that food establishments and customers should follow minimum health standards such as physical distancing and the wearing of face masks.
June 21, 2020
The Department of Health reports 653 new COVID-19 cases — 415 "fresh", 238 "late" — on Sunday, June 21. It also tallies 19 new deaths and 243 new recoveries.
The number of total cases is now at 30,052.
June 19, 2020
Sen. Nancy Binay asks government transport officials if they have "tried and tested" the transport guidelines put in place under general community quarantine.
"This is not the time to stretch experiments. Improving mobility and maximizing space are important, but spending on costly experiments that we know are bound to fail is totally unnecessary lalo pa ngayong kapos sa pondo," the senator says.
"Sana try din nilang testingin yung kanilang science projects sa EDSA--para kasing virtual experiment ang ginagawa sa mga mananakay. Wag na po nating ipilit yung mga hilaw at minadaling plano sa EDSA which placed public safety as a secondary concern. Di po EDSA ang classroom sa online learning," she adds.
June 19, 2020
Former Sen. Antonio Trillanes IV dares Malacanang to appoint Vice President Leni Robredo as chair of the inter-agency task force on COVID-19.
In response to presidential spokesperson Harry Roque's remarks against Robredo, Trillanes says the former seems to be blind on the accomplishments of the vice president in helping Filipinos during the pandemic. Roque earlier said Robredo should present solutions rather than criticizing the government's response to the virus.
"Kung si Vice President Leni ang mamumuno at magpapatakbo ng IATF, mas marami itong magagawa at siguradong mas maganda ang kampanya natin laban sa COVID-19," Trillanes says.

June 19, 2020
Health Undersecretary Ma. Rosario Vergeire on Friday clarifies that the entire province of Cebu, except Cebu City and Talisay City, is still under general community quarantine.
Vergeire stresses that the DOH did NOT report that the entire province is under enhanced community quarantine nor have they discussed the levels of community quarantine in different areas of the country.
"Please be informed that the Province of Cebu, except for Cebu City (under ECQ) and Talisay (modified ECQ), is still under GCQ. It is only the IATF which has the authority to change and announce this kind of policies," Vergeire says.
June 18, 2020
All employees of the Manila Regional Trial Court are advised to go under quarantine and contact tracing after two staff members had contact to close relatives who tested positive for the coronavirus disease.
June 16, 2020
The Office of Consular Affairs of the Department of Foreign Affairs announces that passport applicants can now have their passports delivered using the Passport Online Appointment System.
"Applicants who fill up their online application may choose to avail of the courier service as well, and pay for the passport processing fee and the courier fee in one transaction. Applicants may choose whether to pay over-the-counter or through debit card or credit cards," the agency says.
The DFA strongly recommends availing the courier service to avoid health risks though applicants still have the option to pick up their passport at the Consular Office. It also advises those who wish to apply for or renew their passports to secure an appointment by visiting http://passport.gov.ph.
June 10, 2020
The Department of Information and Communications Technology announces that they are set to expedite its free wi-fi for all program to address the connectivity issues of public schools under the new normal.
"President Rodrigo Roa Duterte expressed his support for the Department of Education (DepED)'s push for blended and distance learning so that education will continue in the midst of the COVID-19 health emergency," DICT Secretary Gregorio Honasan II says.
"A key factor for this is fast, reliable and secure Internet—we are focusing on speeding up infrastructure buildup to address the expected surge in demand for connectivity in the education sector," he adds.
June 5, 2020
The Metropolitan Manila Development Authority calls for smooth coordination in the establishment of bicycle lanes in Metro Manila.
"The MMDA welcomes the establishment of pop-up bike lanes and elevated bike lanes in Metro Manila. The agency is not against such initiatives," the MMDA says.
"However, biking enthusiasts have to remember that there are precautions for the safety of all road users. Close coordination with the MMDA and local government units is important," it adds.
June 4, 2020
The Chinese Embassy donates 5,000 "Friendship Bags" to the City of Manila for families affected by the 2019 pandemic.
The bags contain "essential living supplies such as rice and canned sardines to distribute to those in need so as to help them get through the difficulties," the embassy says.
"Since the outbreak of the pandemic, China and the Philippines have helped and supported each other to build a closer partnership through anti-pandemic
cooperation. The Chinese Embassy will work together with the Philippine people to strive for an early victory over the pandemic," it also says.
June 3, 2020
BRP Dagupan City (LS551) transports PPEs to provinces in the Visayas and in Mindanao
"LS551 will conduct sealift mission of military personnel, civilian passengers, assorted cargoes and deliver thousand sets of personal protective equipment, assorted medical supplies and relief goods," the Philippine Navy says.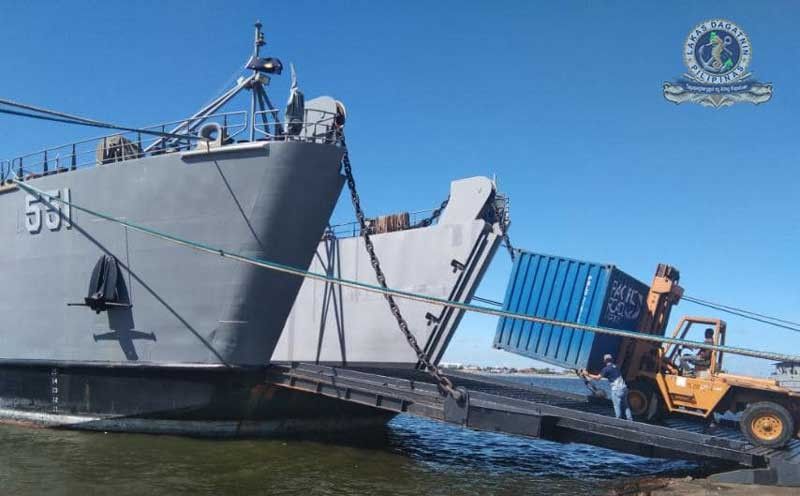 June 3, 2020
The Embassy of Israel in Manila says the state of Israel donates medical equipment to first responders of the Department of National Defense of the Republic of the Philippines.
Israeli Ambassador Rafael Harpaz personally turned over the donation to Secretary of National Defense Maj. Gen. Delfin Lorenzana in a ceremony at the Villamor Airbase on Tuesday.
"The State of Israel presents its deepest gratitude to the first responders of the Department of National Defense for their service to the Filipino people amidst the COVID-19 pandemic," says Harpaz.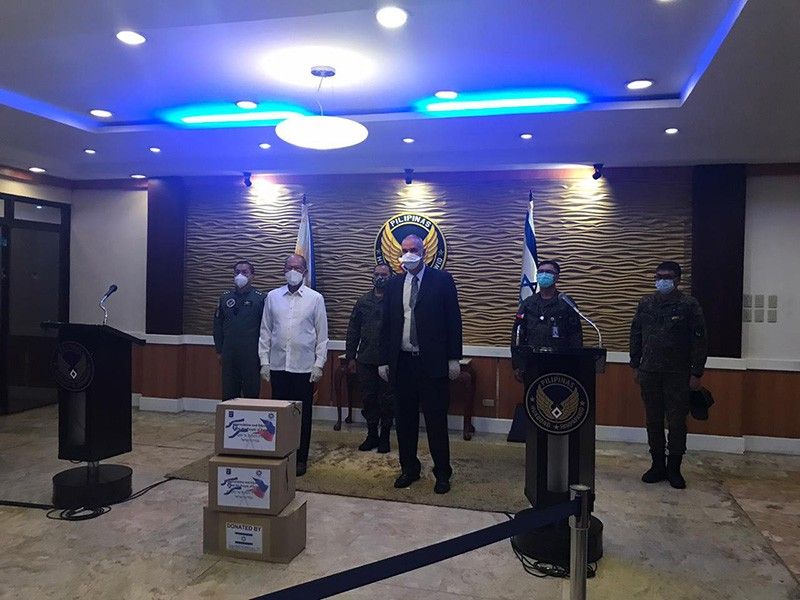 June 2, 2020
Sen. Nancy Binay challenges government transport officials to commute to work and "experience for themselves" the supposed road transport guidelines they have enforced under general community quarantine.
"Napaka-unfair sa commuters na yung mga private vehicles walang restrictions bumyahe. Napaka-limitado ng choices nila. DOTr knew that Metro Manila and the rest of the regions will soon be transitioning to the new normal. They knew that 30% of those in NCR will start going to work by June 1--tapos ang idi-deploy eh truck ng libreng sakay which compromise and breach all health protocols particularly physical distancing," she says.
June 1, 2020
Baguio City records two new COVID-19 cases as it transitioned into modified general community quarantine Monday, bringing the total number of active cases in the city to four.
Mayor Benjamin Magalong says one of the patients is a 28-year old female from City Camp Central who had history of travel to San Fernando, La Union last May 26. She is asymptomatic but has suspicious pneumonia based on her chest x-ray examination.
The other patient is a 25-year old male from Sitio Apugan, Barangay Poliwes, along Kennon Road, who is asymptomatic and has no history of travel or exposure to the coronavirus disease. He is a "person deprived of liberty" brought to the Baguio City Jail male dormitory on May 29. — The STAR/Artemio Dumlao
May 30, 2020
The Department of Justice says religious gatherings will be allowed up to 50% of the capacity of the church or venue in areas under modified general community quarantine starting June 1.
"As to those in GCQ areas like the NCR, the IATF will host a dialogue between the religious sector and representatives of the LGUs on Monday morning. then the IATF will make a final resolution on the same day," says Justice Secretary Menardo Guevarra.
May 28, 2020
Education Secretary Leonor Briones says there is no conflict on the position of the Department of Education with that of President Rodrigo Duterte on the opening of classes in August.
Briones clarifies that Duterte was referring to face-to-face classes. The DepEd chief says the agency was one with the president on the safety of children.
"There will be no face to face classes until safe. We can still provide learning opportunities to our students without requiring them to come to school," Briones says. — with report from The STAR/Janvic Mateo
May 28, 2020
The Inter-Agency Task Force on Emerging Infectious Diseases recommends that Metro Manila be placed under general community quarantine from June 1 to 15.
Interior Secretary Eduardo Año confirms that the IATF recommended that the region transition from a strict modified enhanced community quarantine to a more relaxed GCQ as Metro Manila is now seen as a "high-to-moderate-risk area."
"For Metro Manila, ang rekomendasyon ay maging under general community quarantine, except for high-risk barangays," Año says in an interview with CNN Philippines' "The Source" Thursday morning.
May 28, 2020
Metro Manila and Davao will be placed under general community quarantine starting June 1, special adviser to coronavirus task force Tony Leachon says.
In an interview with radio dzBB, Leachon also confirms that Cebu City will remain under modified enhanced community quarantine as it is considered the second epicenter of COVID-19 in the country.
President Rodrigo Duterte will address the nation Thursday night to discuss quarantine measures after May 31.
May 25, 2020
Senate Minority Leader Franklin Drilon is hoping for a "science-based decision" as Metro Manila and other parts of the country under a Modified Enhanced Community Quarantine prepare to shift to the General Community Quarantine.
"The number of cases may not be doubling but it is still increasing. It just breached 14,000 yesterday and another 6,000 who tested positive remain to be validated. They may be silent carriers who unknowingly spread the virus. Where are they?" he says.
Confirmed cases have been expected to increase as the Philippines builds up its testing capacity.
May 24, 2020
Youth group Samahan ng Progresibong Kabataan is calling on parents and students to "dismiss" the resumption of classes by August and September as ordered by the Department of Education and Commission on Higher Education, saying not enough people have been tested.
The group points out that the French Education Ministry reported 70 cases of COVID-19 cases among schoolchildren just one week after the gradual reopening of schools.
Two students in South Korea have also been infected with COVID-19 despite strict safety protocols implemented there, the group says.

"Blended learning does not guarantee the health and safety of everyone in the school even if the agencies require only 50% of the class to attend in-person classes at any given time, especially when mass testing has not been fully done yet," says SPARK spokesperson John Lazaro.
May 18, 2020
La Trinidad, the capital of Benguet, bore the brunt of COVID-19's impact on tourism and tourism-related businesses in the province.
La Trinidad Mayor Romeo Salda, citing a report submitted by the Local Economic and Investments Promotion Office and the town's tourism office, estimates their losses will reach at least P100 million.
Souvenir and pasalubong shops and other stores in the town lost a total of between P5 million and P6 million from March to mid-May.
The Strawberry Festival supposedly on the first week of March and the Tourism Week after including other events, which were all cancelled, led to some P5 million in losses.
— The STAR/Artemio Dumlao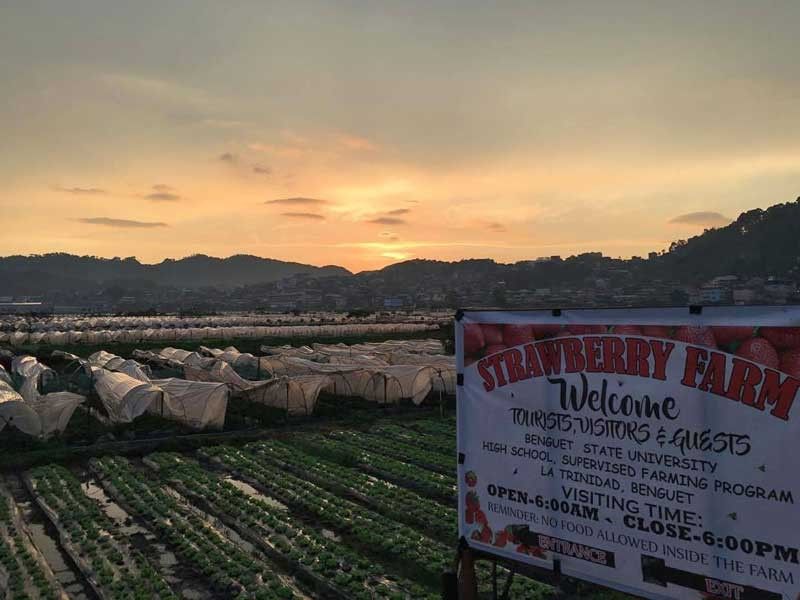 May 18, 2020
Cavite Gov. Jonvic Remulla orders the temporary closure of malls in the province due to the lack of physical distancing measures.
Cavite, which has 275 cases of COVID-19, has been under general community quarantine since Saturday.
"Outside the mall before opening; inside the mall during operations; we did not see any enforced measures on social distancing," Remulla says in a Facebook post Monday.
May 14, 2020
Based on the recommendations of the Commission on Higher Education, higher education institutions may open classes anytime as long as they operate online.
Institutions using flexible can open anytime in August while those using face-to-face or in-person mode can open not earlier than September 1 in areas under general community quarantine.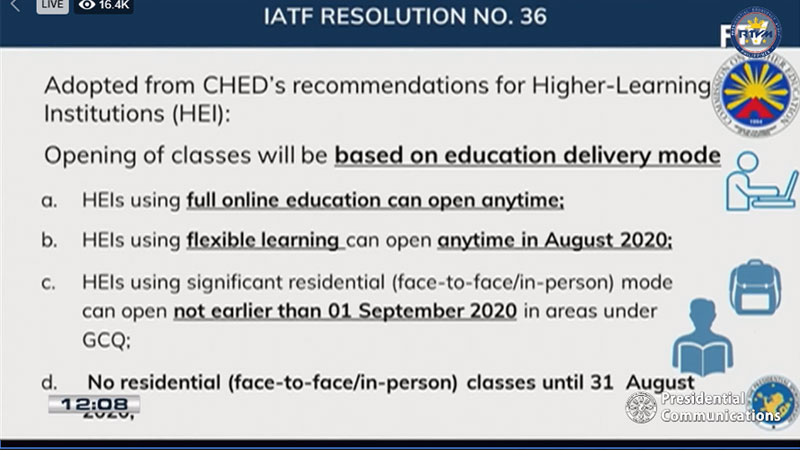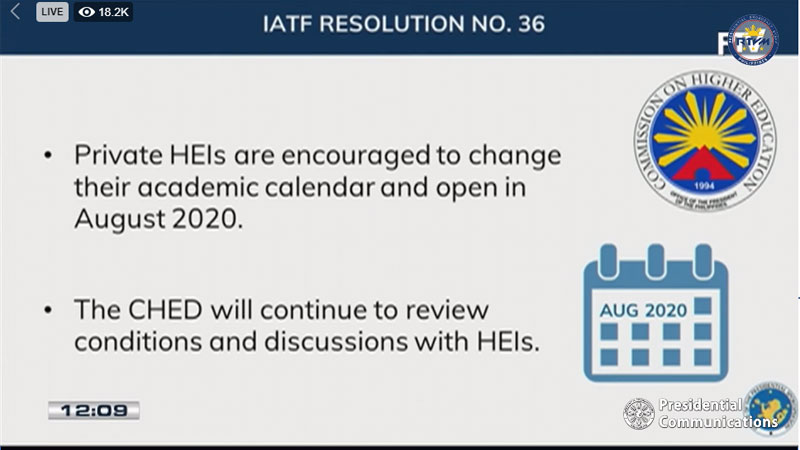 May 14, 2020
The entire Philippines — except Metro Manila, Laguna and Cebu City — will be under general community quarantine starting May 16.
All provinces, highly urbanized cities and independent component cities previously identified as low-risk under IATF Resolution 35 will be under GCQ.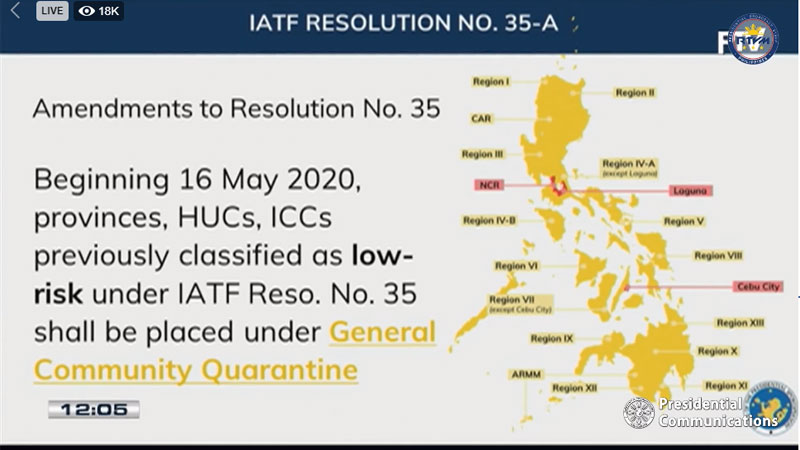 May 9, 2020
The Inter-Agency Task Force for the Management of Emerging Infectious Diseases says it has approved construction projects in general community quarantine areas such as facilities for quarantine and priority construction projects.
May 7, 2020
The Inter-Agency Task Force for the Management of Emerging Infectious Diseases says they want to limit the number of open entrances in mall.
They also recommend standing on every other step of escalator and assigning of personnel in high-density areas.
May 5, 2020
The Ilocos Norte provincial government rolls out a livelihood and emergency employment program for displaced daily wage workers amid the COVID-19 crisis.
Under the "NariMAT nga Aglawlaw" cash-for-work program, at least 1,332 beneficiaries were hired to work under barangay-based social community projects such as eco-tourism; repair and improvement of common public facilities; debris clearing; declogging of canals; debris segregation and materials recovery, stockpiling; rehabilitation of farm-to-market roads, bridges, post-harvest facilities, and public markets; and tree planting and seedling preparation.
Beneficiaries will also receive a salary worth P1,275 for five days and a calamansi seedling for each individual. — The STAR/Artemio Dumlao
May 5, 2020
Education Secretary Leonor Briones announces that the opening of school year 2020-2021 will be on August 24.
At the Laging Handa virtual briefing, the education chief says the initial schedule for next school year is from Aug. 24, 2020 to Apr. 30, 2021.
Briones also says some private schools have expressed readiness to start classes using distance learning or other online options.
May 4, 2020
The provincial government of Basilan had procured 10,000 more bags of rice for constituents displaced by its coronavirus containment effort.
Besides rice, the office of Gov. Jim Salliman also purchased 1,000 more cases of canned sardines to augment the relief supplies it distributed in a series of outreach missions in the province early on.
In a statement Sunday, Salliman's office said the provincial government will continue to focus on alleviating the condition of constituents displaced by the province-wide COVID-19 health emergency.
"We will do our best to help ease their situation by all allowable means, within the capability of our provincial government," Salliman said. — The STAR/John Unson

May 2, 2020
Sen. Nancy Binay says the Philippines needs an army of COVID-19 trackers as the some parts of the country have transitioned from enhanced community quarantine to general community quarantine.
"Habang tumatagal, numinipis ang hanay ng ating healthworkers pati na ang ating mga taong inaasahan sa barangay. The first step once ECQ is lifted is to see to it that the LGU is ready and well-equipped when it comes to tracking possible carriers who have been exposed to infected people. It is best that we come prepared and start training an army of contact tracers as we transition from ECQ to GCQ," the senator says.
May 1, 2020
A 62-year-old man, who died 11 days ago in a hospital in Jolo, is confirmed to be the first positive case of coronavirus disease (COVID-19) in the province of Sulu, according to Bangsamoro Autonomous Region in Muslim Mindanao (BARMM) Ministry of Health.
The Sulu Task Force COVID says the confirmation came Thursday as the province transitioned Friday from general community quarantine (GCQ) being among the areas with negative case prior to the release of confirmation from Department of Health (DOH).
The patient from Indanan town died on April 19 while confined at the Sulu Sanitarium. The Sulu Task Force COVID reported the patient has no travel history and unknown history of exposure. — The STAR/Roel Pareño
May 1, 2020
Guidelines on movement between quarantine zones
Moving from an area under General Community Quarantine to another GCQ area or from an under Enhanced Community Quarantine to another area under ECQ will be considered movement within the same zone
Non-essential entry into and exit from ECQ zones are prohibited except for
health workers
government officials and government frontline personnel those traveling for medical or humanitarian reasons
persons transiting to the airport for travel abroad
workers in permitted establishments and persons providing essential goods and services and public utilities
essential skeletal workforce
repatriated OFWs and non-OFWs returning to their residences
other persons transported through the efforts of the national government upon conduct of the necessary quarantine protocols and in concurrence with the receiving LGUs
"The movement of all types of cargoes by land, air, or sea within and across areas placed under ECQ or GCQ shall be unhampered."
Workers in logistics are allowed to transit quarantine areas "provided, that only a maximum of five personnel may operate cargo and delivery vehicles by land, with or without load."
Uniformed personnel as well as government officials and employees on official business and with travel authority, "especially those transporting medical supplies and laboratory specimens related to COVID-19, and other relief and humanitarian assistance," are allowed to passh through zones
OFWs, permanent residents abroad and foreign nationals may leave the country through airports and seaports even in areas under ECQ or GCQ. They may be accompanied by one person, who shall be allowed to return to their point of origin.
"Repatriated OFWs or returning non-OFWs who have been issued a DOH or LGU certificate of completion of 14-day facility-based quarantine, or those who may be required to undergo a mandatory 14-day home quarantine shall be granted unhampered transit across zones en route to their final destination in the Philippines."
May 1, 2020
Religious gatherings and work gatherings in areas under general community quarantine will not be allowed, IATF spokesperson Harry Roque says.
According to Roque, the IATF has revised its guidelines on mass gatherings, which will be the same with areas under enhanced community quarantine.
"Alinsunod po sa mga reklamo na natanggap na nanggagaling po sa mga local official na imposible raw pong ma-implement 'yung social distancing sa religious meetings saka sa mga work gathering, nabago na po ang guidelines. Bumalik po tayo sa rules under ECQ," Roque says at the Laging Handa virtual briefing.
May 1, 2020
Who can go to work in GCQ areas?
Government workers
Work in government offices may be at full operational capacity or under alternative work arrangements in accordance with Civil Service Commission rules
Category I industries that are allowed to work at full operational capacity (work from home or other arrangements also allowed)
"Agriculture, fishery, and forestry industries, food manufacturing and food supply chain businesses, including food retail establishments such as supermarkets, grocery stores, and food preparation establishments insofar as take-out and delivery services, food delivery services, health-related establishments, the logistics sector, information technology and telecommunication companies, media"
Category II industries allowed to work "between 50% capacity up to full operational capacity" (work from home or other arrangements also allowed)
"Mining and other manufacturing, export-oriented, and electronic commerce companies, as well as other delivery, repair and maintenance, and housing and office services"
Category III industries allowed to operate at a maximum of 50% working on site (work from home or other arrangements also allowed)
"Financial services, BPOs, legal and accounting, and auditing services, professional, scientific, technical, and other non-leisure services, and other non-leisure wholesale and retail establishments"
Other industries
"Limited operations in malls and shopping centers shall be allowed, except for leisure establishments and services which shall continue to be closed"
Essential public and private construction projects are allowed
Amusement, gaming, and fitness establishments and businesses in the kids and tourism industry are NOT ALLOWED to operate
Except for Philippine Offshore Gaming Operators, which are for gambling but that presidential spokesperson Harry Roque says are like BPOs, if you think about it
Hotels are allowed to accommodate guests with existing booking accommodations for:
foreigners
guests with existing long-term bookings
distressed OFWs and stranded Filipinos or foreign nationals
people undergoing mandatory quarantine
healthcare workers and employees of exempted establishments
May 1, 2020
Guidelines on movement in GCQ areas
Movement is limited to accessing essential goods and services "and for work in the offices or industries permitted to operate."
Movement for leisure purposes is prohibited
People who are 21 years old and below or who are 60 years old and above as well as those considered more at risk from COVID-19 "except when indispensable" and only for essential movement
Road, rail, maritime and aviation sectors of public transportation will operate at reduced capacity, "provided that in all public transport, a strict one-meter distance between passengers shall be observed."
April 30, 2020
Interior Local Government Setecretary Eduardo Año says public and mass transportation will be allowed in areas under general community quarantine, provided that one-meter distancing and other preventive measures to prevent the spread of COVID-19 are observed.
He adds that jeepneys are still not allowed to operate.
Other regions and provinces in the Philippines considered moderate and low-risk areas will be placed under general community quarantine starting May 1. Bookmark this page for updates. (Main image by The STAR/Edd Gumban)