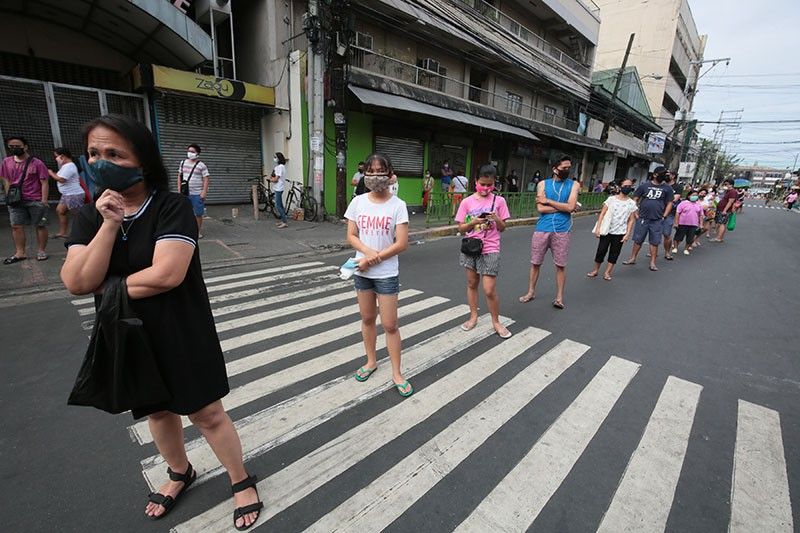 Emergency powers vs COVID-19
LATEST UPDATE: April 5, 2020 - 10:19am
LOCATION:
+ Follow Story
15 hours ago
The Department of Information and Communcations Technology and the Philippine National Police have formed "Task Force COVID Kontra Peke", which is tasked with "preventing and reporting fake news."
In a release, DICT says its "Cybersecurity Bureau through the Computer Emergency Response Team (CERT-PH) is charged with technical assistance on information sharing and analysis for law enforcement agencies, including the PNP and the National Bureau of Investigation."
16 hours ago
The conversion of the Rizal Memorial Complex in Manila into a quarantine facility for COVID-19 patients will be completed by Monday, April 6, the National Task Force against COVID-19 says.
The quarantine area, which will be operational on the same day, will be for COVID-19 patients from the Philippine General Hospital.
"Our strategy is to transfer patients with mild COVID-19 symptoms. It will also be manned by three doctors and 50 nurses from the Armed Forces of the Philippines and Philippine National Police medical services," presidential peace adviser Carlito Galvez Jr., chief implementer of the national action plan against COVID-19, says.
1 day ago
The Clark International Airport Corporation says it has remitted at least P130 million to the Bureau of Treasury to help boost the government's efforts in fighting the spread of COVID-19.
Joshua Bingcang, CIAC officer-in-charge, says the amount of P130,535,077.59, representing payment of dividends due from CIAC, was remitted to the Bureau of Treasury on April 2.
"This is CIAC's response to the call of Transportation Secretary Arthur Tugade who directed DOTr-attached agencies to advance dividends to the Department of Finance to support government's spending measures to contain the COVID-19 pandemic as part of the implementation of RA 11469, or the Bayanihan to Heal as One Act," Bingcang says.
1 day ago
The National Union of Peoples' Lawyers says the grant of emergency powers to President Rodrigo Duterte "made the dangers more real."
"Nothing is more corrosive to a democracy than a citizenry that is fearful of asserting a right or protesting a wrong, for democracy's strength, a noted jurist once wrote, 'lies not in the rights it guarantees but in the courage of the people to invoke them whenever they are ignored or violated,'" says the group.
1 day ago
Human rights lawyer Chel Diokno responds to Duterte, who called him a 'lousy lawyer' and insulted him for his teeth
Diokno tweets:
"Mr. President, may mga kliyente akong tinutulungan na tinitiis na ang sakit at gutom, ngunit wala akong sinabihang manggulo o lumabag ng batas. Okay lang na pag-initan n'yo ako, pero tutukan n'yo rin ang pangangailangan ng mga tao."
3 days ago
The Magdalo party-list says the announcement of the Presidential Anti-Corruption Commission asking the National Bureau of Investigation to investigate Vice President Leni Robredo is "utterly ridiculous"
"We are in a middle of a public health crisis. This is not a competition. This time is about helping in every way we can," says the party-list in a statement.
"It is disappointing that those who are performing their duties are being attacked, while there are many government officials who were not even seen by their constituents since this crisis started. Instead of targeting the Vice President, maybe the administration could take her practices as models to improve their work and bring the best service to the people," it adds.
3 days ago
The Presidential Anti-Corruption Commission's assertion that the Office of the Vice President is competing with government relief operations during the COVID-19 pandemic are "ridiculous, inappropriate and out of touch," he spokesman says.
"Since Day One of the COVID-19 crisis, VP Leni has done all she can to help health workers, government institutions, and ordinary Filipinos overcome the challenges they have had to face due to the restrictions on travel, the shortages in supplies, and, of course, the ever present threat of infection," lawyer Barry Gutierrez says.
"Anyone who insists that bringing much needed assistance to hospitals, health workers, and poor Filipinos is somehow a 'competition' has absolutely no understanding of the gravity of the crisis we are all facing," he also says.
3 days ago
The Presidential Anti-Corruption Commission asked the National Bureau of Investigation to go after Vice President Leni Robredo, whose office has been raising funds and providing services singlehandedly in response to the coronavirus crisis.
Robredo's efforts are competing with government, the PACC claims, despite the fact that any help to mitigate the spread of the deadly virus, assist health workers and others affected are necessary.
"The PACC statement is so ridiculous, so inappropriate, so out of touch, that I had to verify if it was really true. I am deeply disappointed that it was," Barry Gutierrez, the vice president's lawyer, said in a statement.
April 1, 2020
Sen. Francis "Kiko" Pangilinan questions the action of the National Bureau of Investigation against Pasig Mayor Vico Sotto which asked the young mayor to explain a possible violation of the Bayanihan to Heal as One Act.
"Paano nilabag ni Pasig City Mayor Vico Sotto ang batas na hindi pa batas? Ginamit ang mga improvised tricycle bago mag-March 18. Umapela, tinanggihan, at sumunod sa utos si Mayor Vico March 19. Naging batas ang Bayanihan to Act Heal as One Act (Special Powers Act) noong March 24," Pangilinan says.

"A case against Mayor Vico for acts done before the effectivity of the Special Powers Act will not fly as it will violate Art. III, Sec. 22 of the Constitution, which reads "[n]o ex post facto law or bill of attainder shall be enacted," he adds.
March 31, 2020
Senate Minority Leader Franklin Drilon asks whether the government has enough funds to fight the COVID-19 pandemic while encouraging the speedy implementation of P200-billion aid to low-income families and other programs in the Bayanihan to Heal as One Act.
"We need to augment funding for our healthcare system, buy more test kits, personal protective equiipment (PPEs), mechanical ventilators, among others," Drilon says.
Drilon, however, says the lack of sufficient funds will undermine government interventions to fight COVID-19.
March 31, 2020
The government should have an online master list of the beneficiaries of the P200 billion in financial aid that will be give to poor Filipino families affected by quarantine measures against COVID-19, Sen. Joel Villanueva says.
"One of the pressing concerns we have is the distribution of the emergency subsidy worth P5,000 to P8,000 which will help our workers in the no work, no pay sector, and workers in the informal economy, and their respective families, among other sectors," he also says on Tuesday, the day that the executive branch submitted its report on its use of the emergency powers granted by Congress.
"While our executive has assured us that the list of beneficiaries will be streamlined, we suggest that our government place the final list of beneficiaries, including names and their barangays, in a website which will serve as a transparency mechanism and a convenient form of accounting for the public," he adds.
He says that while the purchase of more Personal Protective Equipment for medical workers is welcome, "let us not also forget that our hospitals in NCR and in the provinces need ventilators for them to help patients."
"We appreciate the efforts of our government in utilizing the resources it has been given to address the effects of COVID-19. Our legislature responded to the call of the times through the Bayanihan law," he also says.
March 31, 2020
President Rodrigo Duterte, in a late night address on Monday night, acknowledges that the Philippines is short on money and medical supplies.
He also says that the country had been short of resources even before the COVID-19 outbreak. He adds even the US is having trouble addressing the novel coronavirus disease.
"Ang masasabi ko lang meron tayo P200 billion binigay sa akin ng Kongreso para gastusin ko. Yun naman po ginagamit ko pakalat na pera para mabigyan lahat, mga walang trabaho, may trabaho kalahating trabaho, ang mayaman di na kasali," he says.
(All I can say is that we have P200 billion that Congress gave me to spend. That money will be distributed so everyone will get aid. The displaced workers, those with some work... the rich will not get any)
Under the 'Bayanihan' law that declared a state of national emergency and gave Duterte broad powers to realign the national budget and to implement other measures to address the COVID-19 outbreak, the executive branch was supposed to give a report to Congress on how those powers have been used.
The weekly reports were due on Monday.
Duterte's televised address was not that report.
March 30, 2020
President Duterte's address has not yet started 6 hours after it was tentatively set at 4 p.m.
March 25, 2020
A human rights watchdog says the "falsehood information" provision of the Bayanihan to Heal as One Act is "over-broad and can easily be misused by Philippine authorities to crack down on online criticism of government efforts."
"Given the Duterte administration's well-documented hostility towards freedom of the press and online critics, this law could be used to criminalize any online information the government dislikes," says Human Rights Watch in a statement.
"Rather than abusing people's free speech rights, the Duterte administration should focus on providing the public with accurate and timely information about COVID-19," it adds.
President Rodrigo Duterte signed the bill that grants him special powers to address the novel coronavirus outbreak in the Philippines. Bookmark this page for updates.