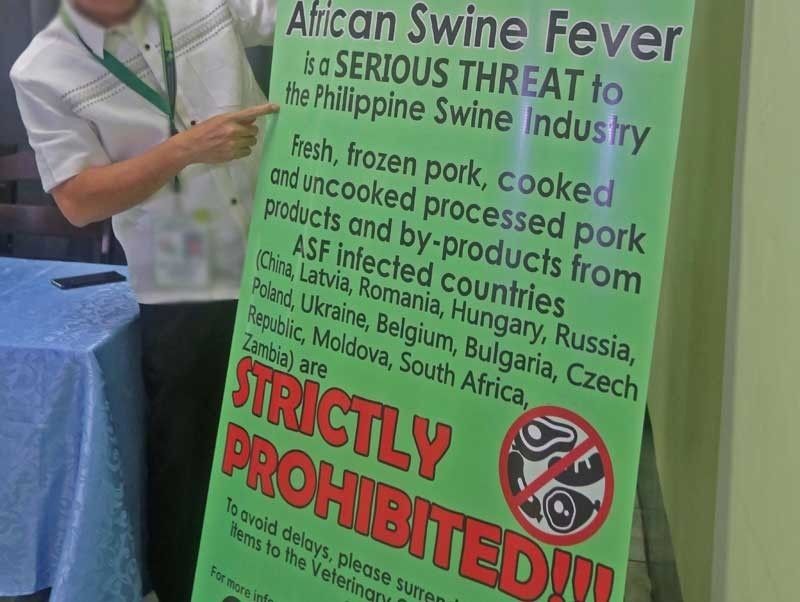 African swine fever in the Philippines
LATEST UPDATE: October 9, 2019 - 7:09pm
LOCATION:
+ Follow Story
October 9, 2019
The Department of Agriculture Crisis Management Task Force says in its latest bulletin that about 12,000 head of swine tested positive of ASF in more than 20 barangays in Rizal, Bulacan, Pampanga and Quezon City.
"This represents one-third of the total depopulated pigs in ground zero," ASF Task Force head Reildrin Morales says.
This means that the remaining two-thirds of the pigs or 24,000 were culled due to the 1-7-10 protocol of the DA.
The 36,000 affected hogs is 0.28 percent of the country's total hog population. The Philippines has 12.8 million hogs. — The STAR/Louise Maureen Simeon
October 1, 2019
Agriculture Secretary William Dar has confirmed that the latest victim of African swine fever is Barangay Tatalon in Quezon City, the third area in the city after Barangay Bagong Silangan and Payatas tested positive of the disease two weeks ago.
"Tatalon has been observed to have pigs that have been infected by ASF. It was not transported, it was within their backyard raising," Dar says in a briefing on Tuesday.
"I have yet to receive the full report but yes, Tatalon is positive. Depopulation has already started," he adds. — The STAR/Louise Maureen Simeon
September 30, 2019
Agriculture Secretary William Dar says the government has already culled 20,000 pigs, higher than the 15,000 reported last week. The Philippines has 12.8 million hogs.
"As of today, we have culled 20,000 heads. One-third of that was due to the ASF virus and the other two-thirds are not affected but was culled because of our 1-7-10 protocol," Dar said in a joint briefing with Manila Mayor Isko Moreno on Monday.
"Most of the 20,000 heads came from Bulacan, from those areas we are cordoning and under quarantine. We also have from nearby Pampanga which is not as many as those in Bulacan," he added. — The STAR/Louise Maureen Simeon
September 19, 2019
Quezon City Mayor Joy Belmonte says no results from 48 blood samples from Bagong Silang, Payatas and La Loma submitted to the Bureau of Animal Industry have been returned.
The samples serve to determine whether pigs in the areas have been infected by the African swine fever.
In a report by ABS-CBN, Belmonte says, however, that the bureau gave the city government verbal confirmation that some samples are ASF positive.
September 17, 2019
Barangay workers can help monitor and contain cases fof African swine fever, outbreaks of which have been confirmed in parts of Bulacan and Rizal, Sen. Nancy Binay says.
Binay says barangay workers know their communities and "can encourage backyard raisers to notify them or representatives of the [local government unit] or [Department of Agriculture] to report if there's something wrong with their pigs."
Over the weekend, dozens of dead pigs were found floating in the Marikina River and in a creek in Quezon City, with Agriculture Secretary William Dar saying the dumping was irresponsible and illegal.
"I am calling on our barangay workers to approach the hog raisers in your areas, especially the backyard raisers, partocularly when our local agricultural offices are undermanned," she also says.
September 16, 2019
The Office of the City Veterinarian in Zamboanga City has set up checkpoints alongside those of the police and military to guard against the possible entry into the city of pigs infected with African swine fever.
Dr. Arnedo Abgayani, assistant city veterinarian, says they will bar the entry of pigs and pork products without the necessary veterinary health certificate and shipping permit.
The city veterinarian's office is keeping an eye on pork and pork products from China "because it is one source of the ASF."
Arnado said local raisers must also submit to inspection and will need to secure the required documentation when transporting pigs and pork.
"As of the moment, there has been no reports and monitoring of entry of ASF infected pigs and its by-products," Arnado says. — The STAR/Roel Pareño
The Bureau of Animal Industry has confirmed that the number of cases of African swine fever in the Philippines has reached outbreak level, News 5 reports.
Outbreaks, according to the World Health Organization, "the occurrence of disease cases in excess of normal expectancy."
The announcement comes within days of pigs being found floating along the Marikina River and in a creek in Quezon City amid cases of ASF.
JUST IN | The African Swine Fever in the Philippines is now considered an outbreak, says the Bureau of Animal Industry. (via @News5AKSYON / @ShylaFrancisco) pic.twitter.com/Fjpx4lX4cK

— ONE News PH (@onenewsph) September 16, 2019
"It was utterly irresponsible on the part of backyard raisers as they did not only violate current laws, but their misdoing also spread the disease pathogens much faster," Agriculture Secretary William Dar said of the dumping of pig carcasses.
"They violated the Animal Welfare Act, as they deprived their dead pigs of adequate care, maltreating them in the process."
READ: African swine fever is now in the Philippines. Should you be alarmed?
ASF is a highly contagious viral disease of domestic and wild pigs that has no cure and no vaccine. Mortality rates are as high as 100%.
According to the World Organization for Animal Health, ASF can be transmitted through direct contact with infected pigs, ingestion of contaminated materials such as food waste, feed or garbage, or contaminated fomites or biological vectors.
Historically, there have been reported outbreaks in Africa and parts of Europe, South Africa and the Carribean. More recently, the disease has been reported in countries across Africa, Asia and Europe.