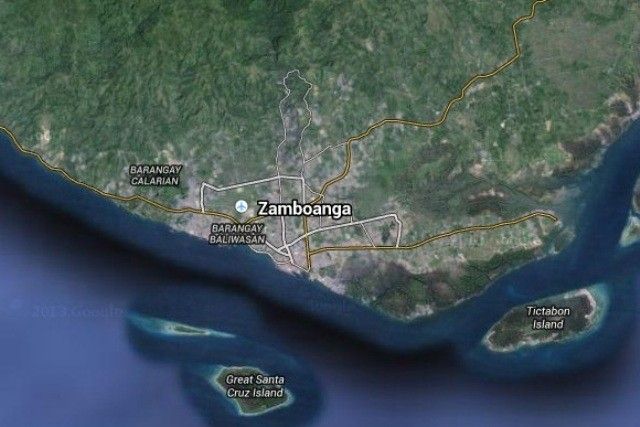 Zamboanga City and Zamboanga Peninsula
LATEST UPDATE: June 16, 2019 - 3:03pm
LOCATION:
ZAMBOANGA DEL NORTE
ZAMBOANGA DEL SUR
ZAMBOANGA SIBUGAY
ZAMBOANGA
ZAMBOANGA CITY
+ Follow Story
14 hours ago
A former policewoman and 13 other drug pushers were arrested in a series of buy-bust operations in Zamboanga City on Saturday.
Police Colonel Thomas Joseph Martir, Zamboanga City Police Office director, said the anti-drug sting yielded more than P205,000 worth of shabu.
Martir identified the arrested former policewoman as Charlotte Reyes Foncardas, 37, jobless and resident of Barangay Tetuan.
Police said Foncardas was arrested along with six others identified as:
Jayson Bonifacio Taytay, 40
Eliner Marcelino Perez, 28
Joe Vincent Miguel Pantaleon, 29
Lionel Hipolito Dagalea, 32
and Joemar Siason Dagalea, 45.
All are residents of Barangay Guisao in Zamboanga City.
Martir said the seven other drugs suspects were also arrested by operatives from the different police stations.
The police official noted that those arrested were college and high school graduates and mostly jobless. -- The STAR/Roel Pareño in Zamboanga City
2 days ago
A police official says a male teacher and a grade 6 pupil were injured when a rifle grenade accidentally exploded while students were playing with it Thursday inside a public school in Liloy town, Zamboanga del Norte.
The injured victims were identified as Desiderio Pizon Acain, 54, teacher of Ganase Elementary School, and John Michael Fabraquel Baunillo, 12, a grade 6 pupil of the same school, saiys Police Brig. Gen. Froilan Quidilla, director of Police Regional Office 9.
Police investigation disclosed that the students were playing with the rifle grenade when it accidentally exploded about 12:30 p.m. Thursday.
The explosion injured two victims and partially damaged a classroom. The injured victims were brought to Liloy Integrated Hospital for treatment. Responding police recovered pieces of shrapnel from the parts of the rifle grenade. — The STAR/Roel Pareño
2 days ago
A police official says three drug dealers, including a female student, were arrested by police forces and seized more than P1 million worth of shabu during three separate operations in Zamboanga City,
The suspected drug dealers were identified as Adamay Abduhari Sipin, 19, a female college student; Munir Jalaidi Adjid, 42, a businessman and Arial Bael Buhian, 52.
The confiscated illegal drug substance were brought to Crime Laboratory Office for examination while all arrested drug suspects were detained at respective police stations and charged for violation of Republic Act 9165, known as the Comprehensive Dangerous Drugs Act. — The STAR/Roel Pareño
3 days ago
The cousin of a newly elected vice mayor of a town in Zamboanga del Sur was gunned down in Pagadian City on Thursday morning, police say.
The victim was identified as Sammy Nian, cousin of Vice Mayor-elect Matt Nian of Dinas town.
Police Brig. Gen. Froilan Quidilla, director of Police Regional Office 9, says the victim was shot dead by the two unkown gunmen around 7:20 a.m. near the Cabahug Hospital in Barangay San Pedro.
Polcie say Nian was in a motorized tricycle when the gunmen rode by on a scooter and shot him three times when it stopped near the hospital to drop off two passengers.
A pursuit operation is under way. — The STAR/Roel Pareño in Zamboanga City
June 12, 2019
A suspected kidnapper tagged in the abduction of an Italian priest 12 years ago, was killed in drug raid pre-dawn Wednesday in a coastal village of Zamboanga City.
Masdal Jakaria, suspected to be a member of KFRG Muloc and the Waning Abdusalam Group, was killed in a joint police and military operation to serve a search warrant for suspected violation of the Comprehensive Dangerous Drugs Act at Jakaria's safehouse in Barangay Mampang.
Police Col. Thomas Joseph Martir, director of Zamboanga City Police Office, says Jakaria opened fire on the team serving his warrant, triggering a shootout.
"The suspect was involved in the abduction of a foreign priest," Martir says, referring to the abduction of Fr. Giancarlo Bossi.
Bossi was abducted by 10 gunmen of the Waning Abdusalam Group on June 10, 2007 while he was on his way to Barangay Bulawan in Payao town, Zamboanga Sibugay to officiate a mass.
Bossi was freed after 41 days in captivity. Operations to find him left 14 Marines and nine others dead in an ambush on July 11, 2007 in the hinterlands of Al-Barka in Basilan. — The STAR/Roel Pareño in Zamboanga City
June 5, 2019
A security official says troops recovered several high-powered firearms and other paraphernalia hidden by the Abu Sayyaf group in an island off Sulu.

Maj. Gen. Divino Rey Pabayo, commander of Joint Task Force Sulu, says the troops from the 6th Special Forces Battalion and five members of the Barangay Peacekeeping Action Team were conducting security patrol when they were led to cache of firearms hidden by the surviving Abu Sayyaf members in Minis Island off Barangay Latih, Patikul town.
Pabayo says firearms, magazines and ammunition were kept by the fleeing Abu Sayyaf to avoid detection by pursuing military forces.
The cache include one M14 sniper rifle and one M16 assault rifle, a bandolier, three M14 magazines, another magazine for M16 all loaded with ammunition, a set each of military and police battle dress uniforms. — The STAR/Roel Pareño
June 4, 2019
The Armed Forces of the Philippines has sent a battalion of soldiers to Zamboanga City to secure it as more troops are poured into operations against the Abu Sayyaf in Sulu.

The military says the 74th Infantry Battalion arrived in Zamboanga City on Monday from Sumisip, Basilan. The 74th IB will replace the 11th IB, which is going back to the Capiz-headquartered 3rd Infantry Division.
Col. Leonel Nicolas, commander of Joint Task Force Zamboanga, says there will be a smooth transition as the two battalions trade places.
"There will be no security vacuum in the deployment. We don't have anything to worry about," Nicolas says.
The JTFZ, which has at least three battalions of Army troops in and around the city, can also mobilize Air Force and Navy units based in the city.
— The STAR/Roel Pareño in Zamboanga City
June 2, 2019
An intelligence officer working in the anti-drug campaign and a businessman were killed while two others were wounded in separate gun attacks in the Zamboanga Peninsula on Saturday, a security official says.
Police Corporal Edgar Gaganting, assigned at Police Station 4 as intelligence officer and anti-drug enforcer, was shot by two unidentified motor riding assassins about 5:35 p.m along the road at Barangay Tumaga, Zamboanga City.
Gaganting, who sustained a gunshot wound to the head, was rushed to the hospital was declared dead on arrival by the attending physician. — The STAR/Roel Pareño
May 28, 2019
An industrial canning steam boiler exploded in a factory in Zamboanga City on Tuesday, killing a worker and leaving two others injured, police say.
The city's Police Station 9 reports the incident occurred inside the steam section facility of Southwest Asia Canning Corp. in Barangay Talisayan before noon.
Police Major Chester Natividad, Police Station 9 commander, says assistant boiler operator Zacarias Alberio Rico, 49, of Barangay Talisayan was killed in the explosion.
Francisco Caunsag Dumagal, 39, chief operator, and Mark Anthony Villaflores, 28, the safety officer of the canning factory, were injured.
Police say the three were troubleshooting the steam boiler when it exploded. — The STAR/Roel Pareño
May 27, 2019
A teenager was killed after he was struck by lightning Sunday in a coastal village in Tabina town, Zamboanga del Sur.
Police identified the victim as a 16-year-old Grade 8 student and resident of Purok Quarry, Barangay Abong-Abong.
Police Major Helen Galvez, spokesperson of Police Regional Office 9, said investigation disclosed the victim was aboard on a banca on an errand to buy some spare parts for their motorized pumpboat when he was struck by lightning about 7:15 a.m while heading to Barangay Poblacion.
A witness, identified as Ronilo Ocang, said the banca was heading towards Purok Quarry when it was hit by lightning. — The STAR/Roel Pareño
May 27, 2019
Personnel from the Bureau of Customs, Coast Guard and Marines destroy 575 boxes of smuggled cigarettes worth around P30 million in Zamboanga City on Monday.
Marine Battalion Landing Team 11 seized the smuggled cigarettes from a warehouse in Barangay Arena Blanco on Saturday night, Customs District Collector Segundo Sigmunfreud Barte.
Barte says the Marines immediately alerted Customs about the discovery of the smuggled "Union" cigarettes and subsequently conducted the raid and confiscation of the contraband.
Barte says warehouse workers managed to scamper and swim away.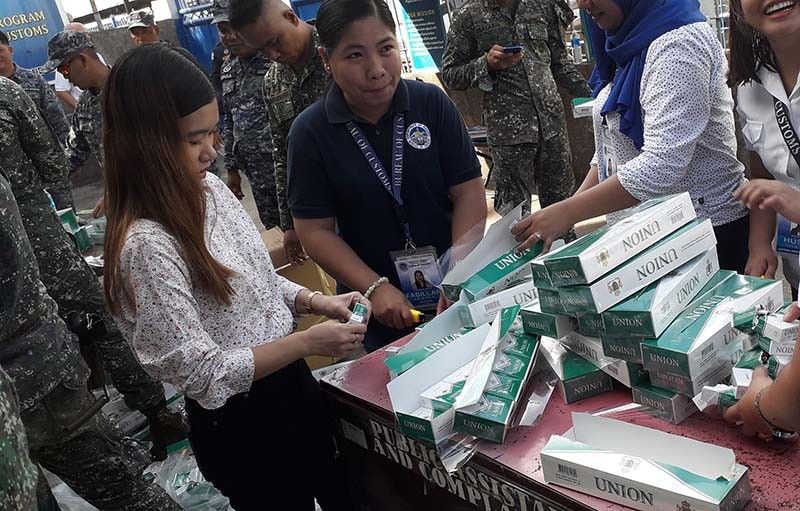 May 26, 2019
Rep. Celso Lobregat has filed an electoral protest against Zamboanga City Mayor Maria Isabelle Climaco-Salazar over alleged irregularities in the May 13 polls, the congressman announces Sunday.
Lobregat says the case was filed by his lawyers last Thursday and received by the Comelec Judicial Records Division. The protest was logged as EPC No. 2019-001.
"We are protesting the results of the mayoralty race in Zamboanga City as they are not truly reflective of the actual and legitimate results due to electoral fraud, anomalies, irregularities and errors. We are filing this electoral protest so that the true will of the people will prevail," Lobregat says.
Lobregat says that as early as the day after the elections he had already raised concerns over the results, which he says were "unbelievable". — The STAR/Roel Pareño
May 25, 2019
Security officials say a young fighter of the New People's Army voluntarily surrendered to the military after escaping from the rebel group reportedly due to frustration and hardship in the mountains of Zamboanga Sibugay.
Lt. Col. Don Templonuevo, commanding officer of 44th Infantry Battalion, says the 21-year-old NPA defector also yielded his M14 rifle during his formal surrender at the battalion headquarters. — Report from Roel Pareño
May 22, 2019
The regional police command is deploying 503 new officers to its mobile public safety units.
The new police personnel have trained in the Basic Internal Security Operations Course aside from the baic recruit and field training courses.
Police Brig. Gen. Emmanuel Luis Licup, director of Police Regional Office 9, says the new cops were given a traditional send-off ceremony at Camp Col. Romeo Abendan in Zamboanga City on Monday.
Of the 503 new personnel, 190 were sent to the Regional Mobile Force Battalion-9. Another 78 were sent to the Zamboanga City Mobile Force Company while 61 will augment the Zamboanga Del Norte Provincial Mobile Force Company.
The Zamboanga Del Sur Provincial Mobile Force Company gets 79 new cops and the Zamboanga Sibugay Provincial Mobile Force Company gains 93.
"The fresh batch of police force will beef up the existing deployment at the Public Safety Forces Company for police visibility and internal security operations across the region," Licup says. — The STAR/Roel Pareño
May 21, 2019
Australian troops are in Zamboanga for a training exercise on urban warfare with personnel of the Philippine Army.
The Philippines-Australia Army to Army Exercise 2019 formally opened Monday with troops of the Army's 1st Infantry Division at Camp Sang-An in Labangan town, Zamboanga del Sur.
— The STAR/Roel Pareño
May 20, 2019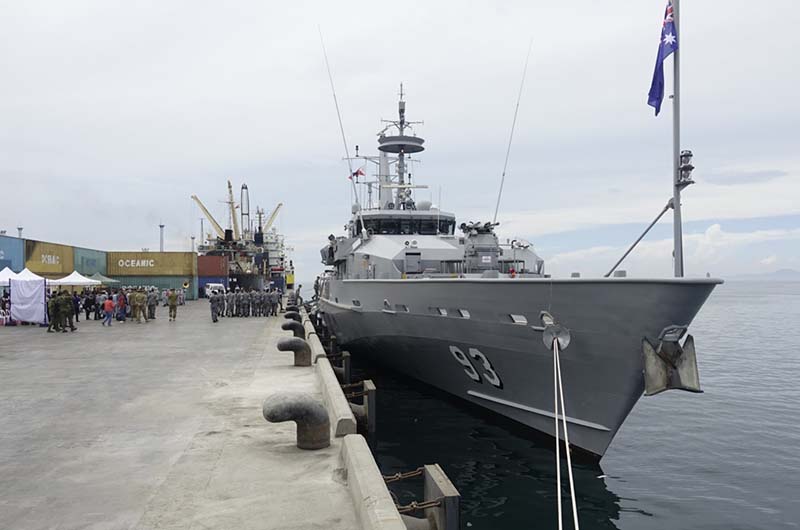 Australian Ambassador Steven Robinson visits Zamboanga City to address the crew of HMAS Childers, an Australian patrol boat docked in the city for a maritime training exercise with the Philippine Navy.
The Philippine Navy and the Royal Australian Navy will conduct the two weeks of exercises in the waters off Basilan and Sulu. — The STAR/Roel Pareño
May 16, 2019
In a statement after the proclamation, Zamboanga City Mayor Maria Isabelle Climaco-Salazar calls on the city's residents to forget their political differecnes and buckle down to work for the development of the city.
The mayoral race between Salazar and Rep. Celso Lobregat was described by residents here as a rematch of the clash between the two influential clans in the 1980s, when the legendary Mayor Cesar Climaco defeated the Rep. Maria Clara Lobregat.
Salazar, a niece of Climaco, started her political career with the Lobregats as councilor and later as vice mayor. She was also congresswoman of the 1st District before running for mayor under Celso, son of Maria Clara Lobregat. This temporarily stopped the clan rivalry.
However, the animosity resumed in 2013 as she joined the Liberal Party to run for mayor as mayor to replace Lobregat, who ran for Congress.
Rep. Lobregat, who joined the administration's Partido ng Demokratikong Pilipio-Lakas ng Bayan (PDP-Laban), was officially endorsed by President Rodrigo Duterte.
Salazar, ran under LP but distanced herself from the dwindling party by using her local group called Team Climaco or Team Pink. — The STAR/Roel Pareño
May 16, 2019
History repeats itself between two influential political clans as Mayor Maria Isabelle Climaco-Salazar defeats Rep. Celso Lobregat in the race for city hall.
Salazar, popularly known as Beng, will be officially proclaimed Thursday once the city board of canvassers finishes the remaining 2% of the election returns from the remaining seven precincts in the city.
As things stood Thursday, Salazar had more than 144,000 votes against Lobregat's 111,000. — The STAR/Roel Pareño
May 12, 2019
An undetermined number of communist rebels, and a soldier, were wounded in a clash between Army and police personnel and members of the New People's Army in Kabasalan, Zamboanga Sibugay, the military says.
According to 2Lt. Angel Manglapus, acting public affairs officer of the Army's 1st Infantry Division, troops from the 44th Infantry Battalion and Police Mobile Force Company were in a firefight with around 30 rebels at Barangay New Tampilisan.
Lt. Col. Don Templonuevo says they launched the operation following reports of the presence of the NPA rebels "reportedly threatening and harassing the populace in the area."
-- The STAR/Roel Pareño
May 8, 2019
Police and military personnel a man suspected of being a member of a kidnap-for-ransom gang and of being involved in the illegal drug trade in a pursuit operation in Labason town, Zamboanga del Norte on Tuesday, regional police say.
The captured suspect was identified as Asbi Samdani alias Asbih, 39, said to be a member of the Barahama Alih Group, a notorious criminal gang operating kidnap-for-ransom and illegal drug trade in Zamboanga peninsula.
Asbih was reportedly tracked down and arrested in Barangay Osukan, Labason town on Tuesday afternoon by the Criminal Investigation and Detection Group (CIDG) of Zamboanga Sibugay, Regional Drug Enforcement Unit 9, the military and the regional intelligence unit. — The STAR/Roel Pareño
May 7, 2019
Gun attacks in Pagadian City and Sominot in Zambaonga del Sur on Monday left at least four dead and two injured, police say Tuesday.
Police say the shooting in Pagadian City ohappened Monday night at the New Agora in the city's Sta. Lucia District.
Police Brig. Gen. Emmanuel Luis Licup, Police Regional Office 9 director, identified the victims as Noel Solmeron Carbonillas, 40, of sitio New Agora, and Mario Binghay, of legal age of Barangay Banale.
Unidentified gunmen also attacked and killed a barangay kagawad (councilor) and a watchman in the presence of his horrified children in Barangay Pictoran, Sominot town earlier that afternoon.
Licup identified the victims as Donald Espejo Monto, 41, barangay kagawad, and Antonio Patacte Malim, barangay tanod of Barangay Pictoran. — Roel Pareño
Follow this thread for updates from Zamboanga City and the Zamboanga Peninsula.