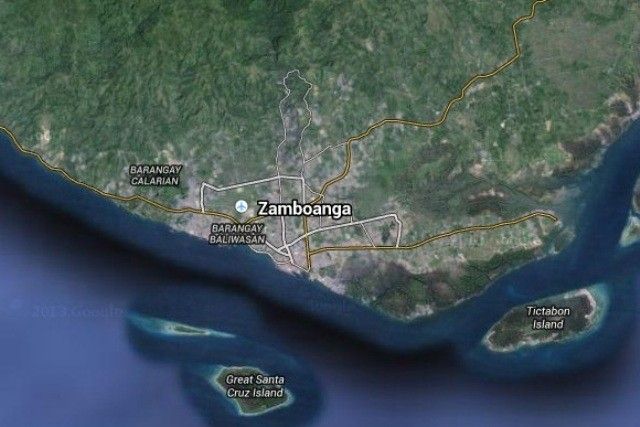 Zamboanga City and Zamboanga Peninsula
LATEST UPDATE: October 17, 2019 - 5:41pm
LOCATION:
ZAMBOANGA DEL NORTE
ZAMBOANGA DEL SUR
ZAMBOANGA SIBUGAY
ZAMBOANGA
ZAMBOANGA CITY
+ Follow Story
October 17, 2019
Two suspected members of an Abu Sayyaf kidnap-for-ransom group, believed to be on a kidnapping mission, were captured in a raid Wednesday by police elements in a village in Zamboanga City, a security official says.
The arrested suspects were identified as Mergan Esteban Cabil, 24, and Basher Tilani Tuwa, 34. — The STAR/Roel Pareño
October 13, 2019
Maj. Arvin John Encinas, spokesman of Western Mindanao Command, says all available naval and air assets have been utilized by Task Force Hyrons to look for the couple who were abducted from their resort in Tukuran, Zamboanga del Sur on October 4.
Encinas says ground troops have expanded search and rescue operations across the Zamboanga peninsula. -- The STAR/Roel Pareño
October 13, 2019
Personnel of the Philippine Drug Enforcement Agency and police dismantled a drug den and arrested five suspects—including its operator, who is tagged as a high-value target—Thursday night in Ipil town, Zamboanga Sibugay, official say..
Jacquelyn de Guzman, lawyer and PDEA 9 regional director, says her personnel, backed by the police regional drug enforcement unit and local police, raided the drug den at Purok Malipayon, Barangay Buluan about 11 p.m.
They recovered nine heat-sealed transparent plastic containing shabu weighing 20 grams with a street value of P136,000. — The STAR/Roel Pareño
October 8, 2019
Anti-drug police seized around P500,000 worth of shabu and arrested two local businessmen in a buy-bust operation Monday in Zamboanga City, police say Tuesday.
Police Maj. Helen Galvez, spokesperson of Police Regional Office 9 (PRO), says police arrested Domen Yu of Barangay Tetuan and Norman Cabili Selisana of Simunul town, Tawi-Tawi.
The city police's Station 6 launched the buy-bust operation after surveillance on suspects on Monday evening. A tip had prompted the surveillance operation that led to the buy-bust. — The STAR/Roel Pareño
October 7, 2019
The city prosecutor has dismissed a libel complaint filed by Zamboanga City Mayor Maria Isabelle Climaco-Salazar against former Rep. Celso Lobregat (Zamboanga City) sparked by allegations of using government resources during elections in May.
Lobregat distributed copies of the decision in a conference held at his residence along Nuñez Street on Sunday.
Dipolog City Prosecutor Herminia Enero, assigned as acting city prosecutor for Zamboanga City, dismissed the complaint for insufficiency of evidence.
The complaint stemmed from video footage that Lobregat showed a press conference on May 8 alleging 400 sacks of rice were withdrawn from the City Social Welfare Office and transported to Salazar's residential compound on May 7.
This was a few days before the midterm polls.
Salazar, in her complaint, accused Lobregat of showing the video and accusing her of using government's resources for her campaign.
In showing the video footage, Lobregat was quoted as saying: "you decide for yourself, you can see for yourself, these are government resources that are being delivered to the house of the mayor. Xxx you are not supposed to use government resources to your advantage." — The STAR/Roel Pareño
September 25, 2019
Marines captured a follower of a notorious Basilan-based Abu Sayyaf leader during a tracking operation in a village east of Zamboanga City, the military says.
Col. Antonio John Divinagracia, commander of Joint Task Force Zamboanga, says Abu Sayyaf member Amran Dala was captured in Barangay Mercedes on Monday by personnel of Marine Battalion Landing Team 11 and of Police Station 4.
Divinagracia says Dala, who has a standing warrant of arrest for murder, is a follower of Abu Sayyaf leader Furuji Indama, one of the remaining henchmen and successors of slain Islamic State for Iraq and Syria Southeast Asia emir Isnilon Hapilon.
Hapilon was killed during the Marawi siege in 2017.
Dala is being subjected to a tactical debriefing to find out whether there are any terror plots against the city. -- The STAR/Roel Pareño
September 14, 2019
Police say a fire officer was killed while six of his passengers were injured when the pick-up truck they were on board collided with a passenger bus on Friday along the highway in Liloy town, Zamboanga del Norte.
Police Major Helen Galvez, spokesperson of Police Regional Police Office 9, identifies the lone fatality as Fire Officer 1 Clayton Dela Cruz Sabanal, 33, assigned at Salug Fire Station and a resident of Poblacion East Salug, Zamboanga del Norte.
Galvez says the six injured victims were Josephose Macatual Alisna, 30; Richard Ligarte Cabardo; Jayson Acla, 18; Alfahad Mohammad Muksan; Jolito Siasico Gomez and John Dave Miraveles Oxino, 17. — The STAR/Roel Pareño
September 13, 2019
Thousands of residents of Zamboanga City were forced to evacuate as a flash flood inundated at least nine barangays due to incessant rains triggered by the southwest monsoon, also known as habagat.
The local weather bureau said heavy rain was due to the southwest monsoon, which was enhanced by tropical depression Marilyn.
The City Disaster Risk Reduction Management Office has received no reports of casualties so far since the flooding started at dawn. The city government implemented forced evacuation in the flooded villages. — The STAR/Roel Pareño
September 6, 2019
A military official hails the Western Mindanao Command after it was conferred with the most highest proficiency status in the Armed Forces of the Philippines' transformation roadmap.
Armed Force Chief General Benjamin Madrigal, who was guest of the 13th Founding Anniversary of Westmincom, conferred Westmincom with the Proficiency Status and lauded the leadership of Westmincom chief Lt. Gen. Cirilito Sobejana for steering the command.
The Westmincom received the Gold Trail Blazer Award after garnering 97.3% of its proficiency in the programs adopted not only in the security operations against various threat groups but also in looking up the welfare of individual soldiers.
"The rating was so high and this prove that you cannot just proceed with operational accomplishment without pursuing transformation," Madrigal says. — The STAR/Roel Pareño
September 4, 2019
The police and the Philippine Drug Enforcement Agency are verifying the identities of three slain drug suspects and another who was arrested during a raid in a recognized Moro Islamic Liberation Front camp in Ipil, Zamboanga Sibugay.
The joint anti-drug operation by the PDEA, police and military at Purok Javier, Barangay Upper Pangi, left PDEA agent Jack Roland Bastatas dead and a police officer wounded.
Jacquelyn de Guzman, a lawyer and PDEA-9 regional director, says they are coordinating with the MILF leadership through the ad hoc joint action group of the Coordinating Committee on the Cessation of Hostilities for more information on the suspects.
The suspects who were killed were identified as Ibrahim Cula, Absar Cula and Jan-jan Mauli. The arrested suspect was identified as Rosalie Gonzales Cula.
"It is officially listed (as registered MILF community) and we don't want to make any assumption that will have a possible effect (on the peace process)," De Guzman says.
De Guzman says the MILF leadership has continuously assured them that the front is firm in supporting the peace process.
The MILF has long declared that illegal drugs are strictly prohibited in its communities. — The STAR/Roel Pareño
September 2, 2019
Rep. Mujiv Hataman (Basilan) turns over a Boston Whaler speedboat to Lt. Gen. Cirilito Sobejana at the Western Mindanao Command in Zamboanga City.
The purchase of five Boston Whaler speedboats was funded by a P30-million allocation from the now defunct Autonomous Region in Muslim Mindanao when Hataman was regional governor.
The speedboats are for the joint task forces in the Western Mindanao Command, which also operates in provinces of the Bangsamoro Autonomous Region in Muslim Mindanao that replaced the ARMM. — The STAR/Roel Pareño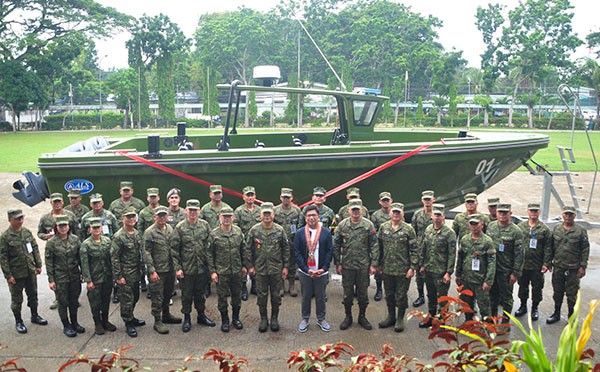 August 29, 2019
A lack of tuberculosis medicine from the central office has led to regional Department of Health offices to seek supplies from among themselves, a Health official in the Zamboanga Peninsula says.
Dr. Mary Rose Bugtay, DOH-9 cluster head for the infectious control unit, says the shortage is due to delayed deliveries from suppliers because of changes in packaging.
Bugtay says that in Region 9 alone, about 700 to 800 patients are waiting to get their tuberculosis medicine.
She says the region began to notice the lack in supply early this month although the central office advised them of a possible shortage as eaely as April.
"So what we did just to ensure to avoid from having stock out of the anti-TB medicines we try to manage our medicines at the local level by borrowing from provinces which still have available medicines while there is not delivery yet from the central office," Bugtay says. — The STAR/Roel Pareño
August 26, 2019
The new commander of Task Force Zamboanga has been told to make sure the regional business hub is safe from terror threats.
Maj. Gen. Roberto Ancan, 1st Infantry Division chief, issued the toll order to Col. John Divinagracia, who assumed leadership of the joint task force on Monday at Camp Arturo Enrile based in Barangay Malagutay in Zamboanga City.
Divinagracia replaces Col. Leonel Nicolas, who assumed last week as the 102nd Infantry Brigade commander. The brigade operates in the Zamboanga Peninsula and in Misamis Occidental.
"As the new commander of the Joint Task Force Zamboanga ensure there will be no untoward incident in Zamboanga City," says, adding an incident in the city will affect the entire region. — The STAR/Roel Pareño
August 20, 2019
The chif of Joint Task Force Zamboanga is now the commander of the Army brigade covering the Zamboanga peninsula.
Col. Leonel Nicolas now commands the 102nd Infantry Brigade based in Ipil, Zamboanga Sibugay after a change of command ceremony on Monday afternoon.
Nicolas replaces Brig. Gen. Bagnus Gaerlan, who was promoted as assistant division commander of the 1st Infantry Division.
Nicolas is a member of Philippine Military Academy Class 1991 and is an Airborne Ranger. He has been hailed for preventing kidnapping and bombing incidents in his more than two years as JTFZ commander.
August 17, 2019
Officials say at least four Vietnamese fishermen were apprehended after the Philippine Coast Guard intercepted its fishing vessel suspected to be illegally poaching on turtles in the waters off Taganak Island, Tawi-Tawi.
Commodore Joseph Coyme, PCG Southwestern district commander, says his unit stationed at Great Bakungan were conducting maritime patrol when they spotted the unregistered vessel which turned out to be manned by Vietnamese fishermen about 3 p.m. Friday in the vicinity waters of Langgaan Island.
Coyme says the Coast Guard personnel immediately intercepted the vessel which has no safety security environmental number tag, a tagging system that is being applied to all vessels in the country for purposes of security and identification. — The STAR/Roel Pareño
August 9, 2019
Four New People's Army rebels surrendered to the military in Titay, Zamboanga Sibugay on Thursday, a security official says.
Lt. Col. Don Templonuevo, commander of the 44th Infantry Battalion, says two women, a team leader and a medic surrendered to troops and gave up the location of their arms cache. In the cache were an M14 rifle, an AK-47 rifle, an M1 Carbine, and a cal.38 revolver.
He says the rebel returnees also yielded two land mines, ammunitions, three cellphones and subversive documents described to be of intelligence value.
Templonuevo says the four told them they decided to surrender after hearing from former comrades who entered the government's Enhanced Comprehensive Local Integration Program. — The STAR/Roel Pareño
August 7, 2019
More than 250 soldiers from different Army divisions have started marksman training at Labangan, Zamboanga del Sur.
The Army's 1st Infantry 'Tabak' Division is hosting Squad Snipers Training Class 3, facilitated by the Mobile Training Team, Marksmanship Training School of the Training and Doctrine Command, in Camp Sang-An in Labangan.
Maj. Gen. Roberto Ancan, commander of the 1st Infantry Division, says the training aims train the marksmen in using the standard issue Remington R4A3 assault rifles.
The Armed Forces of the Philippines acquired the R4A3, also commonly known as the M4 carbine, to replace the longer M16 rifle.
Ancan says the 275 candidates will undergo the six-week course designed to train them to to shoot accurately and to provide covering fire as their squad advances.
"Bear in mind that many people sleep peacefully at night because there are men stand ready to protect them and that is our sworn oath," Ancan tells the trainees.
— The STAR/Roel Pareño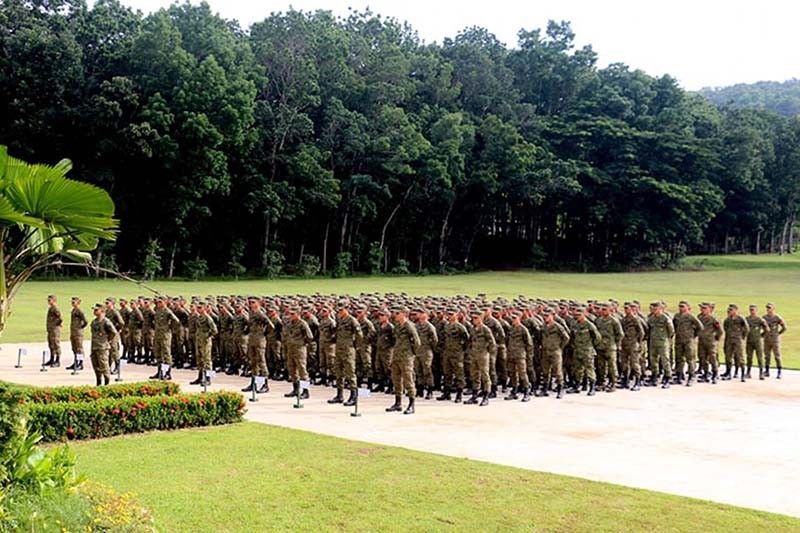 August 3, 2019
A military official says at least four members of the Islamic State-inspired terror group Dawlah Islamiyah surrendered to the authorities Friday in Lumba Bayabao town, Lanao del Sur.
Brig. Gen. Romeo Brawner, commander of the 103rd Brigade, says the group members also yielded a rocket propelled grenade, a carbine, three handguns, a caliber .45, two .38 revolvers, and ammunition when they surrendered in his headquarters at Barangay Sabala Bantayao.
"The two local terrorists were involved in the attack of Butig town in 2016," Brawner says.
The military official says the surrender of the four members was a result of the joint efforts of the police and the local government led by Mayor Mahar Dagalangit of Lumba Bayabao town. — The STAR/Roel Pareño
July 22, 2019
Two unidentified gunmen shot a public school teacher inside her classroom in Guipos town, Zamboanga del Sur on Monday, police say.
Police say the victim was identified as Narcisa Caay Gumibao, 58, Grade 9 class adviser of Balongating National High School in Purok Bonifacio, Barangay Balongating.
Police Staff Sargeant Mylin Mancia, case investigator, says the gunmen were riding a motorcycle while looking for Gumibao at the school campus.
Mancia says the two suspects asked some of the students there if they know the teacher and her room. The students gave them directions to Gumbao's room/
The two suspects immediately went to the classroom and shot Gumibao several times wihtout warning. Some of Gumibao's students were already in the classroom when she was shot. — The STAR/Roel Pareño
July 20, 2019
Authorities say a trainee of the Bureau of Jail Management and Pelonogy 9 was killed while three others were injured in a multiple crash involving two trucks and a motorcycle along the highway of Pagadian City, Zamboanga del Sur.
Police Lt. Col. Alvin Saguban, Pagadian City Police chief, identifies the fatality as Jail Officer 1 Junrey Benag, 26, a BJMP trainee.
The victim was already scheduled to report for formal duty on Monday.
Police investigation reveals that the victim was riding his motorcycle supposedly to attend his last day training at the BJMP regional headquarters when he was hit by a speeding cargo truck loaded with feeds about 5:10 a.m. Saturday along the highway in Barangay Tiguma. — The STAR/Roel Pareño
July 13, 2019
A security official says the naval forces intercepted a motorboat loaded with smuggled rice worth P12 million Friday near an island off Basilan province.
Rear Admiral Erick Kagaoan, commander of Naval Forces Western Mindanao, says the personnel of the Naval Task Force 61 were conducting maritime security patrol when they spotted the motorlaunch suspiciously steaming near the vicinity of Lampinigan Island.
Kagaoan says the naval forces immediately intercepted the watercraft and discovered it was loaded with 10,000 sacks of smuggled rice. — The STAR/Roel Pareño
July 2, 2019
The regional police office has placed all of Zamboanga peninsula on full alert status in response to the bombing last week of a military outpost in Indanan, Sulu.
Police presence in many areas across the region have been doubled and leaves for police personnel have been cancelled.
Provincial directors and station commanders have also been told to intensify and conduct target "hardening"—or making targets more difficult to attack— by ramping up police operations as well as intelligence gathering.
Security is also tight at all police checkpoints and at chokepoints. — The STAR/Roel Pareño
June 26, 2019
Personnel of Naval Forces Western Mindanao intercepted a 'jungkung' watercraft loaded with 600 master cases of smuggled cigarettes in waters off Zamboanga City early Wednesday.
Rear Admiral Erick Kagaoan, NFWM commander, says the naval personnel were on patrol when they spotted and intercepted the Azeez Express about 3 a.m. in waters off Bagong Calarian.
They immediately brought the watercraft and its six-member crew to the Majini Pier in Naval Station Romulo Espaldon.
They discovered the suspicious watercraft was loaded with 600 master cases 'Bravo' cigarettes.
Kagaoan directed the naval team to immediately turnover the seized contraband to the Bureau of Customs district office for proper inventory.
"The foiling of the alleged illegal transport of smuggled imported cigarettes is a result of an intensified and focused maritime patrol and operation of the Philippine Navy in collaboration with other Law Enforcement Agency," Kagaon says.
Kagaon vowed the NFWM will remain vigilant in the conduct of the sea operations to deter any unlawful activities in its area of operation. — The STAR/Roel Pareño
June 26, 2019
Two alleged communist rebels surrendered to the military Monday due to hardship and starvation while running away from the combat operations, a security official says Wednesday.
The two New People's Army rebels, who identities are being withheld for their security, surrendered to the 51st Infantry Battalion and 5th Infantry Battalion in Barangay Rogongon, says Capt. Clint Antipala, acting public affairs officer of the 1st Infantry Division.
Lt. Col. Jasper Edward Obar, commander of 51st IB, says the two alleged rebels claimed during debriefing that relentless combat operations had forced them to always be on the run and that they could only eat one meal a day.
"Life in the mountains was very hard. It was difficult than when we were still members of the NPA. This is beside the uncertain direction to what we are really fighting for," alias Braga was quoted as saying in Bisaya by the military officials. — The STAR/Roel Pareño
June 24, 2019
Metro Pacific Hospital Holdings Inc., through West Metro Medical Center, is building its fifth cancer center after a formal groundbreaking ceremony in Zamboanga City on Monday.
The MPHHI, which is part of Pangilinan-led Metro Pacific Investment Corp., will be constructing its the cancer treatment facility inside the compound of the WMMC located at the Veterans extension this city, says Ramon Diaz, president and chief executive officer of WMMC.
The center will cost more than P300 million to build.
Diaz says the West Metro Cancer Center is estimated to become operational by the first quarter of 2020.
He says the establishment of the cancer treatment facility is not an easy project to complete but is urgently needed in the region.
"And a cancer center in Zamboanga City and Western Mindanao is definitely worth having. It is about time that people here have access to quality cancer treatment. As you might have noticed, this is what West Metro tries to be here in Zamboanga. We want to be a hospital that brings to the community services that used to be unavailable, because truly, as our tagline says, West Metro cares," Diaz says. — The STAR/Roel Pareño in Zamboanga City
June 24, 2019
At least eight public high school students were injured when the ceiling of the covered court they were using as a temporary classroom collapsed Monday morning in a remote village in Zamboanga City.
Local officials and teachers say the incident occurred 8:30a.m inside the Sinubong National High School, Barangay Sinubong, about 26 kilometers from the city proper.
The victims were identified as Michaela Martinez, Jenelyn Ebag, Shaina Alipan Radzmi Jainal, and Mica Macaso, all Grade 9 students at the school.
School teachers said more than 50 students were gathered at the covered court, which they had been using their temporary their old classroom had a leak in the ceiling. — The STAR/Roel Pareño in Zamboanga City
June 22, 2019
Police say suspected Abu Sayyaf gunmen released unharmed nine Badjao tribesmen in Sulu after the hostages offered no means to pay ransom.
The police forces recovered the hostages about 10 p.m. Friday along the road of Barangay Kahawa, Talipao town.
The victims told the police they were on board their fishing boat when they were taken at gunpoint by the gunmen in speedboats in the waters off Lahad Datu, Sabah. They said six of their companions were left behind. — The STAR/Roel Pareño
June 20, 2019
The Philippine Navy have intercepted a motor launch off Zamboanga City and seized about P25 million in smuggled cigarettes before dawn on Thursday.
The naval personnel under the Naval Forces Western Mindanao launched the operation following inter-agency tips about the smuggling of imported cigarettes.
Customs district collector Segundo Sigmunfreud Barte says the navy operatives intercepted Motorized Pumpboat Parniza about 1:30 a.m in the waters off Barangay Baliwasan Seaside.
Authorities believe the contraband was to be unloaded along the shoreline of sitio Estanvac, incidentally a few hundred meters away from the Naval Forces Western Mindanao headquarters in Barangay Campung Islam, adjacent to the village of Baliwasan.
The naval personnel immediately conducted board and search operation and discovered several boxes of "Bravo" brand smuggled cigarettes. — The STAR/Roel Pareño in Zamboanga City
June 16, 2019
A former policewoman and 13 other drug pushers were arrested in a series of buy-bust operations in Zamboanga City on Saturday.
Police Colonel Thomas Joseph Martir, Zamboanga City Police Office director, said the anti-drug sting yielded more than P205,000 worth of shabu.
Martir identified the arrested former policewoman as Charlotte Reyes Foncardas, 37, jobless and resident of Barangay Tetuan.
Police said Foncardas was arrested along with six others identified as:
Jayson Bonifacio Taytay, 40
Eliner Marcelino Perez, 28
Joe Vincent Miguel Pantaleon, 29
Lionel Hipolito Dagalea, 32
and Joemar Siason Dagalea, 45.
All are residents of Barangay Guisao in Zamboanga City.
Martir said the seven other drugs suspects were also arrested by operatives from the different police stations.
The police official noted that those arrested were college and high school graduates and mostly jobless. -- The STAR/Roel Pareño in Zamboanga City
June 14, 2019
A police official says a male teacher and a grade 6 pupil were injured when a rifle grenade accidentally exploded while students were playing with it Thursday inside a public school in Liloy town, Zamboanga del Norte.
The injured victims were identified as Desiderio Pizon Acain, 54, teacher of Ganase Elementary School, and John Michael Fabraquel Baunillo, 12, a grade 6 pupil of the same school, saiys Police Brig. Gen. Froilan Quidilla, director of Police Regional Office 9.
Police investigation disclosed that the students were playing with the rifle grenade when it accidentally exploded about 12:30 p.m. Thursday.
The explosion injured two victims and partially damaged a classroom. The injured victims were brought to Liloy Integrated Hospital for treatment. Responding police recovered pieces of shrapnel from the parts of the rifle grenade. — The STAR/Roel Pareño
June 14, 2019
A police official says three drug dealers, including a female student, were arrested by police forces and seized more than P1 million worth of shabu during three separate operations in Zamboanga City,
The suspected drug dealers were identified as Adamay Abduhari Sipin, 19, a female college student; Munir Jalaidi Adjid, 42, a businessman and Arial Bael Buhian, 52.
The confiscated illegal drug substance were brought to Crime Laboratory Office for examination while all arrested drug suspects were detained at respective police stations and charged for violation of Republic Act 9165, known as the Comprehensive Dangerous Drugs Act. — The STAR/Roel Pareño
June 13, 2019
The cousin of a newly elected vice mayor of a town in Zamboanga del Sur was gunned down in Pagadian City on Thursday morning, police say.
The victim was identified as Sammy Nian, cousin of Vice Mayor-elect Matt Nian of Dinas town.
Police Brig. Gen. Froilan Quidilla, director of Police Regional Office 9, says the victim was shot dead by the two unkown gunmen around 7:20 a.m. near the Cabahug Hospital in Barangay San Pedro.
Polcie say Nian was in a motorized tricycle when the gunmen rode by on a scooter and shot him three times when it stopped near the hospital to drop off two passengers.
A pursuit operation is under way. — The STAR/Roel Pareño in Zamboanga City
June 12, 2019
A suspected kidnapper tagged in the abduction of an Italian priest 12 years ago, was killed in drug raid pre-dawn Wednesday in a coastal village of Zamboanga City.
Masdal Jakaria, suspected to be a member of KFRG Muloc and the Waning Abdusalam Group, was killed in a joint police and military operation to serve a search warrant for suspected violation of the Comprehensive Dangerous Drugs Act at Jakaria's safehouse in Barangay Mampang.
Police Col. Thomas Joseph Martir, director of Zamboanga City Police Office, says Jakaria opened fire on the team serving his warrant, triggering a shootout.
"The suspect was involved in the abduction of a foreign priest," Martir says, referring to the abduction of Fr. Giancarlo Bossi.
Bossi was abducted by 10 gunmen of the Waning Abdusalam Group on June 10, 2007 while he was on his way to Barangay Bulawan in Payao town, Zamboanga Sibugay to officiate a mass.
Bossi was freed after 41 days in captivity. Operations to find him left 14 Marines and nine others dead in an ambush on July 11, 2007 in the hinterlands of Al-Barka in Basilan. — The STAR/Roel Pareño in Zamboanga City
June 5, 2019
A security official says troops recovered several high-powered firearms and other paraphernalia hidden by the Abu Sayyaf group in an island off Sulu.

Maj. Gen. Divino Rey Pabayo, commander of Joint Task Force Sulu, says the troops from the 6th Special Forces Battalion and five members of the Barangay Peacekeeping Action Team were conducting security patrol when they were led to cache of firearms hidden by the surviving Abu Sayyaf members in Minis Island off Barangay Latih, Patikul town.
Pabayo says firearms, magazines and ammunition were kept by the fleeing Abu Sayyaf to avoid detection by pursuing military forces.
The cache include one M14 sniper rifle and one M16 assault rifle, a bandolier, three M14 magazines, another magazine for M16 all loaded with ammunition, a set each of military and police battle dress uniforms. — The STAR/Roel Pareño
June 4, 2019
The Armed Forces of the Philippines has sent a battalion of soldiers to Zamboanga City to secure it as more troops are poured into operations against the Abu Sayyaf in Sulu.

The military says the 74th Infantry Battalion arrived in Zamboanga City on Monday from Sumisip, Basilan. The 74th IB will replace the 11th IB, which is going back to the Capiz-headquartered 3rd Infantry Division.
Col. Leonel Nicolas, commander of Joint Task Force Zamboanga, says there will be a smooth transition as the two battalions trade places.
"There will be no security vacuum in the deployment. We don't have anything to worry about," Nicolas says.
The JTFZ, which has at least three battalions of Army troops in and around the city, can also mobilize Air Force and Navy units based in the city.
— The STAR/Roel Pareño in Zamboanga City
June 2, 2019
An intelligence officer working in the anti-drug campaign and a businessman were killed while two others were wounded in separate gun attacks in the Zamboanga Peninsula on Saturday, a security official says.
Police Corporal Edgar Gaganting, assigned at Police Station 4 as intelligence officer and anti-drug enforcer, was shot by two unidentified motor riding assassins about 5:35 p.m along the road at Barangay Tumaga, Zamboanga City.
Gaganting, who sustained a gunshot wound to the head, was rushed to the hospital was declared dead on arrival by the attending physician. — The STAR/Roel Pareño
May 28, 2019
An industrial canning steam boiler exploded in a factory in Zamboanga City on Tuesday, killing a worker and leaving two others injured, police say.
The city's Police Station 9 reports the incident occurred inside the steam section facility of Southwest Asia Canning Corp. in Barangay Talisayan before noon.
Police Major Chester Natividad, Police Station 9 commander, says assistant boiler operator Zacarias Alberio Rico, 49, of Barangay Talisayan was killed in the explosion.
Francisco Caunsag Dumagal, 39, chief operator, and Mark Anthony Villaflores, 28, the safety officer of the canning factory, were injured.
Police say the three were troubleshooting the steam boiler when it exploded. — The STAR/Roel Pareño
May 27, 2019
A teenager was killed after he was struck by lightning Sunday in a coastal village in Tabina town, Zamboanga del Sur.
Police identified the victim as a 16-year-old Grade 8 student and resident of Purok Quarry, Barangay Abong-Abong.
Police Major Helen Galvez, spokesperson of Police Regional Office 9, said investigation disclosed the victim was aboard on a banca on an errand to buy some spare parts for their motorized pumpboat when he was struck by lightning about 7:15 a.m while heading to Barangay Poblacion.
A witness, identified as Ronilo Ocang, said the banca was heading towards Purok Quarry when it was hit by lightning. — The STAR/Roel Pareño
May 27, 2019
Personnel from the Bureau of Customs, Coast Guard and Marines destroy 575 boxes of smuggled cigarettes worth around P30 million in Zamboanga City on Monday.
Marine Battalion Landing Team 11 seized the smuggled cigarettes from a warehouse in Barangay Arena Blanco on Saturday night, Customs District Collector Segundo Sigmunfreud Barte.
Barte says the Marines immediately alerted Customs about the discovery of the smuggled "Union" cigarettes and subsequently conducted the raid and confiscation of the contraband.
Barte says warehouse workers managed to scamper and swim away.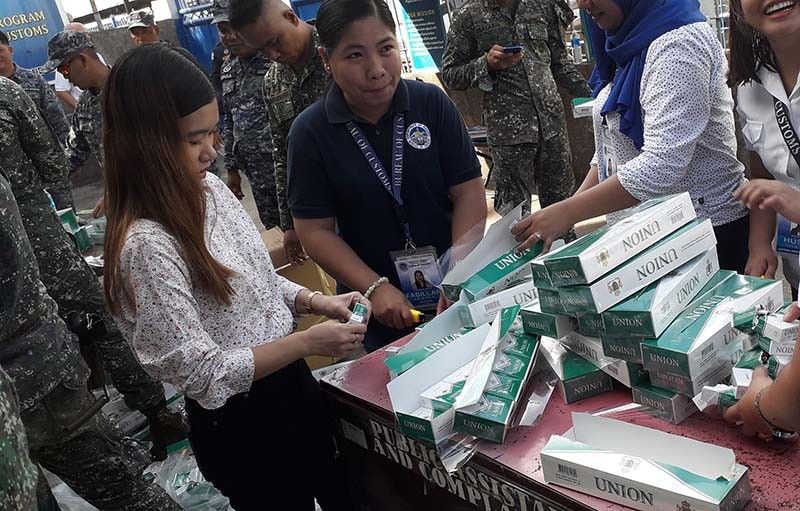 May 26, 2019
Rep. Celso Lobregat has filed an electoral protest against Zamboanga City Mayor Maria Isabelle Climaco-Salazar over alleged irregularities in the May 13 polls, the congressman announces Sunday.
Lobregat says the case was filed by his lawyers last Thursday and received by the Comelec Judicial Records Division. The protest was logged as EPC No. 2019-001.
"We are protesting the results of the mayoralty race in Zamboanga City as they are not truly reflective of the actual and legitimate results due to electoral fraud, anomalies, irregularities and errors. We are filing this electoral protest so that the true will of the people will prevail," Lobregat says.
Lobregat says that as early as the day after the elections he had already raised concerns over the results, which he says were "unbelievable". — The STAR/Roel Pareño
May 25, 2019
Security officials say a young fighter of the New People's Army voluntarily surrendered to the military after escaping from the rebel group reportedly due to frustration and hardship in the mountains of Zamboanga Sibugay.
Lt. Col. Don Templonuevo, commanding officer of 44th Infantry Battalion, says the 21-year-old NPA defector also yielded his M14 rifle during his formal surrender at the battalion headquarters. — Report from Roel Pareño
May 22, 2019
The regional police command is deploying 503 new officers to its mobile public safety units.
The new police personnel have trained in the Basic Internal Security Operations Course aside from the baic recruit and field training courses.
Police Brig. Gen. Emmanuel Luis Licup, director of Police Regional Office 9, says the new cops were given a traditional send-off ceremony at Camp Col. Romeo Abendan in Zamboanga City on Monday.
Of the 503 new personnel, 190 were sent to the Regional Mobile Force Battalion-9. Another 78 were sent to the Zamboanga City Mobile Force Company while 61 will augment the Zamboanga Del Norte Provincial Mobile Force Company.
The Zamboanga Del Sur Provincial Mobile Force Company gets 79 new cops and the Zamboanga Sibugay Provincial Mobile Force Company gains 93.
"The fresh batch of police force will beef up the existing deployment at the Public Safety Forces Company for police visibility and internal security operations across the region," Licup says. — The STAR/Roel Pareño
May 21, 2019
Australian troops are in Zamboanga for a training exercise on urban warfare with personnel of the Philippine Army.
The Philippines-Australia Army to Army Exercise 2019 formally opened Monday with troops of the Army's 1st Infantry Division at Camp Sang-An in Labangan town, Zamboanga del Sur.
— The STAR/Roel Pareño
May 20, 2019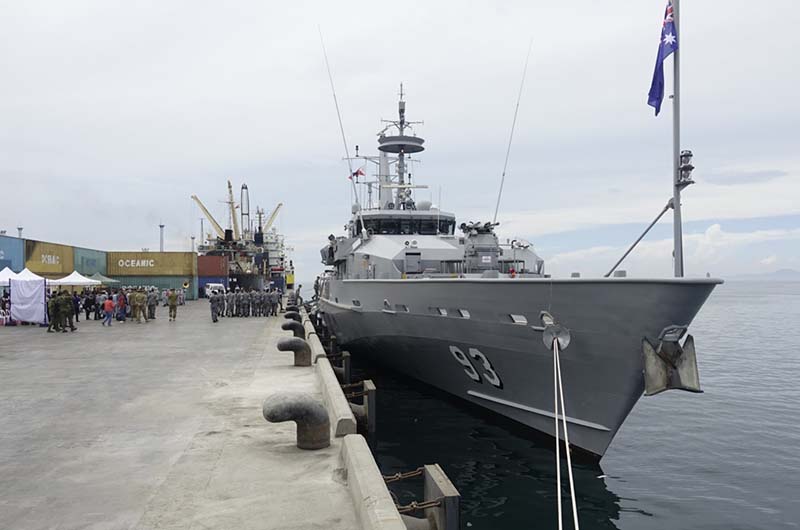 Australian Ambassador Steven Robinson visits Zamboanga City to address the crew of HMAS Childers, an Australian patrol boat docked in the city for a maritime training exercise with the Philippine Navy.
The Philippine Navy and the Royal Australian Navy will conduct the two weeks of exercises in the waters off Basilan and Sulu. — The STAR/Roel Pareño
May 16, 2019
In a statement after the proclamation, Zamboanga City Mayor Maria Isabelle Climaco-Salazar calls on the city's residents to forget their political differecnes and buckle down to work for the development of the city.
The mayoral race between Salazar and Rep. Celso Lobregat was described by residents here as a rematch of the clash between the two influential clans in the 1980s, when the legendary Mayor Cesar Climaco defeated the Rep. Maria Clara Lobregat.
Salazar, a niece of Climaco, started her political career with the Lobregats as councilor and later as vice mayor. She was also congresswoman of the 1st District before running for mayor under Celso, son of Maria Clara Lobregat. This temporarily stopped the clan rivalry.
However, the animosity resumed in 2013 as she joined the Liberal Party to run for mayor as mayor to replace Lobregat, who ran for Congress.
Rep. Lobregat, who joined the administration's Partido ng Demokratikong Pilipio-Lakas ng Bayan (PDP-Laban), was officially endorsed by President Rodrigo Duterte.
Salazar, ran under LP but distanced herself from the dwindling party by using her local group called Team Climaco or Team Pink. — The STAR/Roel Pareño
May 16, 2019
History repeats itself between two influential political clans as Mayor Maria Isabelle Climaco-Salazar defeats Rep. Celso Lobregat in the race for city hall.
Salazar, popularly known as Beng, will be officially proclaimed Thursday once the city board of canvassers finishes the remaining 2% of the election returns from the remaining seven precincts in the city.
As things stood Thursday, Salazar had more than 144,000 votes against Lobregat's 111,000. — The STAR/Roel Pareño
May 12, 2019
An undetermined number of communist rebels, and a soldier, were wounded in a clash between Army and police personnel and members of the New People's Army in Kabasalan, Zamboanga Sibugay, the military says.
According to 2Lt. Angel Manglapus, acting public affairs officer of the Army's 1st Infantry Division, troops from the 44th Infantry Battalion and Police Mobile Force Company were in a firefight with around 30 rebels at Barangay New Tampilisan.
Lt. Col. Don Templonuevo says they launched the operation following reports of the presence of the NPA rebels "reportedly threatening and harassing the populace in the area."
-- The STAR/Roel Pareño
May 8, 2019
Police and military personnel a man suspected of being a member of a kidnap-for-ransom gang and of being involved in the illegal drug trade in a pursuit operation in Labason town, Zamboanga del Norte on Tuesday, regional police say.
The captured suspect was identified as Asbi Samdani alias Asbih, 39, said to be a member of the Barahama Alih Group, a notorious criminal gang operating kidnap-for-ransom and illegal drug trade in Zamboanga peninsula.
Asbih was reportedly tracked down and arrested in Barangay Osukan, Labason town on Tuesday afternoon by the Criminal Investigation and Detection Group (CIDG) of Zamboanga Sibugay, Regional Drug Enforcement Unit 9, the military and the regional intelligence unit. — The STAR/Roel Pareño
May 7, 2019
Gun attacks in Pagadian City and Sominot in Zambaonga del Sur on Monday left at least four dead and two injured, police say Tuesday.
Police say the shooting in Pagadian City ohappened Monday night at the New Agora in the city's Sta. Lucia District.
Police Brig. Gen. Emmanuel Luis Licup, Police Regional Office 9 director, identified the victims as Noel Solmeron Carbonillas, 40, of sitio New Agora, and Mario Binghay, of legal age of Barangay Banale.
Unidentified gunmen also attacked and killed a barangay kagawad (councilor) and a watchman in the presence of his horrified children in Barangay Pictoran, Sominot town earlier that afternoon.
Licup identified the victims as Donald Espejo Monto, 41, barangay kagawad, and Antonio Patacte Malim, barangay tanod of Barangay Pictoran. — Roel Pareño
Follow this thread for updates from Zamboanga City and the Zamboanga Peninsula.