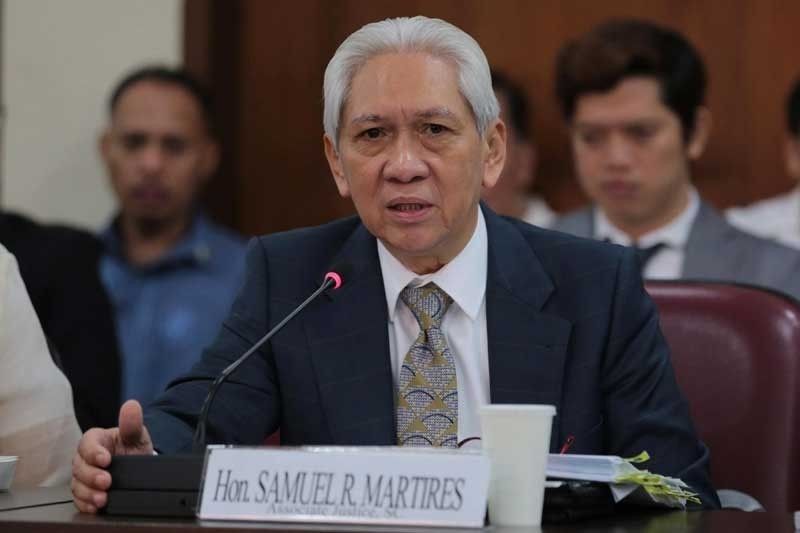 Duterte appoints SC Justice Martires as new Ombudsman
LATEST UPDATE: September 24, 2018 - 12:50pm
LOCATION:
+ Follow Story
September 24, 2018
Ombudsman Samuel Martires has recalled suspension orders against nine mayors and other local officials previously found liable of gross neglect of duty over the operation of open dumpsite in their jurisdictions.
Martires says 5th and 6th class municipalities do not have the financial capability to close down open dumpsites and establish their own sanitary landfills, which usually costs around P13 million.
He says Repulic Act 9003, or the Ecological Solid Waste Management Act of 2000, should be amended to transfer the responsibility of solid waste management in poor municipalities to the national government. — from a report by The STAR/Elizabeth Marcelo
August 6, 2018
Ombudsman Samuel Martires takes oath before Acting Chief Justice Antonio Carpio.
The Supreme Court Public Information Office, in its twitter account, has posted photos of the oath-taking that happened after Monday's flag-raising ceremony.
Ombudsman (and retired SC AJ) Samuel R. Martires taking his oath before SAJ Antonio T. Carpio; also present is Mrs. Cecilia S. Martires and some members of the Court. (photo: CPIO) pic.twitter.com/Fecl636t0j

— Supreme Court PIO (@SCPh_PIO) August 6, 2018
President Rodrigo Duterte on Thursday appointed Supreme Court Justice Samuel Martires as the new Ombudsman, replacing Conchita Carpio-Morales, who retired today.
Martires was appointed by the president to the Supreme Court, and he was one of those who voted the ouster petition against former Chief Justice Maria Lourdes Sereno.