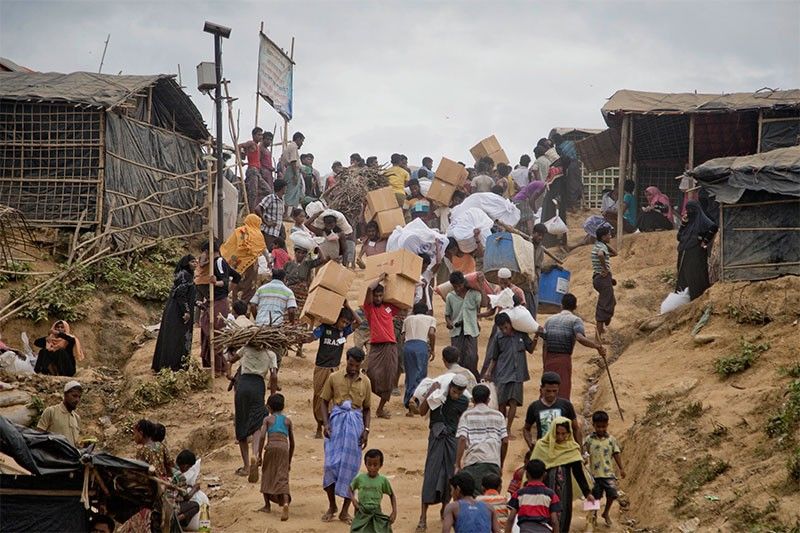 LATEST UPDATE: February 14, 2020 - 4:52pm
+ Follow Story
February 14, 2020
Nearly 50 Rohingya Muslims have been detained at sea by Myanmar's navy, a local official says, the latest from the persecuted minority to be caught trying to flee camps in Bangladesh and Myanmar's restive Rakhine state.
It was not immediately clear where the group started their boat journey but they were likely aiming for Malaysia or Indonesia, predominantly Muslim countries with large Rohingya diasporas. — AFP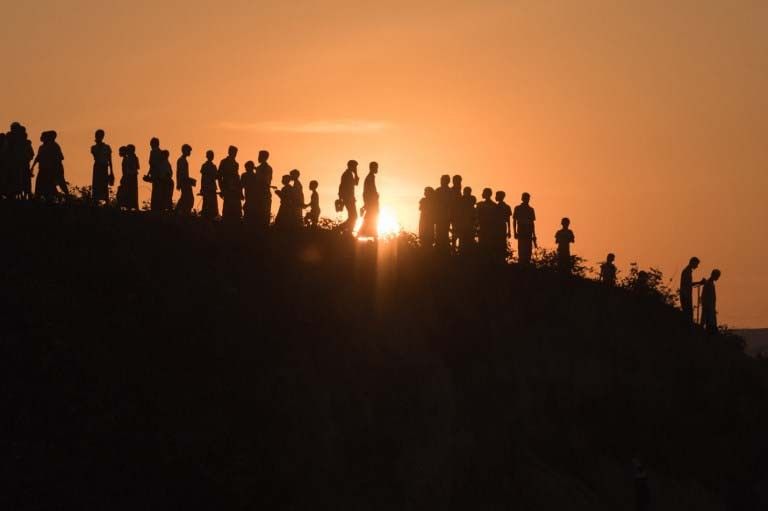 January 18, 2020
China and Myanmar ink dozens of mammoth infrastructure and trade deals after a meeting between President Xi Jinping and fallen rights icon Aung San Suu Kyi, as Beijing doubles down on its support for a government under fire for its treatment of Rohingya Muslims.
The Chinese leader's two-day state visit to Myanmar's purpose-built capital comes as Western investors cast a wide berth around the country due to the Rohingya crisis.
A 2017 military crackdown on the Muslim minority, which UN investigators have called genocide, forced some 740,000 people over the border into Bangladesh. — AFP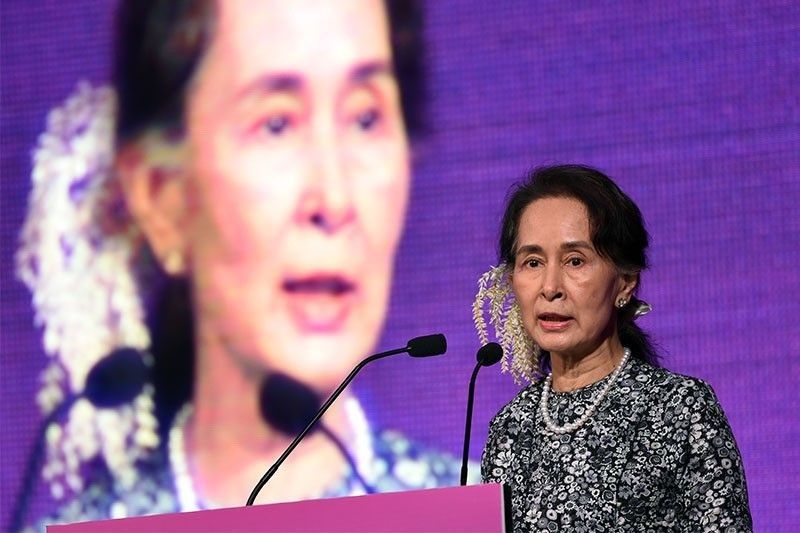 December 11, 2019
Nobel peace laureate Aung San Suu Kyi on Wednesday denied "genocidal intent" as she defended Myanmar's military operation against Rohingya Muslims in the UN's top court.
Addressing judges in The Hague, Myanmar's civilian leader admitted that the army may have used "disproportionate force" but said that did not prove it was trying to wipe out the minority group.
The African state of The Gambia has taken Myanmar to the International Court of Justice (ICJ) over a bloody 2017 military crackdown in which thousands of people were killed and around 740,000 Rohingya fled to neighbouring Bangladesh.
Once hailed internationally for her defiance of Myanmar's junta, Suu Kyi was this time on the side of the southeast Asian nation's military when she took the stand. — Agence France-Presse
December 8, 2019
Thousands rallied in support of Aung San Suu Kyi in Myanmar Saturday, on the eve of her departure for the UN's top court to defend Myanmar against charges of genocide against Rohingya Muslims.
The raucous rally in the capital Naypyidaw came as China's foreign minister arrived for a visit at Suu Kyi's invitation.
Analysts say Beijing's permanent seat on the UN Security Council -- and its veto vote -- makes it a valuable ally as Myanmar faces intensifying scrutiny over its treatment of the Rohingya.
Once-lauded democracy champion Suu Kyi's shock decision to face the International Court of Justice (ICJ) next week to defend Myanmar against charges it committed genocide against the Muslim minority risks further damaging her already tattered overseas reputation.
But domestically "The Lady" remains revered, and the resolve of her supporters has only hardened in the lead-up to the ICJ hearing scheduled for December 10-12. — Agence France-Presse
November 29, 2019
Ardent fans of Aung San Suu Kyi are snapping up spots on $2,000 tours to The Hague, in a display of moral support as Myanmar faces charges of genocide over the Rohingya crisis at the UN's top court in December.
Supporter rallies, billboards and outpourings of praise online follow the shock announcement by the country's civilian leader last week that she would personally represent Myanmar at the International Court of Justice.
The once-lauded democracy champion will be defending the 2017 military crackdown against the Rohingya minority. — AFP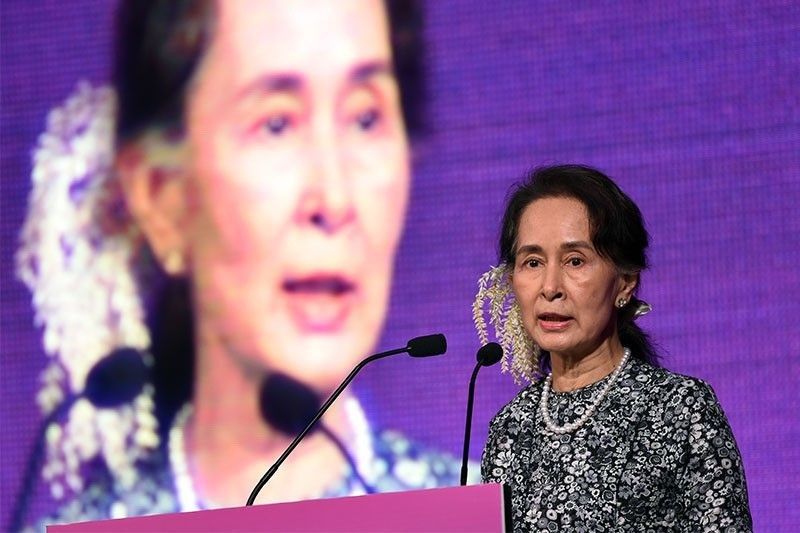 November 3, 2019
The UN chief urges Myanmar to ensure the "safe" return of Rohingya refugees driven out by army operations, a plea made in front of Aung San Suu Kyi more than two years since her country cracked down on the Muslim minority.
Speaking at a summit of Southeast Asian leaders in Bangkok -- with Myanmar's de facto head Suu Kyi in the room -- Antonio Guterres says he remains "deeply concerned" about the plight of the Rohingya.
Violence in Rakhine state in 2017 forced more than 740,000 Rohingya to flee, most seeking refuge in overcrowded camps in neighbouring Bangladesh, in what UN investigators say amounted to genocide.
Myanmar does not recognize the Rohingya as citizens. — AFP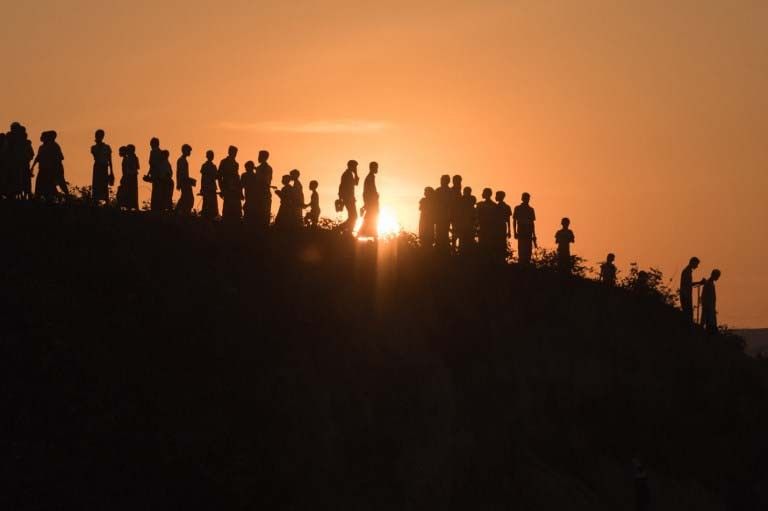 May 9, 2019
Observers say the unexpected release of the two Reuters reporters was a political decision timed to save the face of fallen democracy icon Aung San Suu Kyi, after a vigorous international campaign that saw Amal Clooney join their legal team, Time magazine put the pair on their cover, and journalism awards and honours pile up -- including the prestigious Pulitzer Prize.
A presidential pardon freed Wa Lone, 33, and Kyaw Soe Oo, 29, from prison on Tuesday to a media frenzy and messages of congratulations from the White House to UN Secretary-General Antonio Guterres. — AFP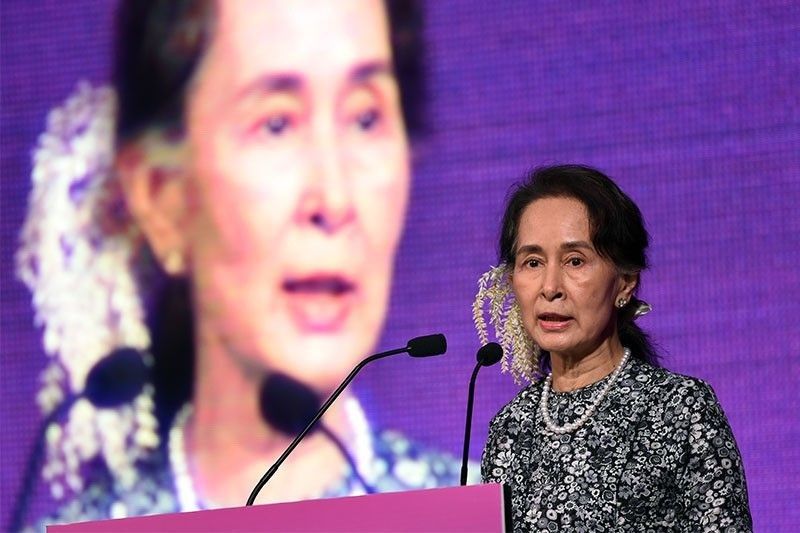 March 1, 2019
Bangladesh tells the UN Security Council that it will no longer be able to take in refugees from Myanmar.
Foreign Secretary Shahidul Haque tells a council meeting that the crisis over the repatriation of hundreds of thousands of Rohingya sheltering in his country had gone from "bad to worse" and urged the council to take "decisive" action.
Around 740,000 Muslim Rohingya are living in camps in Bangladesh after they were driven out of Myanmar's northern Rakhine state during a military campaign in 2017 that the United Nations has described as ethnic cleansing. — AFP
February 22, 2019
Myanmar leader Aung San Suu Kyi has touted Rakhine state's "untapped" economic potential to investors, but glossed over violence that has scorched the area -- most recently claiming the life of an 18-year-old civilian.
Rakhine, a vast stretch of arable land covering Myanmar's western flank, with off-shore oil and gas deposits and a long coastline, is also one of the country's poorest states.
It has been scored by ethnic and religious conflict, especially in its restive northern region closest to Bangladesh.
More than 740,000 Rohingya Muslims fled across the border after a bloody army crackdown in August 2017. — AFP
February 14, 2019
Officials say Bangladesh police have stopped 43 Rohingya refugees from being smuggled to Malaysia by boat with a dozen women claiming they were abducted by traffickers.
Acting on tip-offs, police found the refugees at two separate places in the southeastern border district of Cox's Bazar, raising the number of Rohingya being rescued from the traffickers to more than 100 in less than a week.
About 740,000 of the Muslim minority fled Myanmar for Bangladesh after a military clampdown in the Buddhist-majority nation in August 2017. — AFP
December 15, 2018
Myanmar's president says it had been an "auspicious" year for Rakhine state, the violence-scarred territory and epicentre of the Rohingya crisis.
More than 720,000 Rohingya have fled the western state since August 2017 after the military conducted "clearance operations," sending a stream of refugees to neighbouring Bangladesh with accounts of rape, arson and mass killings -- acts that UN investigators say amounts to "genocide" by the military generals. — AFP
November 17, 2018
A key U.N. committee has overwhelmingly approved a resolution strongly condemning the continuing "gross human rights violations and abuses" against Rohingya Muslims who are treated as outsiders in Myanmar and were victims of a brutal campaign by the country's military. — AP
November 15, 2018
Bangladesh authorities say repatriation of some Rohingya Muslims to Myanmar will begin Thursday as scheduled if people are willing to go despite calls from United Nations officials and human rights groups for the refugees' safety to be verified first.
Refugee commissioner Abul Kalam says at a news conference that officials will go to a camp to speak to refugees in the afternoon and transfer any who volunteer across the border to Myanmar.
A U.N.-brokered deal with Bangladesh and Myanmar says refugees can't be forced to repatriate. — AP
November 14, 2018
Myanmar leader Aung San Suu Kyi has rebuffed criticism from U.S. Vice President Mike Pence and other leaders over her government's treatment of its ethnic Rohingya Muslims.
In a meeting on the sidelines of a regional summit in Singapore, Pence tells Suu Kyi that he was anxious to hear about progress in resolving the crisis, which stems from a violent military crackdown in Myanmar's northern Rakhine state that the United Nations has called ethnic cleansing. — AP
November 9, 2018
A plan to start repatriating Rohingya Muslims back to Myanmar is premature and the refugees are "terrified" about leaving Bangladesh where they sought refuge, dozens of aid agencies working in the region say.
More than 720,000 Rohingya Muslims fled Myanmar's northern Rakhine state to Bangladesh after a heavyhanded army crackdown in August that survivors say involved mass rape and extrajudicial killings.
UN investigators say that the country's military leaders should be investigated for genocide but Myanmar has rebuffed the calls, arguing it was only defending itself against Rohingya militants who attacked police posts. — AFP
October 10, 2018
Japanese Prime Minister Shinzo Abe has told Myanmar's leader that a credible investigation into alleged human rights violations against Rohingya Muslims is key to resolving tensions in the country's Rakhine state. — AP
October 4, 2018
India has deported its first group of Rohingya Muslims since the government last year ordered the expulsion of members of the Myanmar minority group and others who entered the country illegally. — AP
September 29, 2018
Myanmar is defending itself against a United Nations report released in August which accused the Southeast Asian country of committing genocide against the Rohingya.
In a speech at the U.N. General Assembly Friday, Kyaw Tint Swe, the country's union minister for the state counsellor, says the report was "based on narratives and not hard evidence."
The official accused Bangladesh, which is hosting over a million Rohingya refugees, of failing to repatriate them to Myanmar based on three agreements the countries have signed. — AP
August 29, 2018
Myanmar rejected the findings of a UN probe alleging genocide by its military against the Rohingya, a government spokesman says, in the country's first response to a damning report on the crisis.
"We didn't allow the FFM (the UN Fact-Finding Mission) to enter into Myanmar, that's why we don't agree and accept any resolutions made by the Human Rights Council," which gave its scathing assessment on Monday, said spokesman Zaw Htay, according to the state-run Global New Light of Myanmar newspaper. — AFP
August 27, 2018
United Nations investigators call for an international probe and prosecution of Myanmar's army chief and five other top military commanders for genocide against the country's Rohingya minority.
"Myanmar's top military generals, including Commander-in-Chief Senior-General Min Aung Hlaing, must be investigated and prosecuted for genocide in the north of Rakhine State, as well as for crimes against humanity and war crimes in Rakhine, Kachin and Shan States," a UN-backed fact-finding mission says. — AFP
August 27, 2018
Two Reuters journalists in Myanmar accused of breaking a state secrets law while investigating a massacre of Rohingya Muslims face another week of uncertainty after the verdict in their trial was delayed.
The reporters had been investigating the September 2017 killing of 10 Rohingya Muslims in conflict-scarred Rakhine state, a week after Myanmar's military launched a sweeping crackdown on members of the stateless Muslim minority. — AFP
August 25, 2018
Thousands protest in Rohingya camps on crackdown anniversary that forced them to flee to camps in Bangladesh.
About 700,000 of the Muslim minority crossed the border after attacks by the Myanmar military and Buddhist groups that the United Nations has likened to ethnic cleansing.
Thousands hold marches and attended rallies chanting "We want justice from the UN." At one site, a giant banner proclaimed: "Never Again: Rohingya Genocide Remembrance Day. 25 August, 2018." — AFP
August 8, 2018
Bangladesh is accusing Myanmar of failing to tackle the concerns of over 1 million Rohingya Muslims who fled the country and is urging the U.N. Security Council to take action to ensure their safe return home.
Bangladesh's U.N. ambassador, Masud Bin Momen, said in a letter to the council that while his government continues to engage with Myanmar "in good faith" on arrangements to return the Rohingya, "we regret that the necessary conditions for safe and sustainable return do not exist in Myanmar." — AP
July 3, 2018
The international Red Cross leader says humanitarian help alone will not solve the Rohingya refugee crisis and inclusive political solutions are needed for the 700,000 people who fled Myanmar violence to Bangladesh.
The U.N. has said the Myanmar military crackdown on Rohingya Muslims last August in retaliation for an insurgent attack was "ethnic cleansing." Myanmar and Bangladesh have signed an agreement for repatriating refugees, but its implementation is uncertain. — AP
June 29, 2018
China will offer humanitarian assistance to Bangladesh to help shelter and feed hundreds of thousands of Muslim Rohingya refugees from neighboring Myanmar, the foreign minister says.
Wang Yi also tells reporters that China hoped repatriation of refugees could begin "as early as possible," following a meeting with his Bangladeshi counterpart Abul Hassan Mahmood Ali in Beijing. — AP
A social media account run by the office of Myanmar leader Aung San Suu Kyi quotes her as saying that "hate narratives from outside the country" have fueled tensions between Muslim Rohingya and Buddhist Rakhine communities in the country's west.
The Facebook page of the State Counsellor Office says Suu Kyi made the comment in a discussion with Christine Schraner Burgener, special envoy of the United Nations secretary-general for Myanmar. It says topics included the situation in Rakhine state, where about 700,000 ethnic Rohingya have fled since last August to escape violent counterinsurgency activities by security forces responding to attacks by a group of Rohingya militants. — AP