Composer spills tea on Moira Dela Torre-Jason Hernandez breakup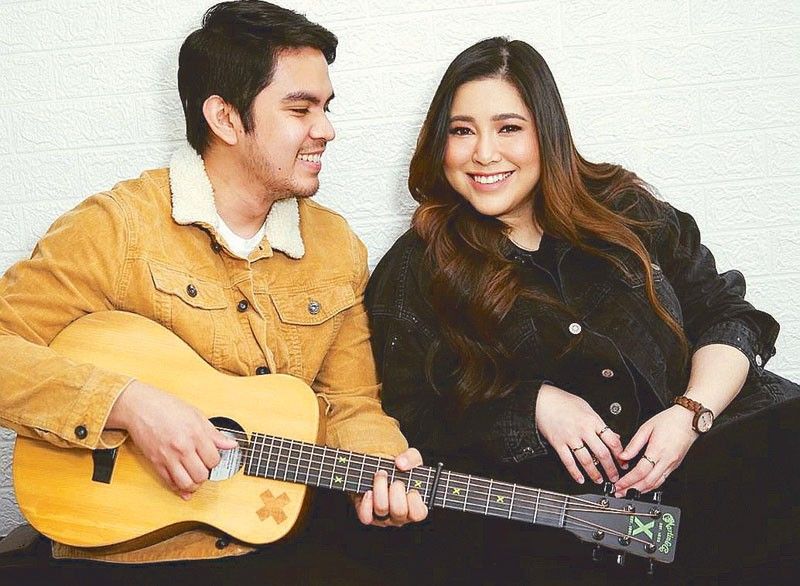 MANILA, Philippines — Composer Lolito Go broke the internet today by revealing details between estranged couple Moira Dela Torre and Jason Hernandez.
In a lengthy Facebook post, Go said he only shared what he believed he knew about the couple's story.
The "Titibo-tibo" composer said he met Moira during the singing competition Himig Handog 2017, where they won the best song. It was also the time he met Moira's then-boyfriend, Jason.
"After Titibo-tibo, nagkaroon pa kami ng ilang song collaborations ni Moira. The most recent was the song for presidential bet Leni Robredo. Mind you, I was not paid a single penny for the songs I wrote," he said.
Go shared that he noticed that there was "something wrong" with Moira.
"I'm not sure. I could be wrong. Pero nahahalata ko na napapadalas ang pagsisinungaling nya. Kung sa akin nagagawa nya ito, ano pa kaya sa mga taong mahal na mahal sya," he said.
"Di ko na mabilang kung ilang beses nya akong binigo sa lahat ng requests ko sa kanya, kahit pa para sa advocacies. I asked her kahit maikling video message for a Mental Health Awareness Campaign, which she allegedly champions, pero sineenzone nya lang ako.
"Pero kapag sya may kailangan, she would call me, kahit alanganing oras, with matching iyak pa. When she asked me to write a song for Leni, she just edited some of the lyrics and it became hers na. She also asked me to pen the caption for her socmed posts about the song. Pero sa mga press release, she got the credits.
"When Moira needs you, she will make you feel loved and cared for. Magaling sya mambola. She even asked me kung magkano price ko for ghostwriting for her last year noong nagkakalabuan na sila ni Jason. When I told her my price, tinawaran nya ako for 20k per month. I felt so insulted. But I just kept that to myself. When I finally had enough May last year, I blocked her in FB (Facebook) and messenger complete with a long breakup letter."
'I refuse to be quiet'
Go said that he wanted to write his statement a few months ago but said Jason wanted to protect Moira.
"Hindi totoo ang kantang 'Eme' ni Moira na 'wala naman akong kasalanan.' Looks and voice can definitely deceive. This soft-spoken lady with a voice of an angel, who always seems to have a sunny disposition, and has a penchant for quoting the Bible, has a dark side unknown to many.
"I was strongly advised not to leak any of these. To not even mention it to anyone. But I refuse to be quiet. I refuse to be neutral. To be neutral in times of injustice is to take the side of the oppressor. In this case, Moira is more of an oppressor than a victim. Jason took all the blame, took all the bashing, in the name of love."
Lolito admitted that Jason made a mistake in his relationship with Moira but said that he never fell in love with anyone else.
"His only sin was he listened to the call of flesh and availed of illicit massage service because Moira couldn't fulfill his sexual needs," he said.
'Hoping for a second chance'
He also alleged that Moira wanted out in the relationship. "Dahil nakahanap na rin sya ng pamalit. Someone who will 'dance in the rain' with her and call her 'binibini.' I'll leave it to you to guess sino ang tinutukoy ko."
Social media users, meanwhile, were left to guess on who the unnamed person in Go's post was. Some users guessed that it could be singer Zack Tabudlo based on the clues given. Tabudlo's hits include the song "Binibini."
"Jason was mocked, wrongly accused and crucified while Moira was busy washing her hands and capitalizing on their breakup by writing awkward songs that only serve her interests and twisted sense of reality. Yes, you can say that Jason is also trying to capitalize on the breakup, but not for clout. It is predicated on his desire to restore the marriage. While 'EME' is mockingly lashing out on Jason, 'Ikaw Pa Rin' is a lowkey, heartfelt song that puts Moira on the pedestal of treasured memories. See the difference?
"Bilib ako sa lalakeng ito, because he carried on with his faith, he admitted to his sins and faced all the consequences. He did everything to win back Moira despite all the pushback. Samantalang 'yung isa, busy with grooming her image. Takot malaos. Will do everything and will step on the back of other people in pursuit of clout and longevity.
"Despite all the things said and done, I was still hoping for a second chance for Moira and Jason. I've seen uglier and messier break ups. Kami mismo ng asawa ko, we experienced worse. But we held on."
At the end of the post, Go shared his wishes for the estranged couple.
"As Moira and Jason navigate the aftermath of their separation, may they both find the strength to embrace the dissonance, to delve into the depths of their souls, and emerge with a renewed sense of self. Just as a composer reworks a discordant note to bring forth a harmonious resolution, may Moira and Jason find the courage to mend the fragments of their lives and create a symphony of healing," he said.
"In the grand tapestry of existence, let their individual melodies intertwine once more, not as a means to recreate the past, but as a testament to their growth and resilience. May the symphony of their lives continue, enriched by the lessons learned, the wounds healed, and the melodies yet to be discovered," he added.
RELATED: 'You blocked me': Jason Hernandez reacts to 'forda clout chasing' comment by Moira dela Torre's sis