Viva launches child-friendly, family-oriented streaming platform
January 29, 2023 | 12:00am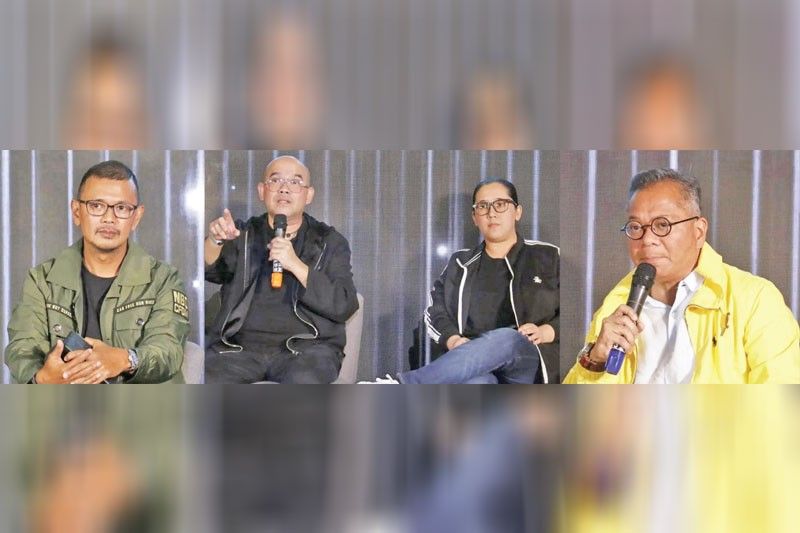 Two years after the launching of Vivamax, entertainment giant company Viva Communications, Inc. is rolling out another streaming platform. The target market for which is the general audience and it will contain wholesome and family-oriented content.
The Viva Prime, which can be accessed on the Vivamax app starting today will feature local content, including new and classic titles, Hollywood, Asian and Korean blockbusters, series, concerts, live streams, documentaries and more. The price for subscription is P49 a month and P99 ad-free. The current six million subscribers of Vivamax can access the new platform on the same app.
The opening film on the platform is Darryl Yap's Maid in Malacañang.
According to Viva's president and chief executive officer Vincent del Rosario, Viva decided to launch the second platform following the success of Vivamax, which turned two today.
Viva's chairman of the board Vicente "Boss Vic" del Rosario Jr. said in a video message during a press conference at the Le Reve Pool and Events Venue in Quezon City last week. "Now, we will create (a platform) na pu-pwede rin sa lahat — for family, for kids, action movies, comedy, love story, hugot-themed films — diyan natin ilalagay lahat."
Viva Prime will also serve as a platform not only for Viva stars but for the emerging artists as well, said Vincent. "Vivamax and Viva Prime stars can crossover, tatawid-tawid sila. With the right roles, they can also be seen on Viva Prime because we see to it that our artists will have career growth, regardless kung ano yung pinagsimulan nila. That's the intention and it will happen."
While acknowledging the "risqué" content of Vivamax, Viva's senior vice president for content creation and development Valerie del Rosario shared that Viva Prime is "more for everyone, it is accessible to all." Some of the titles that are on Vivamax will also be in Viva Prime and vice-versa, she added.
Viva's chief marketing and creative officer Paul Alexei Basinillo assured that the platform will deliver "edgy content" for the general audience so that it can also compete with global streaming platforms. It will be advertiser-friendly as well.
The team is targeting approximately 200,000 new subscribers on Viva Prime alone, on top of the over six million existing Vivamax subscribers, across all territories within two months, said Viva's chief operating officer Ronan de Guzman.
The huge chunk of the market of Vivamax came from the United States where most of the titles that are being watched are the classics and that there are more than 26,000 non-Filipinos who are subscribed to the app, he added.
Viva also hoped that the demographics for Viva Prime will be well-balanced, the same with Vivamax. "More than half are men but slightly more hindi ano… so I think very well-balanced yung subscriber-based ng Vivamax and hopefully ganun pa rin sa Viva Prime," said Vincent.
Jerald Napoles and Kim Molina's Ang Babaeng Walang Pakiramdam is one of the strongest titles of Vivamax, revealed Vincent.
For the past two years, the movies starring Angeli Khang and AJ Raval are the most-watched content, he furthered. "Parang (sila yung Vivamax) queens, walang king eh."
Meanwhile, Vincent clarified that the "risqué" image of Vivamax is "only based on perception." As he elaborated, "In the Vivamax app, you can count, I think, there are eight to nine titles there, walang 10 percent ang 'risqué' dun. No more than 70 titles, 700-plus titles are pang-Viva Prime."
"Siyempre maingay lang ano when you see an Angeli movie or AJ Raval movie. Napag-uusapan sa social media. But if you dig deep into the app, you'll see na andun sila Sharon (Cuneta), lahat ng mga big stars, sila Sarah (Geronimo). Nama-magnify lang yung ano (sexy content) pero in reality, it's just a small portion of Vivamax offerings," he further explained.
"Kasi hindi napo-promote, hindi nagkakaroon ng presscon. Let's say si Lee Min Ho, hindi naman sila magpro-promote ng movie sa Vivamax."
Vincent also assured that they have been working with the Movie and Television Review and Classification Board (MTRCB) for guidance and content regulation.
He stressed that they are "very cooperative in promoting responsible viewing."
"May password sa Vivamax. I think we have the best team (when it comes to) parental control. Actually, parental control includes parents themselves. If you're an adult, even if you are an adult, and you (find on the app) na medyo risqué yung movie, let's say too violent kailangan pa rin ng pin eh…"
Vincent also told The STAR that they "stringently" adhere to MTRCB's guidelines. "So whatever (law) is in place, we follow. Basta disparity, if it applies to us it also applies to whether you are a global streaming platform, dapat pare-pareho."
To combat online piracy, Viva also has "a campaign to weed out pirates," said Ronan. However, "because of technology, you cannot succeed 100 percent. Ito lang po yung masasabi ko diyan, the prices of Vivamax and Viva Prime are cheap. If you are going to sell P10 per movie, napakamahal nun. Isipin niyo po yung P49, you can already watch close to 400 movies in a month. So, when you look at the efficiency, sana 'wag na silang pumunta sa pirate site."
"Second is kung meron pong nagpipirata, yun po yung pinapanood nila, maybe they are still not our market… We have our chief digital officer to monitor that. But sa dami po talaga, it's going to be difficult," Ronan stated and told Vincent, "It's a sign of how popular we are. Because we have so many people wanting to pirate our content."
Nevertheless, Vivamax is "here to stay" in the streaming business. Vincent maintained, "Mahirap magbuhat ng sariling bangko but it is clear that we are here to stay in the streaming business. We see that this is the future, of course, not discounting other platforms.
"We see that the future involves direct to consumer business wherein instantaneously, you can already have the feedback through the backend (and through) analytics. (You would know instantly) kung ano ang nagustuhan ng tao, ano ang ayaw nila."
"That's why we assembled a great team and all the unsung heroes of Vivamax behind this. I think we are happy and we hope that in the next few years, there's going to be (at least one) Filipino streaming app that will be recognized globally, not only because of the Filipino market but also because of the global mainstream market," he added.
(For more details on the Viva Prime app, visit web.vivamax.net.)