Sylvia la Torre: Entertainment icon in every sense of the word
December 7, 2022 | 12:00am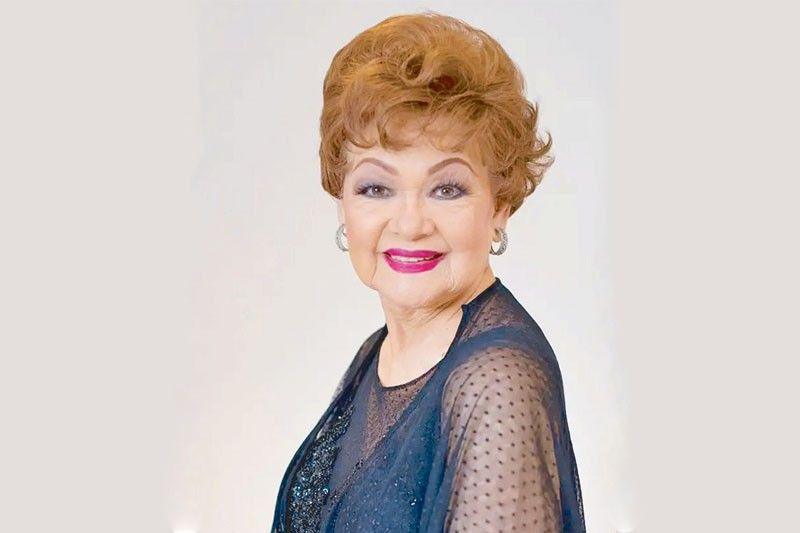 Sylvia la Torre must be the most successful drop-out that the Conservatory of Music of the University of Santo Tomas had ever known. Why not? Although she lacked that college diploma, she turned out to be a diva in every sense of the word.
The word diva here is used in its original meaning. Not as the word for an exacting, temperamental female that we know today. Sylvia was never like that. But as a great opera singer or in Sylvia's case as a great singer and actress, a legend in radio, recording, stage shows, concerts, motion pictures and most of all, television.
Sylvia was born on June 4, 1933, the daughter of the former actress Leonora Reyes and of actor and director Olive la Torre, who megged the now classic films like Roberta, starring Tessie Agana, and Dalagang Ilokana with an award-winning performance by Gloria Romero.
It was a given that the little girl Sylvia would gravitate towards showbusiness and her parents provided her the support and encouragement. There were singing contests which she started winning when she was only five years old and then appearances in stage shows at the Clover Theater and the Manila Grand Opera House, film roles in Ang Maestra, Buhay Pilipino and Ulila ng Bataan.
Sylvia's singing had a unique quality. She was a gorgeous spinto soprano. That means she had those high lyric notes but can also be earthy and dramatic. Think Madama Butterfly and La Traviata or one of those Wagner operas. That was what she was training for at the UST.
On the other hand though, she was also that rare singer who could switch from the classic Ano Kaya ang Kapalaran to a rocking Galawgaw without missing a beat.
This made Sylvia very popular with movie producers. In fact, every female star of the '50s and '60s, that means Gloria Romero, Nida Blanca, Charito Solis, Amalia Fuentes, etc., all sang in their films with the voice of Sylvia la Torre.
The hits started coming for Sylvia, the singer. As expected, she alternated between the classics and the novelties in recordings made mostly for the Villar label. Pakiusap, Sa Kabukiran, Katakataka, and then, Ikaw Kasi, Waray Waray, No Money No Honey, Batanguena, Alembong and then, back to Sa Libis ng Nayon and Basta't Mahal Kita and so on.
Success on the radio soon followed. During those pre-TV days, the sitcom to look forward to in the early evenings was Sebya Mahal Kita. Sylvia was Sebya with Pugo and Rosa Aguirre as her parents, Bentot as Bitoy her brother and Eddie San Jose as her leading man. The show later became Tangtarangtang with Leroy Salvador taking over from San Jose.
Next came Sylvia, the movie star. Pretty, with translucent skin the color of ivory, she proved natural for the screen. Tangtarangtang was her first starring role. This had a sequel titled My Little Kuwan. These established her reputation as a natural comedienne.
Sylvia even came out with patented characterizations that are still imitated until now. Watch Viva Films' Jack and Jill with Sharon Cuneta and Herbert Bautista. Sylvia was a riot as the singing doña with a high-pitched voice sporting a Spanish accent.
With the movies in the bag, can television be far behind? The early evening variety show earned Sylvia the tag, First Lady of Philippine Television. Long running and high rating, it also featured Oscar Obligacion, Chichay, Vic Pacia and other talents. She also starred opposite Luis Gonzales in Basta Mahal Kita. Her last TV series was Biglang Sibol, Bayang Imposible for GMA 7.
With all these going on in her life, plus the fact that she made her duties as wife to Dr. Celso Perez de Tagle and mother to Artie, Bernie and Che Che her priority, did you think that Sylvia would have time to do her graduation requirements in school? Not a chance.
Sylvia passed away in her sleep surrounded by her family in her home in Los Angeles, California last Dec. 1. She was 89 years old.