TBA Studios to bring more international titles to Philippines after Triangle of Sadness, Plan 75
December 6, 2022 | 12:00am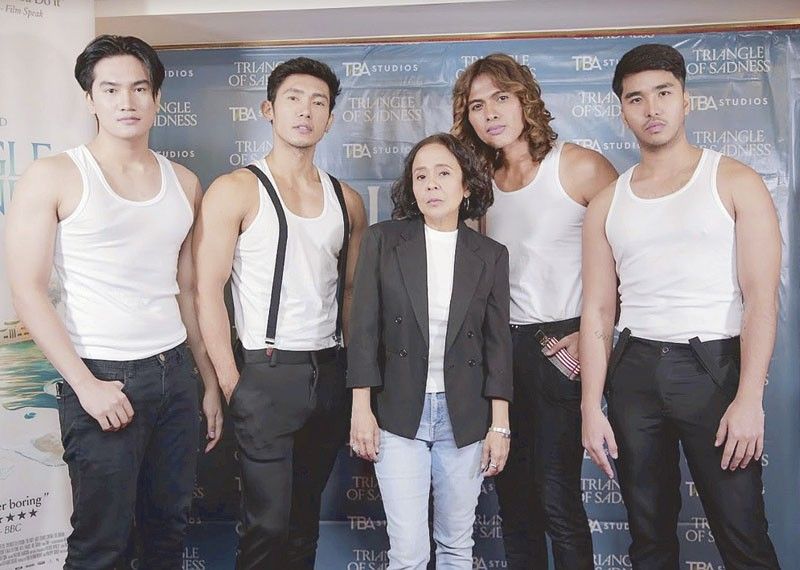 MANILA, Philippines — TBA Studios is set to bring more international films to the country after acquiring Cannes winners Triangle of Sadness and Plan 75.
Ruben Östlund's Palme d'Or-winning social satire Triangle of Sadness started screening in over 40 cinemas across the country last Nov. 30. The film stars our very own Dolly de Leon, who is generating Oscar buzz for her portrayal as a luxury liner toilet cleaner who, after a sea mishap, gets to reverse the social order, thanks to her survival skills.
Chie Hayakawa's Plan 75, which won the Un Certain Regard Camera d'Or Special Mention award, is rolling into Filipino theaters on Dec. 7. The dystopian Japanese-Filipino-French film touches on Filipinos' "sense of compassion towards the elderly." It stars Fil-Japanese actress Stefanie Arianne as a Pinoy caregiver, who gets "culture-shocked" by the Japanese policy of encouraging senior citizens to die.
There are more international titles to come, according to Daphne Chiu, president and COO of TBA Studios, the producers behind Heneral Luna, Goyo: Ang Batang Heneral, Birdshot, among others.
"We have two in talks right now. (We're) looking at one more," she said in a recent interview.
One film being eyed is Lorcan Finnegan's horror-thriller Nocebo, which stars Filipino actress Chai Fonacier alongside Hollywood stars Eva Green and Mark Strong. An Ireland-Philippines co-production, the film tells the story of a fashion designer who relies on her Filipino nanny to not just handle household concerns but also treat her mysterious illness through folk healing.
"Lahat we're already planning for next year. Because mabibitin tayo sa Metro Manila Film Festival (MMFF). We have to, of course, patronize the local films first. Then, we will release probably by January 2023 and onwards," she said.
The 48th MMFF will run from Christmas Day, Dec. 25, to the first week of January 2023.
"Very brave for other producers to make films for MMFF this year because that will determine our audiences for next year," Daphne noted.
The 34-year-old, who assumed her current leadership role last month, said that this new direction to acquire and distribute is part of TBA Studios' "second wind" after "being in the business for nine years."
While producing films again is one of their next goals, Daphne hinted that it's not happening anytime soon. She said they're still waiting for audiences to make their way back to the cinemas.
"I think braver if we produce our own but looking at the business side (of things), strategic-wise talaga, we're very careful. But hindi naman namin ma-let go yung love for film so that's why we found, like, a way to still do this… Even though we didn't make (the film), we're gonna take pride in that because there's a Filipino element."
Should TBA Studios return to movie-making, it has to be big, Daphne said. They're also looking forward to collaborating with other producers in the future.
"For the longest time, we've been solely funding ourselves. Strategy yun from before, but I don't think it will work now already because of the two-year cost of the pandemic. A lot of us really have to come together, the producers, put all our forces together to (create great cinema)," she said.
Meanwhile, their venture into acquisition began this year with Everything Everywhere All at Once, the American absurdist comedy-drama written and directed by Daniel Kwan and Daniel Scheinert. The film featured a mostly Asian cast led by Michelle Yeoh.
"Everything Everywhere All At Once was a very lucky charm for us. It was released two months before us, in the US, and of course, we know piracy is our main enemy, so there are already copies out there. But I told our acquisition team, by hook or by crook, let's get this," recalled Daphne, who was immediately drawn to the film being Filipino-Chinese.
"It really hit me with the story… (When we bought it) I saw the trailer but I hadn't seen the film. It was doing really well in the US in terms of box-office. So I said, 'There must be something there that the Filipino audience would like.'
"And the main goal was to bring back the audience to the cinemas. There are other films you can watch at home or online, but I think this is one of the films you have to watch in the cinemas. True enough, lumabas yung audiences. They watched it on the big screen even if they already had copies and streaming services… We were very happy with that."
Such film's performance at the tills paved the way for their next acquisitions, including Fanny: The Right To Rock, a documentary about an all-female band in the '70s.
"After that, Cannes happened. Triangle of Sadness (TOS) happened. One of our staff, our acquisition manager, went to watch TOS in Cannes (last May), and she said, super ganda, nakakatawa, nakaka-uplift, plus, Dolly de Leon. So, I think, from then on, we set in our goals that, first and foremost, if we're going to acquire movies, it's a plus point if there's a Filipino factor attached to it. Whether it's an actor or production staff or anything related to the Filipino diaspora, let's take a look."
Both Triangle of Sadness and Plan 75 formed part of the lineup at the recently-concluded 10th edition of the QCinema International Film Festival. The former served as the opening movie, while the latter was one of the entries for the main competition.
Plan 75 won for Japanese actress Chieko Baisho the Best Lead Performance award, which was the first time for QCinema to give out only one acting prize regardless of gender.