Aspiring filmmakers learn from the masters in virtual hangouts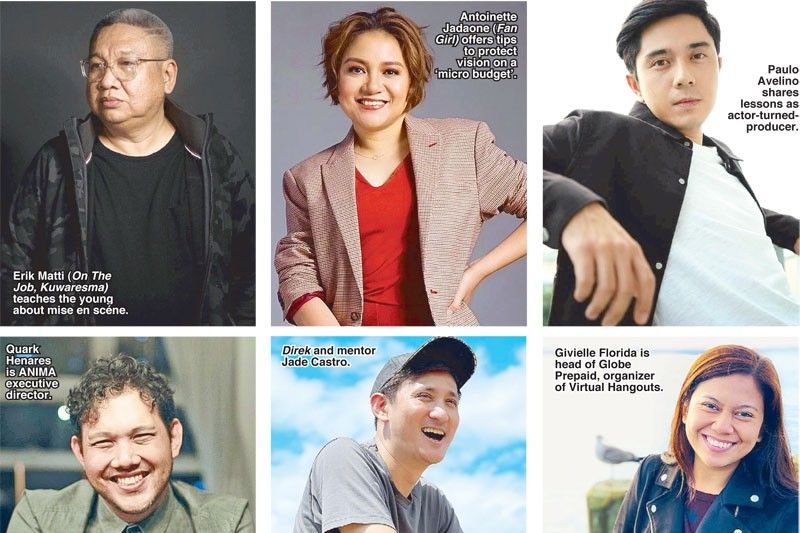 MANILA, Philippines — Going virtual to create conversations and communities about shared interests has become a norm in the new normal. The global health crisis has made everyone practically embrace it.
Globe Prepaid's answer to it is its Virtual Hangouts (VH) that serve as a platform to present a learning program for the public and subscribers.
Its upcoming virtual hangout is GoWATCH Film Lab, created for cinephiles and emerging filmmakers.
"(It) is a learning program for those who have stories to tell through filmmaking," said Givielle Florida, head of Globe Prepaid, in a recent virtual press conference. "(It's) a series of masterclasses about specific techniques in the filmmaking process." Award-winning filmmakers will facilitate the four sessions that will provide participants world-class mentorship, added she.
To make it happen, the company has found a partner in ANIMA, an entertainment production studio behind such films as LSS, Gaya sa Pelikula, Fan Girl and On the Job: The Missing 8, with executive director Quark Henares. ANIMA will help attendees develop their own voice and style. They are expected to appreciate the intricacies of film as an art, a medium of expression and a creative process.
Gracing the virtual event for the film lab launch were Jade Castro of LSS and Endo; Antoinette Jadaone of Fan Girl; and Erik Matti of On the Job and Kuwaresma. All filmmakers, along with JP Habac, have been tapped as mentors of the GoWATCH Film Lab.
Jade will talk about "directing while in post-production," said he, who will teach participants about the decision-making process done at this final stage. Antoinette, on the other hand, shows how a director can protect his or her vision in micro budget shoots.
"As a filmmaker, your directorial statement and vision should remain intact na kahit magbawas ng shooting days (even if you are confronted with the challenge to cut down the number of shooting days)," said she, "kahit merong mga aberya (even if there are delays) in the shoot due to, let's say, a sudden rain but there's no budget for (another) shoot. You have to think of a way to protect your vision, yung hindi naman masyadong masakit sa puso yung ginawa mong compromise dun sa eksena (you come up with a creative solution that doesn't hurt that much because of the compromise you have to do to the scene)."
Erik, meanwhile, will discuss about the mise en scéne "and how you could use all the elements of film to forward the story," said he. "It sounds simple, but it's not easy to teach. I'm looking forward to it."
As a preview to what it is, Erik shared, "Simply, it's just all the elements of film (being) put together in one shot," which shows the director's skill to know "where to focus the element, which element to bring out, which element supports which one." These elements could be "the camera, lighting, staging, the performance and even dialogues," added he. "You have production design, art direction, even sound and music." The veteran auteur said, "The rule there is, the more you use the mise en scéne, the more you use deliberately all those elements, the better you are as a filmmaker. That's how it's gauged."
Film enthusiasts, aged between 16 and 27, can start their journey by visiting www.globevirtualhangouts.ph to register. They have until June 1 to accomplish this since the actual film lab will be conducted from June 4 to 5 and June 11 to 12.
Within the mentor-and-mentee framework, participants learn filmmaking from the masters. They will have the chance to pitch a story, according to the press material given. Selected finalists will meet a jury and have the opportunity to win a script development mentorship with a seed grant.
"I wish I had a lab like this when I was starting out," Jade looked back on his humble beginnings in filmmaking. "(With) my first short film, I didn't know what to do. I just had a bunch of friends to work together with me. I picked a friend and I went, 'You're the DOP. You're my assistant director.' That was how it went. I think we came up with a pretty decent film. But I wish we knew more about what to do." He said that participants are luckier because they have a lab like this to help them out.
Erik had almost the same start in understanding film as a medium and navigating it.
"I was into theater at that time," recalled he. "I was still in college, me and my colleagues in theater wanted to try out doing a short film in the same theater that we're in. I think I was already quite sure about the kind of films I'll be doing because we did a horror short film about the ghost in Gallaga Theater, that's the name of the theater named after Peque Gallaga." He finished the film in four to five days. "(I was) asking the theater actors and my friends to come back over and over again to finish the short film," added he.
Paulo Avelino was a guest in the film lab launch and shared his experience as a producer in some films by saying, "It's nice to get to know everything behind the scenes and how everything works, where the budget goes and how to cluster everything, but I'm still learning," said he, "and I can't wait to like, get to produce another film again. So, I can even learn more and maybe correct some mistakes I've done in the past."
These are just snippets of how rich, insights- and practice-wise, the film lab promises to be to the participants. So, go and register. Take that first step in telling narratives through moving images.