KD Estrada, other artists flex modern masculinity Star Magic digital mag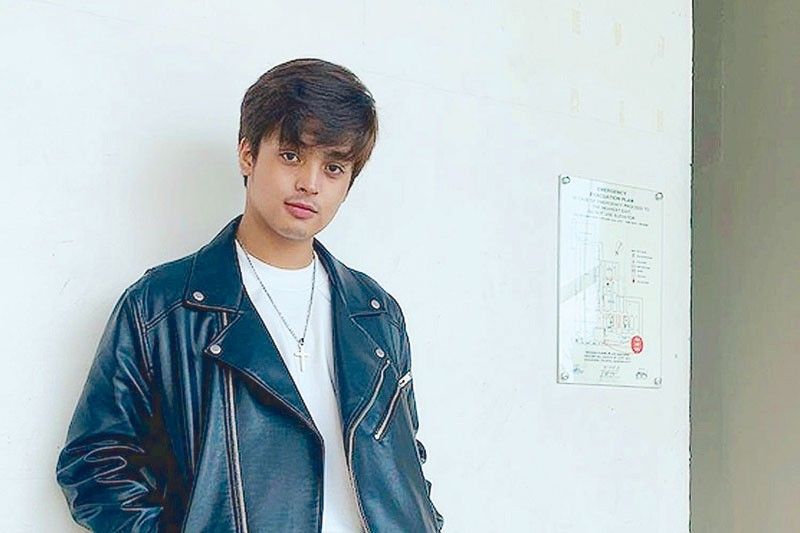 Rising star KD Estrada is ready to take on more adult, drama roles.
He was asked in a virtual call if his appearance in Star Magic's Flex, "a digital video magazine that aims to end toxic masculinity by promoting a new idea called modern masculinity," would mean that he is ready for a "mature" project.
"I'm assuming that as daring, more mature projects… I would say, that's a huge leap… I don't think I'm at that level of yung maturity na yun," he responded. "But I would say that I'm ready to take on roles that are more adult, more drama roles kasi I've been playing light-hearted roles so far. I think I'm ready to take on more dramatic roles, more real, more mature. Mature in the sense that it's more gritty."
He graced the first cover of Star Magic's Flex boy's edition while his onscreen partner and rumored girlfriend Alexa Ilacad is the first cover girl of Slay, Star Magic's first-ever digital video magazine.
KD was surprised that he was even considered for Flex. He said, "I haven't seen myself in that certain light na parang, 'KD, you will be the cover boy of a certain magazine.' Kasi di ko talaga naisip na magkakaroon ako ng ganyan at this stage of my career. Pero overall, I'm very excited about this project."
He also revealed that Alexa was "happy" and "excited" for him with the opportunity.
With all these breakthroughs both in their careers, KD shared that, "As of now, our relationship is not really ideal kasi parehas kaming busy baka maguluhan kami lalo." However, "In the future, this doesn't apply to us lang, but I think if you have a healthy relationship, if you have a healthy partnership, thriving, I think you have all the rights to 'flex' that. If you want to keep it (relationship) private, go lang. But if you want to shout it out to the world that I love this person, this person loves me, selfie, then OK why not. You 'flex' that."
When further inquired about their relationship status, the former Pinoy Big Brother: Kumunity celebrity housemate replied, "Since we are both in showbiz, we both understand that sometimes we won't be together, sometimes our project would be magkahiwalay or iba-iba i-partner sa amin. I think the key lang is trust. Tiwala lang sa isa't isa. I think that's the key to every relationship."
He also mentioned the importance of communication in their relationship. "I think it's a hierarchy, trust, communication, tapos the rest follows. Respecting each other, boundaries ganyan. Those are the Top Three things that I put when it comes to handling this relationship," he shared.
Likewise, the young thespian opined about how one does embody modern masculinity and why there is a need to stop toxic masculinity.
He recalled that when he was young, he was taught that "boys or men were not allowed to cry because it's not manly."
"You're not allowed to show feelings, dapat lagi kang matigas, not matigas, dapat lagi kang maangas, best foot forward, always show that you're an alpha and mas magaling ka sa kapwa lalaki," he said.
On the contrary, that is not the case in modern times, according to KD. In his words, "For me, modern masculinity is embracing yourself as a man. Kahit anong identity that you take, like you could be gay, straight, feminine, masculine, it doesn't matter. As long as you are not harming any other people, just embrace yourself lang. Love yourself for who you are."
Joining KD in Flex are former PBB housemates Andrei King, Laziz Rustamov, and Aleck Iñigo, former Bidaman contestant Wize Estabillo, and Star Magic artist Anthony Barion. They also chimed in and shared their opinions about "flexing" modern masculinity.
"It's not only about our body physique. It's all about the mindset, the right attitude, tapos hindi naman porket sinabing masculine ka is kailangan tough and strong ka all the time," commented Aleck. "It should be yung pinaka-biggest flex for this talaga is yung pagiging marespeto mo and gentleman sa mga tao. Yun talaga ang modern masculinity as of now."
"Hindi na kasi uso yung mga dadaanin mo sa brusko, dadaanin mo sa angas, it's really different now. The girls, other people, they also like men who are sweet, soft, kasi dun makikita yung true emotions ng lalaki," he added.
For Wize, it's about "giving the equality that they want and the equality that they need. Pero isipin natin na ang chivalry andun pa rin siya. It's not yet dead."
For someone like Andrei who experienced being bullied in the past, modern masculinity equates to self-love. "Love yourself and then give love din sa lahat ng tao na makakasalamuha mo, kahit sino pa siya, kahit ano pang estado sa buhay, dapat pagmamahal lang at pagbibigay at pag-unawa sa lahat ng taong nakaharang sa'yo," he reminded.
"It's to know your intention – how good or bad (it is). (You have to) realize what you are doing, what's good, what's bad. As long as your intention is pure and you are doing something productive and good, making people smile, I think, it's good," explained Laziz.
"To flex more than masculinity in today's society is to embody a true gentleman — respeto, pagmamahal, admiration, these are things a true gentleman expresses in today's society," asserted Anthony.
"A real gentleman knows how to cry," he added. "I think being in tune with our emotions as a man is what women find sexier. Someone who can control their emotions, someone who's confident about showing their emotions, that's what women find sexy nowadays. So that's how we flex our modern masculinity in today's society."
The five Flex Campaigners will battle it out in Kumu, Facebook, and KTX for two weeks. Only the Top Four with the most combined votes will advance to the final week and compete for a solo layout.
Their solo campaigns started last May 16. Flex will be streamed on Star Magic's YouTube account soon.