Angelica shares challenges in doing A Love Story
August 21, 2021 | 12:00am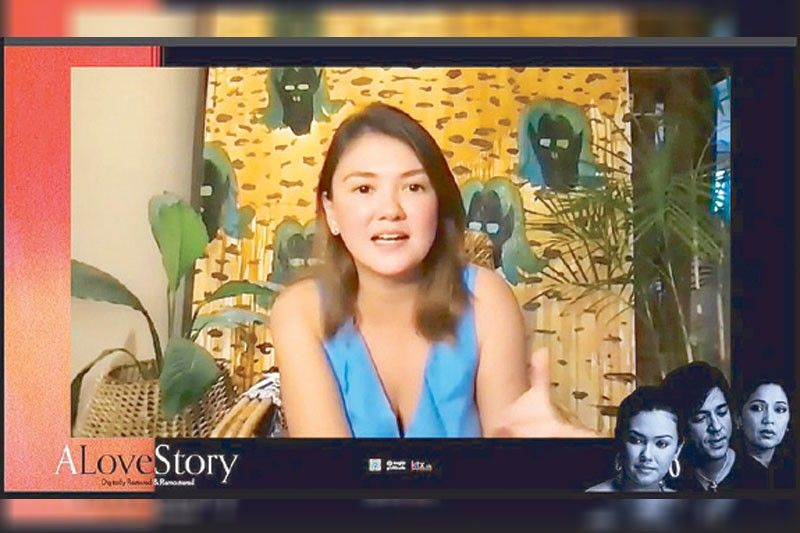 For Angelica, it was a chance to portray a challenging role and work with a respected director, and an opportunity to collaborate with Maricel and Aga.
Around that time, audiences had begun seeing Angelica taking on more mature roles after doing Santa Santita and appearing on the cover of Maxim.
Angelica recalled when director Maryo J. delos Reyes, whom she regarded with high respect, asked her on the set if she would be willing to go topless for a pool scene with Aga.
"I had to decide quickly, and at that time, I was also afraid that I might be replaced," she said. "Napatingin ako sa boobs ko. Kung kayang takpan ng kamay ko sa eksena, gagawin ko. So sabi niya, Tignan mo nga.' Kasya naman. Takip na takip naman talaga."
Looking back, she had no regrets as the scene was tastefully done.
"If my contemporaries were not going to do it, I would do it with flying colors. I did not see any problem doing the scene or how it could have affected my branding. I was just confident that it would not come out obscene with Aga as my leading man," she shared.
Angelica was also up for the challenge of working with veterans in the industry. She was also always on her toes.
"Isa siyang acting piece. Makakasagutan ko pa si Maricel sa pelikula. Magiging classic itong pelikula at magbibigay ng ibang tatak sa movie industry," she said.
Portraying the role of a young wife in the movie was something new for Angelica, who was only 20 years old at that time.
"Paulit-ulit ang eksena ko. Imposibleng magkaroon ka ng ganoong hugot noong 20 years old ka," she said.
She was grateful for the guidance from her director and co-stars, especially Maricel, whom she had worked with previously.
"Maricel would push me to my limits. We were fighting over a man in the movie," said Angelica. "In some scenes, she would ask the director for another take, saying it wasn't my best even if it was a good take. She would say, 'Kilala ko ito. Chinacharot tayo. Kilala kita. Isa pa, ayusin mo.'"
A Love Story marked Maricel and Aga's first time working together in a film and a reunion of sorts for both stars with direk Maryo, who helmed some of their most memorable movies and award-winning performances.
"At that time, we have been doing films with predictable twists. But this one was different. It was subtle but very real," shared Aga at the premiere of the digitally restored film on ktx.ph.
Maricel was even dumbfounded after reading the script.
"Nakakaloka. Iba ito," she said, "I had to ask myself if I understood the script correctly. I had to reread it. I was the other woman. This is a good story."
In the movie, Aga portrays a real estate mogul Ian, who clawed his way to the top but longed for his father's approval. He meets the two women who would turn his life around — Joanna (Maricel) and Karyn (Angelica).
Joanna, a doctor who got off a failed marriage, falls in love with Ian, showers him with the affection and attention he has always wanted. Meanwhile, Karyn, a young and carefree flight attendant he met on a business trip in Macau, makes his life light up with her charm and youthfulness difficult for him to resist.
As the three become intertwined in this complicated love affair, Ian, Joanna, and Karyn must learn to let go, forgive, and realize the true meaning of unconditional love in the end.
Award-winning screenwriter Vanessa Valdez revealed that the original script had a different ending. Everyone felt it had to be revised after the preview. Scenes had to be retaken as well.
"In the original ending, everybody forgave each other and went their separate ways. But after the preview, people asked, 'Ganon lang ang ending?' It had to be revised to make it restorative," she said.
Vanessa recalled that during the shooting, Aga told her that his character should return to his wife because he loved her so much.
Aga explained, "Why would my character leave his wife when she had no bad bones in her body? She even forgave him. It would be too cruel for him to abandon her. People make mistakes, and we forgive. That's life."
The story is so real and relatable that one moviegoer messaged Vanessa on the then-popular social media platform Multiply.
It was the first movie that she felt had made a direct impact on its audience.
"After watching the movie, the stranger wrote that she made a life-changing decision to end her affair. She felt guilty as she saw herself in the mistress. Naawa ako sa kanya pero bumilib ako sa desisyon niya na hindi madali gawin ang tama. Pag ginawa mo iyan, pasasayahin ka niyan kasi yun ang tama. The movie made her realize that what she was doing was wrong."
Those who missed the movie can watch the digitally restored and remastered version of A Love Story currently streaming on ktx.ph.