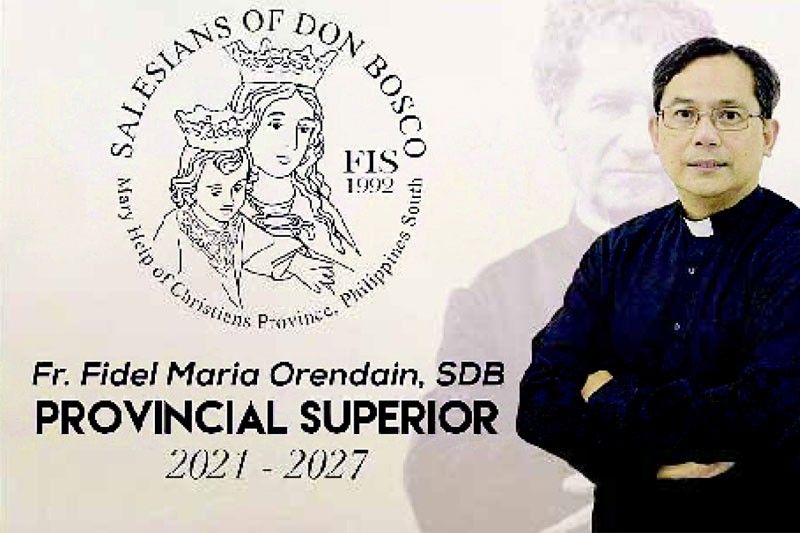 Fr. Fidel Orendain lying prostrate in front of the altar of the Archdiocesan Shrine of Our Lady of Lourdes in Cebu City last May 24 when he was installed as the sixth Father Provincial of Mary Help of Christians Philippines South-Pakistan.
STAR/ File
RAZZLE-DAZA
-
Pat-P Daza
(The Philippine Star) - June 7, 2021 - 12:00am
Partly because my late grandparents, Gabriel and Angeles Daza, had 40 grandchildren, the Dazas are a big clan. It was therefore inevitable that all 40 of us would take different paths and enter such diverse fields as culinary, media, banking, the academe, etc.
But we have one cousin who has chosen to be a man of the cloth: Fr. Fidel Daza Orendain, SDB. He is the president, dean and vice president for academics of Don Bosco Technical College. He's also the head of Region VII of the Catholic Education Association of the Philippines (CEAP), which places him in charge of 124 Catholic schools in the Visayas.
But there's more. In Cebu City last May 24, Fr. Fidel was installed as the sixth Father Provincial of Mary Help of Christians Philippines South-Pakistan, with a six-year term from 2021 to 2027. Because of the pandemic, none of us cousins could make the trip to Cebu to witness the milestone. Thankfully, we were able to watch it via Zoom. When I saw Fr. Fidel lie prostrate in front of the altar of the Archdiocesan Shrine of Our Lady of Lourdes church, my tears flowed.
I hardly saw Fr. Fidel when we were growing up even if he is only two months older than me. When we were kids, Fidel's family lived in Parañaque, which was quite far from the Daza compound in Quezon City. I would occasionally see him in family reunions, but he spent most of his childhood years in Daet, Camarines Norte, where his father's family hails from.
His brother Martin Orendain fondly remembers that Fr. Fidel was always chosen by his English teachers in Daet to represent the class in declamation contests. When he was eight or nine years old, he even competed against older high school students using the piece, Vengeance is Not Ours, It's God's. His mom even made him a tattered beggar's costume to wear in the contest. After winning first place, Fidel got on a jeepney to go home, still wearing the costume. The jeepney driver did not ask him to pay.
It isn't surprising therefore that Fr. Fidel earned his master's degree in communications from Georgetown University in Washington, D.C. He also has a doctorate in communications from the University of the Philippines. When his mom (Tita Betty to us cousins) became a widow, she moved in with my grandparents, who lived right above us on the second floor of our duplex home. Fr. Fidel would sometimes visit his mom, and it was during these visits when we would chat. On Dec. 8, 1993, he was ordained to the priesthood. Since 1997, Fr. Fidel has "belonged" to the Philippine South province.
It wasn't long ago when I started seeing Fr. Fidel quite regularly. For the last couple of years, he has been flying from Cebu (where he has been based for over 20 years) to Manila on Christmas Day to celebrate Christmas Mass for the Dazas at our cousin Nina Daza Puyat's home. When he arrives on Christmas Day, I pick him up at his sister Joji Racelis' condo unit, which is four buildings away from mine. Joji is unable to attend our Christmas Day lunch as she spends the day with her in-laws. It is when we are in the car that Fr. Fidel and I catch up.
Aside from celebrating our Christmas Masses, Fr. Fidel also officiates all our family's milestones, including weddings and baptisms. In September 2016, Fr. Fidel and a few other cousins (me, Mariles Enriquez, Stella Belda, Nina, Risa Nepomuceno and Dondi Baltazar) flew to Florence, Italy for the wedding of our niece Isabelle Daza to Adrien Semblat. Of course, the wedding was officiated by Fr. Fidel.
Because Nina and husband Louie Puyat were also celebrating their 28th wedding anniversary during that same trip, they had a private Mass in one of the smaller chapels at the Basilica of Saint Francis of Assisi, with only immediate family in attendance and Fr. Fidel celebrating as well. That trip was made extra memorable since it coincided with the canonization of Mother Teresa on Sept. 4, an event we witnessed and which gave us the rare opportunity to see Pope Francis in person.
Having a priest in the family definitely has its perks, and we constantly badger Fr. Fidel to pray and offer Masses for us. Last Friday, May 28, we had a thanksgiving Mass and Zoom party with Fr. Fidel and 33 family members in attendance. His siblings surprised him with a very touching video presentation showing all the awe-inspiring things that Fr. Fidel has accomplished. After the video, he shared that he had many sleepless nights leading to his installation as Father Provincial because he will be assigned in Pakistan as soon as he completes his COVID-19 vaccinations.
It was his turn to ask for us to pray for him, and it had never occurred to me all these years that he, too, needs prayers. He's concerned not only about the peace and order situation in Pakistan, but with the many other gargantuan tasks that lie ahead. But he confidently said that he's ready to face these challenges because he stands on the strong shoulders of the church and knows that his family will always be there for him.
Dear readers, please include my cousin, Fr. Fidel Orendain, and all of God's servants in your prayers. May they continue to find strength to spread the good news and may their faith never waver during these especially challenging times.