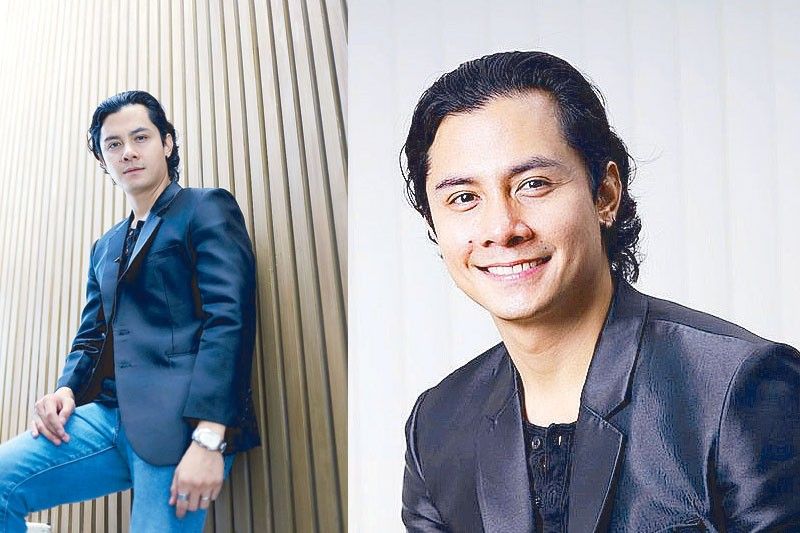 JC plays the title role in the film inspired by real events and produced by Advocacy Global Studio: 'I'm one of those kulit actors asking a lot of questions. I check everything. I check my character's fears, happiness and his idea of pleasure, among other things.'
STAR/ File
JC Santos set to show versatility in The Eventologist
JC Santos continues to expand his acting horizons in The Eventologist. The film to be shot in Doha, Qatar later this year is the actor's follow-up to the successful Dito at Doon. Following his train of thought, JC finds the role irresistible for its "newness" and his unfamiliarity to it. He will showcase his versatility anew in the Oscar de Jesus Yema film.
"Every time I accept a project, I make sure that it is something I haven't done yet in my life (as an actor)," said JC in a media call via Zoom. "This is something new to me. It sounded like a challenge to me at the time I was reading the script."
Given today's global health crisis, JC added that he felt lucky to have work to look forward to and keep himself busy.
"Ang pinanghahawakan ko pa lang sa ngayon ay yung script na binasa ko four times (Whatever I have known about my character is solely based on the script reading I've done)," said JC about his initial preparation for his character named Steven, an Overseas Filipino Worker (OFW), who taps Filipino singers, bands and celebrities to grace the events he organizes in Doha.
"There are terms (I need to get myself acquainted with) and it's a different environment when you're doing events. Every time I'm watching them, when I look at them (the people behind these events), I get stressed already."
JC said he is always willing to immerse himself in the milieu of his character to deliver a nuanced and sterling interpretation.
"The story revolves around what happens backstage and is told from the point of view of one person," said JC of his movie inspired by real events. You know, a fictional character set against factual events. "My character is following the story and a part of the events."
JC's latest acting project is also close to his heart. The actor's parents were both OFWs. His mother worked in Las Vegas, while his father was a seafarer. JC himself was once a performer at the Universal Studios Singapore and Hong Kong Disneyland.
"I went (abroad) when I was 19," he said. "I wanted to understand why my parents were always away, why they needed to work abroad. I wanted to know their side (of the story). I auditioned for Universal Studios Singapore and I got in. At that time, I was enjoying the whole thing and I was making money. At that time, I was also finding myself whether I wanted to become a performer (or not). My main dream then was to study in New York. I would use my earnings as an OFW for my education. I just wanted to perform." That passion for performance has also brought him back to his home country and led him to test the showbiz waters.
For the past years, JC has made an impressive mark as an actor appearing in such films as 100 Tula Para Kay Stella, the local remake of Miracle in Cell No. 7 and The Day After Valentine's. The Eventologist is JC's fourth movie that narrates the lives of migrant Filipinos. Imbisibol, Kintsugi and Motel Acacia are his three other OFW-themed films.
"I'm happy that I have a project, an international one," reiterated JC, agreeing that The Eventologist is a welcome addition to his works either filmed abroad, starring an international cast or both.
Asked what his process is like in studying and developing a character, JC had this to say: "I'm one of the kulit (curious) actors who asks a lot of questions para dumami ng dumami yung layers nung character. I nitpick every time. I check everything. I check his fears, ano ang nararamdaman niya sa bawat tao (what he feels towards every person he meets). I check his happiness, (his idea of) pleasure, ano ba yung abuse, violation and rage (from his point of view). I check those little things like what he feels about the space, his house or his office, ano ang nararamdaman niya sa (mga tao) na kaharap niya na pwede niyang ma-encounter. I'm kulit that way."
JC also knows that concepts of class, ethnicity, gender and race matter in giving life to every character.
"When I read the script, I feel like nanduon na ako kaagad, kung pumasok siya sa space na ito (I'm already in the space my character inhabits)," he said, "ano ang nararamdaman niya dyan (what he feels in the moment). Wala naman akong iba pang mapagtatanungan nun kundi yung nagsulat. If the writer is around, I'm also kulit."
Aside from his innate actor's curiosity, JC said that he also brings his theater habits and practices to his acting assignments.
"I did theater because I liked the rehearsals," he shared. "Gusto ko yung naghihimay, gusto ko yung nagbubutingting, gusto ko yung nagtatanong at gusto ko yung may na-di-discover, I like the idea of checking all the possibilities, all the sides even outside the box. I'm a nerd."
These are the acting tools JC will bring on the set of The Eventologist, produced by Advocacy Global Studio, a Doha-based Filipino production company, as its maiden movie venture.
(For details on The Eventologist, visit Global Advocacy Studio Presents Facebook page and www.oscaryema.com.)