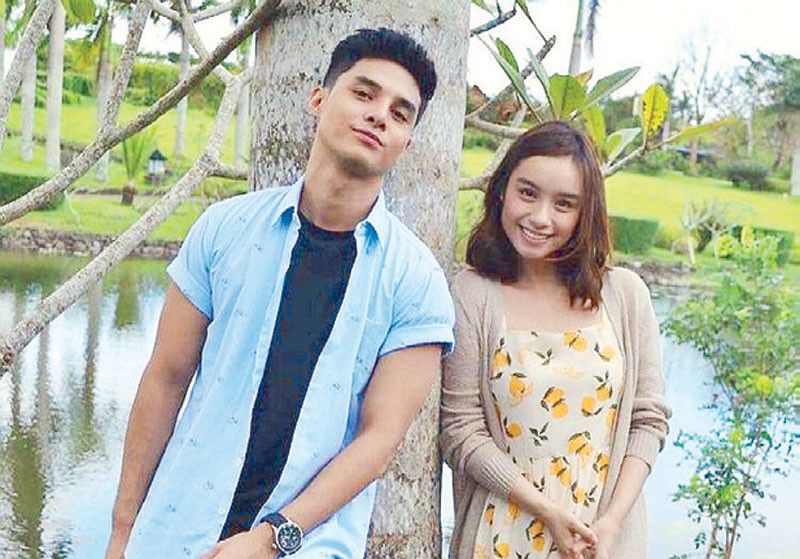 Dave Bornea, Pauline Mendoza would love to play their characters again. They think their Afternoon Prime series can still be expanded, replete with new twists and turns.
Babawiin Ko Ang Lahat young stars look forward to Book 2
MANILA, Philippines — Time flies. After its premiere last February, Babawiin Ko Ang Lahat is now on its finale week. Kapuso viewers will be all eyes on every revelation that unfolds in the engaging afternoon drama series. They are excited to confirm their hunch about its possible conclusion.
The Afternoon Prime series' following only proves that Pauline Mendoza, Dave Bornea and Liezel Lopez, and the rest of the cast, have served their purpose as actors.
"I'll be happy about it and (I'll feel) grateful," replied Pauline when asked if Babawiin Ko Ang Lahat will have a Book 2. "Actually, I'm already missing my co-actors. With all the experiences and memories, gusto ko (silang) balik-balikan. Why not, should there be a Book 2? For me, I think it is possible to have (another) book. The story can be expanded." Simply put, there's more to explore about the life of Iris Salvador, Pauline's character.
Liezel, who plays Trina Espejo, also agreed with Pauline by saying that "there are many things that could possibly happen (and be told after book one). There are possible twists and turns in the story about the family of Iris and Dulce (played by Carmina Villarroel)."
As for Dave, he was totally on board with fellow young stars' idea and would still love to play Randall Madrigal, "I won't say no to it and I'm crossing my fingers," he said. "I think Babawiin Ko Ang Lahat deserves to have another book, maganda naman ang storya (nito)."
If ever the management greenlights a Book 2, where do the stars see the stories of their characters lead to?
"The first time I read the whole script of the soap, it was really long," recalled Pauline. "Every character has a personal background and story to tell, (from the characters like) Tita Menchie to Tito Greg (played by Tanya Gomez and Gio Alvarez, respectively). I want (the Book 2) to explore more on the romance of (or the love triangle between) Justin (Manolo Pedrosa), Randall and Iris. Basically, mahaba talaga dapat yung love story nilang tatlo. Same goes with Trina. Siyang yung may gusto kay Randall (She's really in love with him). (There are also more things) to tell about the Salvador and Espejo families. If ever there's a Book 2, we can add more stories that will connect to what has been shown in the previous book. It can be expanded for me."
Liezel, meanwhile, wanted viewers to know more about her character by presenting Trina's past experiences to give context, let's say, to her love for Randall.
"A background of Trina that (will explain) her being masama (her greediness and jealousy) or (will give viewers an idea on) what happened to them in Japan. Did Akira (the Japanese-Filipino Yakuza boss) mistreat her? Bakit sobra yung longing niya sa attention ng isang tatay? Bakit sobrang insecure niya o bakit sobrang mahal na mahal niya si Randall. That background (or aspect that will explain all this) is something I want (the Book 2) to explore."
Dave also shared the same thoughts by saying, "In the show, Trina's (love for) Randall is already given." He also wanted his character and Justin, who fancies Iris, to be given the opportunity to prove "who's the best man between them. It will be challenging for Randall to (show) that he is the one that Iris deserves. If ever there's a Book 2, I wish the story will focus, too, on the hugot of every character."
Aside from its interesting dramatis personae and intriguing plotline, Babawiin Ko Ang Lahat is also replete with lessons about life that viewers have learned since Day One. They range from "putting your family first" and "being loyal to the one you love," as shared by Dave, to the consequence of jealousy and the importance of having faith in God and being independent (from Liezel and Pauline, respectively).
With that, the afternoon drama indeed deserves to have another season. It is something both stars and viewers will look forward to.