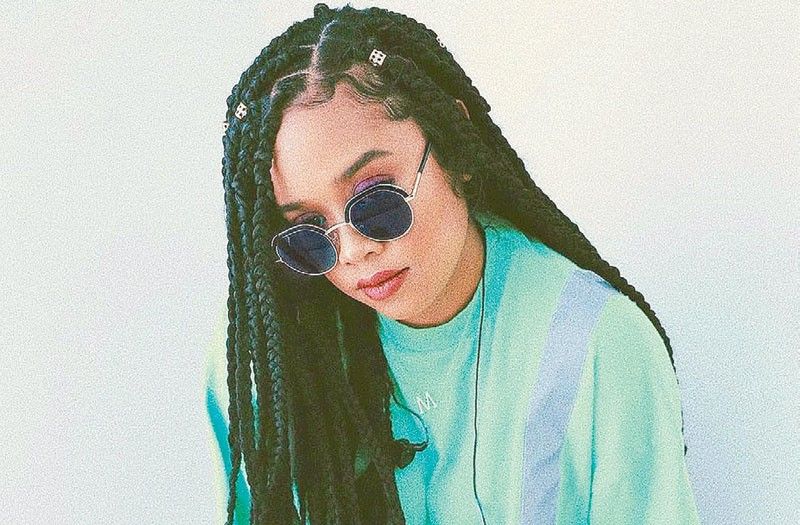 H.E.R.. whose real name is Gabi Sarmiento Wilson, has yet to have a No. 1 seller but she has hits and is a darling of the critics.
Photo from Instagram
Fil-Am soul diva H.E.R. on a roll
Long before Olivia Rodrigo came along, there was already H.E.R. She has yet to have a No. 1 seller in the Hot 100 but she has hits and is a darling of the critics. Just recently, she mesmerized viewers of the LV Superbowl with her rendition of America the Beautiful. Come March 1, she might be the recipient of a Golden Globe. The great thing about H.E.R. is that she is part-Filipino.
Like Rodrigo, H.E.R. is one-half American and one-half Filipino. Her parents are Agnes Sarmiento and musician Kenny Wilson. A true Bay Area Girl, she was born in Vallejo, California. She started out as a kid singing in Disney talent shows with her real name Gabi Wilson. That phase easily fizzled out but not enough to keep her away from her music.
She ditched the Gabi and emerged playing three kinds of guitars and keyboards in a fabulous set of tunes as H.E.R. Why H.E.R.? A truly strange choice. Well, she explained that the letters stand for Having Everything Revealed, which is how she is with her music. Strange it may be but that name has helped turn her into a big star. Quite big really and I must say she probably provided inspiration for the young Rodrigo.
H.E.R. was a major rediscovery four years ago with her first self-titled album. Laidback but still conveying major pain, her style instantly captured followers and garnered awards. H.E.R. was named Album of the Year and Best Collaboration Performance for Best Performance with Daniel Caesar for the track Best Part at the Soul Train Awards. She got five Grammy nominations, including Album of the Year and won the Best R&B Album and Best R&B Vocal Performance also for Best Part.
The harvest continues for H.E.R. who is now also famous for her trademark dark glasses. She is up for more awards, most notably Grammys for Song of the Year, I Can't Breathe, and two entries in the Best R&B Song category, Slow Down with Skip Marley and Better Than I Imagine with Robert Glasper and Meshell Ndegeocello. And then there is what might be her first Golden Globe.
H.E.R. is nominated for Best Original Song, Fight For You. This is the theme from the movie Judas and the Black Messiah. Directed by Shaka King and starring Daniel Kaluuya and Lakeith Stanfield, the picture is the biopic of how FBI operative William O'Neal infiltrated the Illinois Chapter of the Black Panther back in the '60s to gather intelligence on chairman Fred Hampton.
H.E.R. composed the music of Fight For You with Dernst Emile II and wrote the words with Tiara Thomas. She also does the song in the soundtrack and gives a truly inspired performance that captures the intense mood of the movie that critics have been lauding about.
Good luck to H.E.R. on her Golden Globe bid. And she will need lots of it for she is up against a most formidable line-up. Truth to tell, the Globes outdid itself in coming up with the music nominees this time around. These are some of the best movie themes I have heard in years. All five songs in the category have moving melodies with heartfelt, inspiring lyrics and are sung by some of the best pipes ever heard.
The other songs are Hear My Voice performed by Celeste for The Trial of The Chicago 7, composed by Daniel Pemberton with words by Pemberton and Celeste Waite; I O Si (Seen) by Laura Pausini for The Life Ahead, composed by Diane Warren with words by Warren, Pausini and Nicolo Agliardi; Speak Now by Leslie Odom Jr., for One Night in Miami composed by Odom and Sam Ashworth; and Tigress and Tweed performed by Andra Day for The United States Versus Billie Holiday composed by Day and Raphael Saadiq.
Oh yes, Fight For You is also nominated for Best Song at the Critics Choice Awards and it is in the shortlist of the Academy Award nominees. Could be several firsts for H.E.R. at the movies.