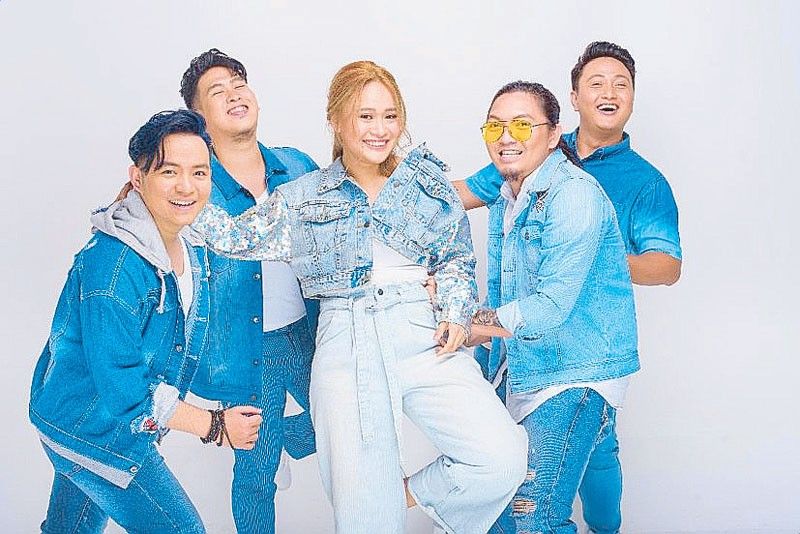 Made up of Almond Bolante, Michelle Corpuz, Joshua Cadeliña and the Laderas brothers, Bogart and Happy, Acapellago has built a successful career thanks to their phenomenal vocal
A cappella singers together in hopeful video
It is quite a sight and one fantastic sound. That is some of the best a cappella performers in the country today singing together as one. The song is the anthemic Sana Bukas. It comes with a hopeful message which says that maybe soon, perhaps tomorrow, the COVID-19 pandemic will be gone and the world will open again. It is an original composition by Acapellago counter tenor Almond Bolante and former Madrigal Singers tenor JC Jose.
You know a cappella singers, they can really sing. Not only were they born with great voices and a precise ear for the right notes, they certainly know all the tricks that go into coming up with beautiful music. So, you can just imagine the kind of sound they create and that is what Sana Bukas has. Maybe such heartfelt singing rising up to heaven can add to the prayers seeking an end to this crisis.
Sana Bukas was released online last week. Among those who joined the stellar line-up are Moy Ortiz and OJ Mariano of The CompanY, Annie Nepomuceno of III of a Kind, the Acapellago, 10000, Akafellas, Akapelasalle, Astrafellas, Baihana, Bearytones, Conchords, Iskala, KNKTD, PhilSix, Pinopela, Playlist, Synq and The Ryan Cayabyab Singers. Writer and performer of the original rap portion is Aikee Wika. It was arranged by Jon Jimenez, and mixed and mastered by JC and Joshua Cadeliña.
Sana Bukas marked Almond's debut as a record producer. It is part of Acapella5o: 5 Years, 5 Project. This is a series of activities celebrating the fifth anniversary of Acapellago. To pay tribute to those memorable years of winning worldwide acclaim while singing harmonies together, each member of the group will produce a virtual performance recording and video. Soprano Michelle Corpuz opened the festivities with her production of the Steven Curtis Chapman classic, I Will Be Here, two weeks ago. Sana Bukas came next.
Made up of Almond, Michelle Corpuz, Joshua and the Laderas brothers, Bogart and Happy, Acapellago has built a successful career, thanks to their phenomenal vocals. They spent the past five years winning acclaim in prestigious music competitions. Among these were those in Russia, Austria, China, Hong Kong and Taiwan.
They recorded the albums Peroplano and 100% Human and not to forget, the phenomenally successful kiddie song Tatlong Bibe. They went on tour doing concerts all over the world several times a year. All that remained for them to conquer was the U.S. of A. A competition followed by a tour was in the offing but this was cancelled because of the coronavirus.
But these guys are not the type to sit at home and mope. Using the Internet to stay in touch with their audience, they have lined up a series of activities. Joshua, Happy and Bogart will be unveiling their music productions soon. There is the Facebook live show, Acapella Rewind, where they reminisce on their competitions, hit songs, music videos, tours and the people they met. And then, there is GO Acapella, an organization where they share their passion for music.
GO Acapella recently hosted the online music seminar History in Harmony. This featured Cand. DR. Indra Tedjasukmana, a Designated Doctor of Musical Arts from Germany. Topics discussed included History of Jazz Vocal Groups, Innovators in Pop A Cappella and Basics of Different Arranging Style.
Individually, the members of Acapellago have also been very busy. Michelle and Joshua are now graduates of the University of the Philippines major, of course, in Music. Bogart continues to come up with his original beats while Happy is into vocal arrangements. His work on the Acapellago version of Di Na Muli is a nominee in this year's Awit Awards for Best Vocal Arrangement.
It is Almond though who is over the moon these days. This is not only because of Sushing Gala. This is his culinary masterpiece, his version of baked sushi, that is proving to be as successful as his singing. The other one is that he was tapped by the world-famous a cappella group, the Swingle Singers of America to be part of the Stay at Home Choir. This is made up of 1,000 voices who recorded a wonderful version of the Motown classic, You're All I Need to Get By. Listen and I am sure you will agree, a cappella singers make heavenly music.