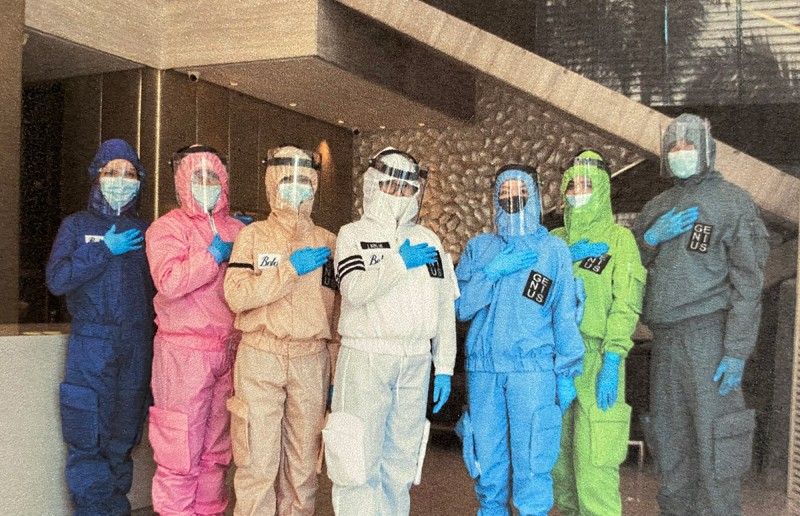 The Belo Medical Group (BMG) clinic is secured by personnel equipped with PPEs. 'I feel secure inside the clinic,' says Korina Sanchez-Roxas. 'I'm very happy; I'm very safe.'
How Belo makes stars feel good again
FUNFARE
-
Ricky Lo
(The Philippine Star) - July 13, 2020 - 12:00am
According to Kantar, the international data and consulting firm, what people were most looking forward to post-lockdown was to undergo "beauty therapy." The firm analyzed social media conversations worldwide during the COVID-19 quarantine and lockdown. Beauty treatments (more than just haircut) topped the list of priorities ahead of socializing with friends, eating out and traveling.
"It didn't come as a surprise," said Dr. Vicki Belo, BMG founder and CEO. "There's really a demand for beauty treatments these days. I call this phenomenon 'skin hunger.' Now more than ever, people want to be touched and be beautiful for themselves when they look in the mirror. People may say that it's vanity but right now, I want them to realize that it's not about how you look to the world, it's about how you feel about yourself."
Here are some of the stars who have been "Belofied" (while strictly observing protocols) after the lockdown was eased.
• Korina Sanchez-Roxas (Skin Reboot, Wet & Dry Dermabrasion and Belo Vita)
Known not only as "Clapback Queen" for her feisty remarks against trolls but also for her active and adventure-filled lifestyle, Korina did a virtual tour of the BMG's safety protocols before being treated.
"I felt really safe and protected inside the clinic," assured Korina.
Skin Reboot is designed to lift, tighten and hydrate the skin. Wet & Dry Dermabrasion is for the arms — "Since I'm always exposed to the sun and I get so much dead skin." During her second visit, Korina had Belo Vita, the anti-aging treatment to rejuvenate the skin and promote tissue repair to achieve a natural, more youthful glow.
• Alden Richards (Glass Skin Facial and Super Vitamin Drip)
The Super Vitamin Drip helps boost immunity which is good for Alden since he has been reporting to the studio for the live airing of Eat, Bulaga! (he has just also been tapped as DOH ambassador).
The Glass Skin Facial employs a multiple deep-cleansing wash with an ultrasound treatment, and helps address dull and dry skin, uneven skin tone and texture, large pores, fine lines and wrinkles.
"Wow," exclaimed Alden, "three months worth of blackheads and whiteheads ang natanggal."
• Jennylyn Mercado (Thermage)
Said Jennylyn (set to resume taping for her Kapuso shows soon), "I love Thermage because the results are instant."
Thermage is one of BMG's most in-demand treatments. It helps address loose and sagging skin as well as increase collagen and elastin production by up to 30 percent.
"I owe it to Thermage for the kind of skin that I have," added Jennylyn. "I do Thermage yearly."
• Ivana Alawi (Botanical Cleaning, Angel Whitening and Cinderella Drip)
"People usually develop bad skin in instances like quarantine," said Ivana. "I protected my skin with ZO products recommended to me by Dr. Vicki. Ang laking improvement ng skin ko. Right before the ECQ (Enhanced Community Quarantine), my skin was breaking out at may mga dark spots. Dr. Vicki told me to just continue applying ZO."
The ZO products that Ivana is using include Exfoliating Cleanser, Toner, Brightalive Serum and Wrinkle Repair, all available at shop.belomed.com.
The Angel Whitening laser evens out the skin tone and gives it a natural glow.
• Julia Barretto (Thermage)
Dr. Vicki said that Julia asked her online what's the best face-slimming treatment and she recommended Thermage which is Jennylyn's favorite treatment. Julia wanted a slimmer and more contoured face and she got it. "My jawline is sharper," noted Julia. "The result is instant, like magic!"
• Catriona Gray (Glass Skin Facial)
Glass Skin Facial is the same as the treatment that Alden had.
"It hydrates the skin," shared the 2018 Miss Universe. "It really allows the moisture to penetrate deep into the skin and it also clears out all the build-up of dead skin cells. And how it tightens the skin!"
• Liza Soberano (Botanical Cleaning and Angel Whitening)
Liza was wearing a cute Korean hairstyle when she went to the BMG clinic, needing a facial and laser treatment. "It has been four months since I last visited the clinic and I needed the treatment very badly," said Liza.
Botanical Cleaning removes skin impurities, smoothens skin texture and boosts skin vitality. After that, Liza did Angel Whitening for her face and legs, and Angel Whitening Laser also for her legs to improve skin tone and remove fine hair.
(E-mail reactions at rickylophilstar@gmail.com. For more updates, photos and videos, visit www.philstar.com/funfare or follow me on Instagram @therealrickylo.)