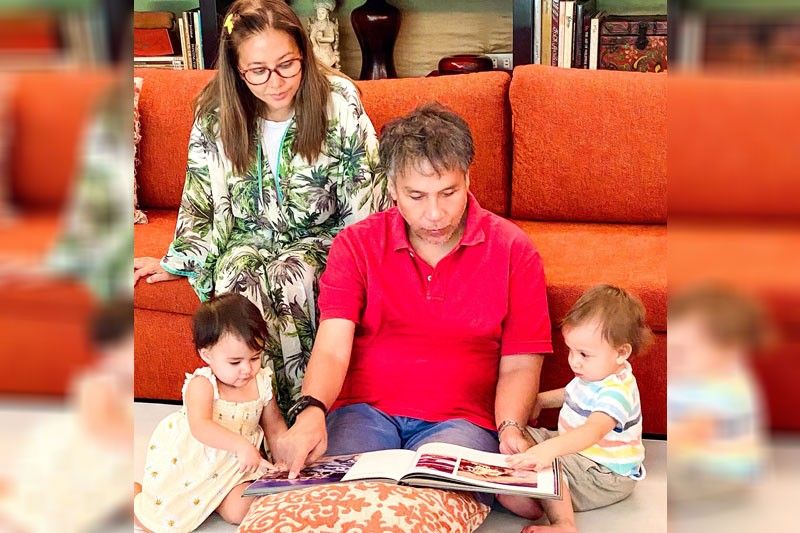 CONVERSATIONS
-
Ricky Lo
(The Philippine Star) - May 10, 2020 - 12:00am
There can be joy in being locked down. You can read all the books that have been gathering dust on the shelves. You can watch all the K-dramas 'till Kingdom (Oops! It's the title of the series on its second season) come. You can polish every nook and cranny of your private world. You can soul-search after losing excess poundage while exercising in early/-morning sunlight.
Yes, Korina Sanchez-Roxas is doing all that...and more.
How do you feel about now being called Instagram's Clapback Queen? What brought out that comment, and now a viral meme, "Please leave, Bruha ka!"?
Hahaha! The virality was definitely not deliberately designed to be that. Wala lang. I think my followers got so used to the online Korina being very zen, very Solomonic, cool, positive and benign. The online persona is the antithesis of the DZMM commentator image of 25 years. These are all authentic sides of the same person. You know this. No one is ever just one thing. But I really thought I'd put that slayer in me to pasture. Kumbaga, pahinga na muna si Lara Croft/Daenerys. Tahimik muna ako. I decided I wanted only positivity in my social media platforms.
When ABS-CBN was unceremoniously and despicably shut down, di naman ako nagulat. There've been so much threats publicly spoken from Malacañang that ABS-CBN would be shut down no matter what. So, magtataka pa ba tayo? Ako, aminin ko, wala ako masyado emosyon dito. Mas maganda nga yung hindi emotional, kasi mas malinaw ang tingin ko sa dalawang panig. Eh napakalinaw sa akin nito na mali ang ginawa ng gobyerno.
I was regularly answering the comments on my Instagram, I have about a million followers, puro sumusuporta. Aba! Biglang pinasok ako ng mga troll. Nagulat ako. And you know what happens when you're caught off-guard. The truth comes out. Hahaha! I didn't calculate. I just kept saying what would first come to mind. This is the language of the netizen. Yan ang linggwahe na alam nila. Eh di yan ang sagot ko din sa kanila.
Well, maybe the millennials don't remember, slayer was my job description for three decades. For those who followed me through my career, well, they probably just miss that side of me. I'm flattered. Hahaha!
How have you (Mar and twins) been since the lockdown was imposed (March 15)?
We're very well, thanks. Maybe just like many other very public figures or busy parents, Mar and I have savored the past two months just staying in and bonding with our one-year-old twins "Pepe en Pilar." Dati, paggising namin, isip kaagad ng schedule for the day and nakasiksik doon ang mga bata. Well, now the lockdown in many ways has been heaven-sent (or maybe, heaven-imposed perhaps). Halos sila lang ang iniisip and inaasikaso namin. Mar is an executive by training. So, siya ang jail warden namin dito, hahaha! He sets the rules about who goes in or out of the home. Ours is in a compound so he has to think of all the other households and people here, set a safety SOP which the elders agree on with him, and make sure they're enforced. Kasi di ba, by nature, matigas ang mga ulo natin lahat. So, Mar is the gatekeeper. This has helped keep everyone, so far, well and safe.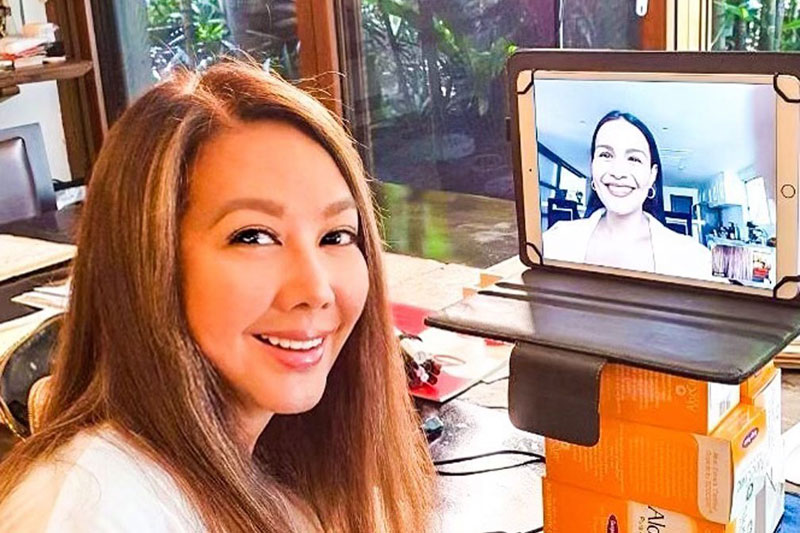 Like most everybody's, same day-to-day routine? Schedule?
There is great value, I've rediscovered, in daily routine. I got to practice discipline and self-reliability. But it was important to set targets. I'm a check-lister. Meaning, mahilig ako maglista ng mga to-do's on a daily basis. I require it from my staff, too. The first week of the lockdown was discombobulating. Para akong confused, depressed, disabled, uncertain. I mean, in history this worldwide virus had to happen in our lifetime, right? With the rest of us, I didn't know what was going to happen next. How bad it could be. So wala akong nagawa. I think many people, especially the very busy ones, feel the same way. They found it difficult being productive within the home confines.
The second week was getting comfortable with our new normal inside the compound. So we developed our routine: 5:30 a.m. wake up with the kids, we play with them on the bed by 6:00 a.m. By 6:30 a.m. we are in the garden playing, I'm listening to my music and feeding the kids. What a joy to rediscover all these songs I haven't heard in so long, from the '70s to the '90s.
Mar is jogging. Lola Judy often joins us. When the kids go inside because maaraw na...I'll do my workout for two hours. Swimming, light weights and brisk walking. One of my targets is to lose 10 pounds, get my core and weak legs stronger, strengthen my back, stretch, tone my arm muscles and get some color. The past months sobrang putla ko, hahaha! So, the target kept me going. Kahit tinatamad I just did it. Ano pa ba ang gagawin? I've lost the 10 pounds already, yay, palakpakan!
My other targets: 1.) Edit my closet of clothes and shoes I've not worn in years to be given to my nieces or sold; 2.) take the ton of papers from the home office and sort them in piles to recycle or file; 3.) sort through Pepe en Pilar's clothes and toys and give them away to those who need them. We've given to several newborns already; 4.) reconnect with old friends on Facebook; 5.) text thank you to all who gave us gifts on Christmas (yes I'm not done yet) and the kids' 1st birthday; and 6.) plan for my small businesses after lockdown. The economic fallout worldwide has been devastating. Hindi kami ligtas dyan. So we need to rebound.
How do you beat the boredom?
Well, with the daily routine and all my targets set, it should be difficult to get bored. In the beginning, I would watch Netflix but I find it a waste of time to stay horizontal for most of the day. I just watch myself to sleep at night. Pepe en Pilar are the best boredom antidotes. I've let myself be occupied with my targets and lists all this time.
How are Pepe and Pilar doing?
They're growing so fast. And this stage is a time when you can't blink. They're developing skills so quickly. I can't believe they're both now choosing their own clothes and shoes to wear! Nauutusan na rin. They will throw trash in the garbage bin, place all their toys in the box, pull their own socks off if you ask them to. Of course, the shrill "Maaaaaaaa!" to call me! Ang tinis! With Mar, they're both more sedate and they call him "Papa." I think they know who between us they'll eventually abuse. Oh no.
We limit their screen time watching educational shows or cartoons. They're now on bits of solid food which I mix in Cerelac porridge. But you can tell gigil na sila to eat bits of salty barbecue or fried fish or anything sweet — which I want to delay as much as possible.
Pilar is very girl, and Pepe is very boy. Pilar likes small bags and trinkets, she likes having her hair fixed and her eyes twinkle and she smiles if you say she's pretty. She will automatically dance to most music she'll hear. Pepe, meantime, likes gadgets and real things, not toys, like switches, telephones, watches, remote controls... And it is hilarious how he dances. Like a real man, he just bobs his head up and down to the beat. Walang kembot. Macho siya, hahaha! Hay, I love them.
Are they learning other words (English, Tagalog or Ilonggo) than Mama and Papa?
Mar really wants them to learn Ilonggo. I want to teach them French. Hahaha. So, one caregiver talks to them in pure Ilonggo. One in Tagalog. Mar and I talk to them in English. So Pilar knows lakat na ta (meaning alis na tayo and then they go and get their shoes and try to wear them), himus (meaning ligpit, and they put their toys in the pail), hamut (meaning mabango and Pilar will smell her foot, hahaha!). I'm teaching them the French song "Frerè Jacques," good luck to me.
How did they celebrate their birthday last February?
Mar didn't want too big a celebration for the first birthday last February. Pero hindi mo naman maiiwasan ang big inflatables, those booths, those giveaways...alam mo na. And he allowed me to be a first-time children's party organizer. You know, first-time Mom, long time coming, tagal pinangarap…pinagbigyan naman niya ako. Not too many guests though. Sixty children?
Aside from cutting Mar's hair, (happy ba siya?), what else have you learned that you didn't know how to do pre-lockdown?
Hey, I used to cut the hair of my classmates in high school! I just told myself, kung di na siya makatiis sa haba ng hair nya, pagtiisan na lang niya ang gupit ko. Wala namang bayad. Hahaha!!! Bloodless naman. Although I almost snipped his ear, no joke. He screamed. Hahaha! So, after cutting the fur of my pet dogs first, okay naman. Then, it was the husband. Oo, masaya naman sya. So I also did the first haircut of Pepe en Pilar. It is all in my YouTube Channel called Rated Korina. There's a saying that whoever first cuts the hair of a baby, that baby takes after. So gusto ko sa akin magmana, hahaha!!! Pepe is sooo pogi. Pilar's bangs, I think, are too short. She sneezed and I chopped it off by mistake. She looks like Joan of Arc.
How do you protect yourselves (I saw you getting some morning sun), vitamins you're taking, exercise, sleep, etc.?
I'm a big, big fan of wellness and prevention. After the illnesses of my Mom, Dad and brother who all passed away, I've been vigilant of blood test numbers. So, getting my immunity strong for this unseen enemy was automatic. I actually take 25,000 mg of Vitamin C in a drip once a week. Vitamin D+K is also a must for immunity. Eight hours sleep. Exercise. Proper nutrition. So important for the whole family. I monitor it. Meantime, Mar is the one in charge of making sure, physically, that no one goes in and out of the home without him knowing and approving. Everything that comes in through delivery must be properly sanitized. Ay grabe. Daig pa ang jail warden. But it is for our own good. We are lucky to have him here.
Has this crisis changed in any way the way you look at life and the future?
Yes. Definitely. One day, we got a scare. One of the househelp had high fever. And we said, "S__t, is it COVID-19?" And she's the one who prepares our food every day. Immediately, it is like my entire life passed through my head chronologically. Like in the movies, yes! I asked myself, "I have to record myself for my kids, they're so young! Have I paid all my debts and loans? Does everyone I love know I love them?" Things like that. Baka kasi infected na rin ako! So, life is short as it is. We don't even know how short it will be for any of us.
That's one. Another realization is this is, to me, clearly a punishment. Sobra na kasi ang abuso ng tao sa maraming bagay. It is a long list of disappointments to God. This is penance, a purge, a wake-up call. The way we abuse nature and animals and fellow humans is just, unacceptable. Why don't animals or plants ever have a worldwide pandemic? Why humans? Napapaisip lang ako. We need to be better. And prove we are the superior species.
Meantime, we do what we can, in ourselves, within our smaller universes, to just be kinder, more compassionate, more generous, more forgiving and more industrious. Walang perpekto. But we can be better.
How do you envision post-COVID life?
Naku, I have not much faith in majority of humans, at this point. I'd like to. But it remains to be seen. I'm hopeful. It also depends on our leaders. I sense people are looking for guidance and true leadership towards something that makes sense to them, that helps them be their best selves so they can live their best lives. Like a beacon. The consistency in how people's behaviors will change, depends on the leadership — of the household, of the barangay, of the city, the province, the regions, the country, the world.
(E-mail reactions at rickylophilstar@gmail.com. For more updates, photos and videos, visit www.philstar.com/funfare or follow me on Instagram @therealrickylo.)