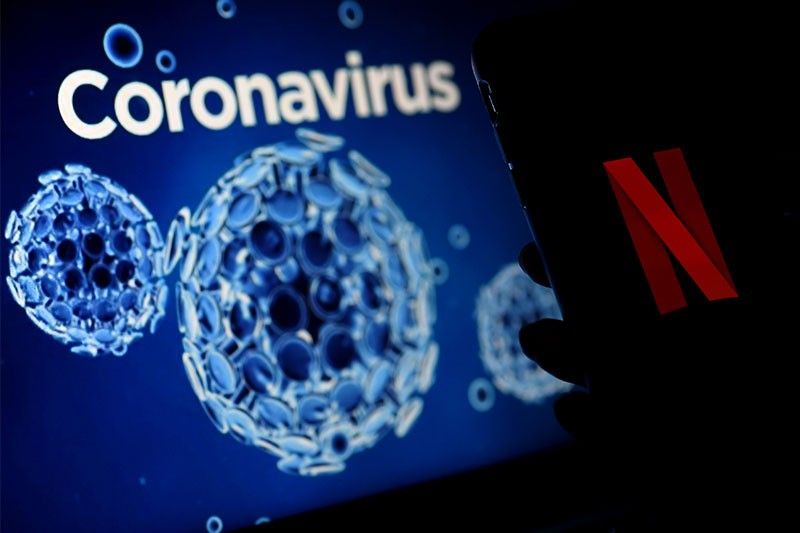 In this file photo illustration taken on March 31, 2020, a mobile phone screens display the Netflix logo next to a coronavirus, COVID-19, illustration graphic background in Arlington, Virginia. Netflix on April 21, 2020, reported its quarterly profit more than doubled as subscriptions surged at the streaming television service during the pandemic. Netflix made a profit of $709 million on revenue of $5.8 billion in the first three months of this year, while the number of subscribers grew by 15.7 million to total nearly 183 million, according to earnings figures.
AFP/Olivier Douliery
Netflix sees record sign-ups during pandemic lockdowns
SAN FRANCISCO, United States — Netflix on Tuesday reported soaring profits as paid subscriptions surged by almost 16 million at the streaming television service during lockdowns to slow the spread of the coronavirus pandemic.
"After record subscriber additions, Netflix is and will continue to be the media company least impacted by COVID-19," said eMarketer forecasting analyst Eric Haggstrom.
"Their business is a near perfect fit to a population that is suddenly housebound."
Netflix made a profit of $709 million on revenue of $5.8 billion in the first three months of this year, while the number of subscribers grew by 15.7 million from the previous quarter to total nearly 183 million, according to earnings figures.
Strict confinement rules are keeping billions of people at home in a bid to curtail the outbreak, effectively providing an enormous captive audience to entertainment giants competing in the streaming market.
"We're acutely aware that we are fortunate to have a service that is even more meaningful to people confined at home, and which we can operate remotely with minimal disruption in the short to medium term," Netflix executives said in a letter to investors.
"Like other home entertainment services, we're seeing temporarily higher viewing and increased membership growth."
Netflix expects viewing and membership growth to decline as coronavirus concerns abate and people can move about more freely.
The streaming firm expects a net increase of 7.5 million paid subscriptions in the current quarter to June but said: "Given the uncertainty on home confinement timing, this is mostly guesswork."
Turbulent times
The California-based company said that the long-term effects of job losses due to the coronavirus crisis on Netflix revenue remained unclear. The US alone has lost 22 million jobs since mid-March.
"In our 20+ year history, we have never seen a future more uncertain or unsettling," Netflix executives said.
The company's shares danced fractionally around their closing price in after-market trades that followed the release of the earnings report.
The coronavirus crisis had three main effects on Netflix's financial performance, the first being temporary acceleration in membership growth, according to the company.
Strengthening of the US dollar during the pandemic has, however, offset revenue gains.
"Netflix faces some headwinds moving forward from a poor economic environment," Haggstrom said.
"But a significant chunk of consumer entertainment budgets have been opened up from the closures of movie theaters, sporting events, restaurants and bars."
Sidelined shows
The third effect has been the shutdown of show production that has postponed expenses and freed up cash at the company in the short-term.
"We've paused most of our productions across the world in response to government lockdowns and guidance from local public health officials," Netflix said.
"No one knows how long it will be until we can safely restart physical production in various countries, and, once we can, what international travel will be possible."
Streaming television service competitors are in the same situation, but Netflix has a library with thousands of titles and an array of show launches ready for release, its executives noted.
"Our member satisfaction may be less impacted than our peers' by a shortage of new content, but it will take time to tell," Netflix said.
The Walt Disney Company in early April said its television streaming service had already won 50 million paid subscribers just five months after its launch in the US.
Disney+ subsequently rolled out in India and eight western European countries as well.
The major challenge for Netflix and other leading streaming subscription services, in particular Disney+, will be "not just attracting new subscribers after lockdown, but perhaps more importantly, retaining existing ones," said Futuresource analyst David Sidebottom.
As It Happens
LATEST UPDATE: June 22, 2021 - 10:48am
Follow this page for updates on a mysterious pneumonia outbreak that has struck dozens of people in China.
June 22, 2021 - 10:48am
The health ministry says Colombia's death toll from COVID-19 passed the 100,000 mark with a new 24-hour record of almost 650 deaths,.
After three weeks of demonstrations that have brought thousands of people into the streets to protest the government of conservative President Ivan Duque, the South American country of 50 million is suffering its worst moment since the pandemic began.
It has now recorded 100,582 dead, including 648 in the past 24 hours, the ministry says. — AFP
June 22, 2021 - 7:56am
Facemasks will no longer be compulsory outdoors in Italy, one of the countries in Europe worst hit by the coronavirus, from June 28, the health ministry said Monday.
The lifting of the mask requirement would come into effect in regions labelled "white" under Italy's classification system for how rapidly the virus is spreading, Health Minister Roberto Speranza wrote on Facebook.
This includes all Italian regions except the tiny Aosta Valley in the far northwest. — AFP
June 20, 2021 - 9:09am
Brazil on Saturday crossed the grim threshold of 500,000 coronavirus deaths, trailing only the United States in lives lost to Covid-19.
"500,000 lives lost due to the pandemic that affects our Brazil and the world," Health Minister Marcelo Queiroga tweeted.
The latest update from his ministry said the toll is now 500,800, with 2,301 deaths in the past 24 hours. Experts say government Covid figures underestimate the real toll from the health crisis. — AFP
June 19, 2021 - 2:06pm
The Netherlands announces further easing of a raft of measures to combat coronavirus, including an end to mask-wearing in most places.
Prime Minister Mark Rutte says the country was "taking a big step" towards a life without restrictions, from June 26.
"Almost everything is possible at a distance of 1.5 metres," he adds. — AFP
June 18, 2021 - 2:41pm
Lights, camera, real live audiences — Milan fashion welcomes back actual people to its shows Friday, a sign the industry is ready to start turning the page on virtual formats adopted during the pandemic.
The numbers are still modest, with only Armani, Dolce & Gabbana and Etro inviting an audience to their men's Spring/Summer 2022 collections.
"This is the dress rehearsal of the return to normalcy," Federica Trotta Mureau, editor of the Italian fashion magazine Mia Le Journal, told AFP.
The shows represent baby steps but the effect of the live events, instead of the video presentations or short films relied on since early last year when coronavirus cut short the twice-yearly shows in Italy's business capital, would still be appreciated, Mureau said. — AFP