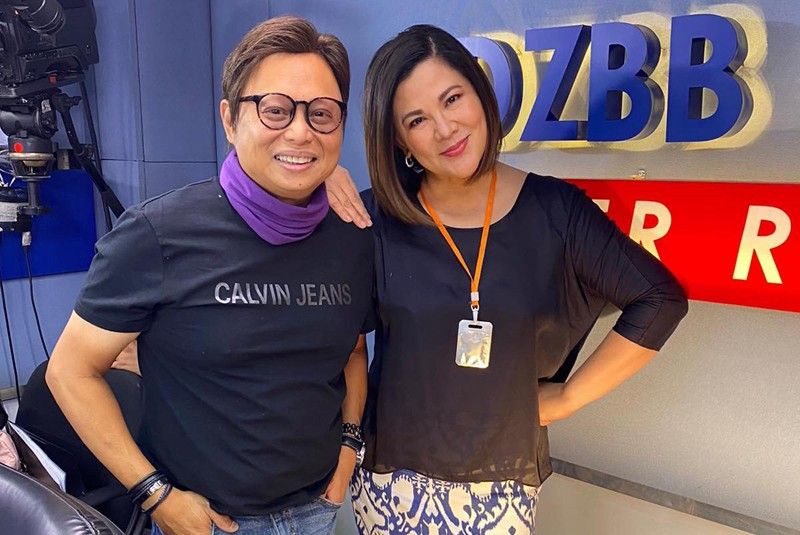 How GMA's Radyo Na, TV Pa news anchors risk life and limb, just like the rest of frontliners, to deliver the news right into your sala
Arnold Clavio & Ali Sotto The Media Frontliners
CONVERSATIONS
-
Ricky Lo
(The Philippine Star) - April 5, 2020 - 12:00am
Like the other frontliners (health-care workers, security guards, barangay officials, et al), they also take risks oftentimes at the expense of their loved ones. It's a task that they have to do fair weather or foul, come hell or high water. Cliché, yes, but true. The objective is to deliver the stories, especially updates on the raging virus, right into your sala.
They are the media frontliners, among them Arnold Clavio and Ali Sotto, two anchors of GMA News TV's Radyo Na, TV Pa. Some media guys have opted to do remote broadcasting (including CNN's Chris Cuomo who is doing it direct from the basement of his home ). But Arnold and Ali do it the normal way — straight from the GMA Studio.
How is your daily routine?
Arnold Clavio: Kahit temporarily off the air ang Unang Hirit, nagigising pa rin ako ng 4 a.m. every morning. Yun na ang body clock ko siguro. Then, I say a little prayer, "Thank you Lord. I am still alive." Kasi with so many deaths around the world with COVID-19, mapapaisip ka, why am I still alive and COVID-free? Maybe God has a bigger plan for me. And I am willing to obey Him. Prayer of St. Francis, "Make me an instrument of your love."
Anyway, may radio duty ako for now. I have a solo program sa Super Radyo DZBB 8-9 am. Monday to Friday. May segment ako na Finding Mayor. Hinahanap ko ang mga local official na nawawala in the midst of this crisis. Then Ali will join me from 9 to 10 a.m.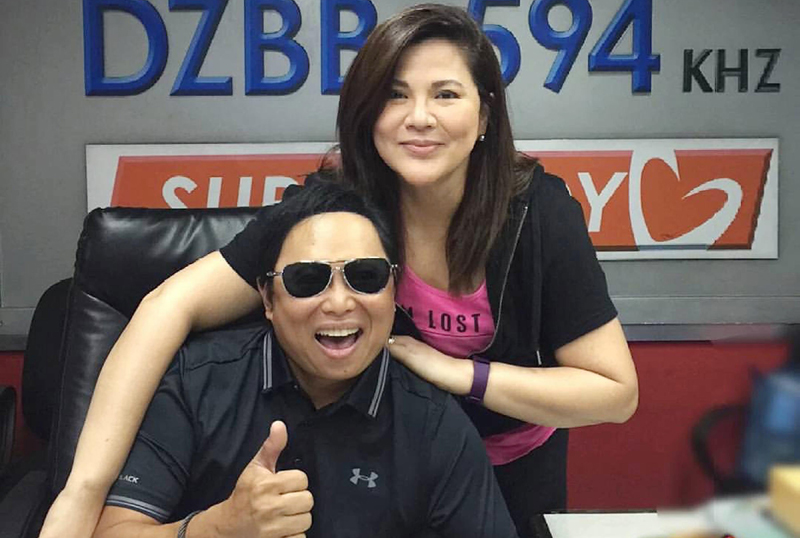 Ali Sotto: These days, even before my alarm goes off at 4 a.m., I get up from a restless sleep, trying to quell the fear and worry we all feel these days. To quiet the demons, while the house is still dark and quiet, I pray and offer the day to God. Only then am I ready to overcome the pressure of the workday. The level of difficulty and sheer volume of issues surrounding the COVID-19 pandemic add to the challenge. Even after the program ends at 10 a.m., the work goes on because one has to be continuously wired to the news updates.
How far is your home from the GMA studio and how do you get to work?
Arnold: Malapit lang, mga 10-minute drive.
Ali: I drive to work, my 40-minute commute cut down to 20 because there's hardly any traffic. It feels so surreal driving through makeshift barricades and checkpoints — like scenes from a sci-fi movie.
Aside from you, who else and how many are on board?
Arnold: Yung mga 'senior anchor' lang ang naka-home quarantine dahil vulnerable sila sa COVID (Mike Enriquez, Jimmy Gil, Long Tall Howard). Kaya naghahati kami sa morning slot nina Melo del Prado, Joel Reyes Zobel, Weng dela Peña, Orly Trinidad, Kiko Flores and Rowena Salvacion.
Ali: The senior anchors (like Mike Enriquez and Don Manolo Favis) have been enjoined to stay home. The music and showbiz entertainment programs have been temporarily halted to give way to the special coverage of COVID-19. There are others who have also opted to just stay home.
What kind of protection do you observe (I notice that you and Ali don't wear face masks while on air)?
Arnold: Bago ako mag-on-air, naka-N95 mask ako. Kaya lang we need to remove it kasi di kami maiintindihan sa ere. Regular naman dini-disinfect yung microphone, table and console namin. May suot din ako na virus shield and we practice physical distancing.
Ali: We don't wear masks while we are on air since we are about three meters apart anyway. I make sure that the microphone has been disinfected, and there's alcohol and hand sanitizers nearby. I don't linger at the station. Soon after the show ends, I get in the car and leave.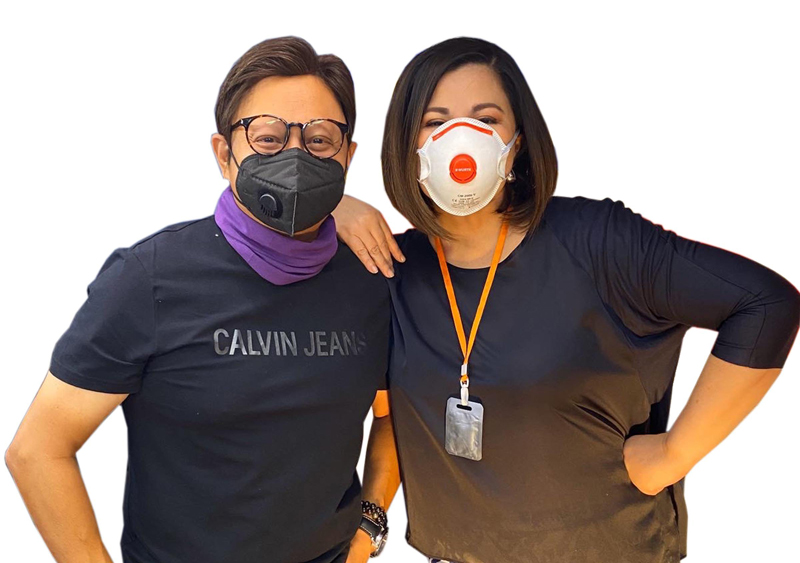 (For Arnold) Do you have enough episodes of your Tonight show to replay during this crisis?
Arnold: We have. Naabutan nga ng enhanced community quarantine (ECQ) yung aming anniversary episode. Ten years na kami. Inuuna lang namin yung most viewed episodes. Pati sa Alisto, meron pa naman.
How do you protect and keep yourself fit during this crisis (medications, food rationed by station, meds, exercise, sleep) for you to be up to the challenge of the job?
Arnold: I am diabetic. So I'm also vulnerable. Thankful lang ako dahil temporarily off the air din ang Saksi so I have enough sleep for now (seven to eight hours) daily. Tuloy yung maintenance ko for my blood sugar. May Vitamin C. Done immune booster injection na rin. Regular din akong nilalagyan ng wife ko ng "essential oil" and will join her sa yoga niya one of these days. Licensed yoga instructor kasi yun. And a lot of walking sa bahay.
Also, to keep my viewers and followers updated, I have a "cooking show" called Kusina ni Igan sa aking Instagram (@akosiigan) at Facebook (@Arnold iGan Clavio). Mga lutong bahay ni Pepper Bae with a twist. Simple. Masarap. Madaling lutuin. Spin-off sa segment ko sa Unang Hirit (UH). Plan ko rin simulan ang YouTube account. It's a new experience and I enjoy it a lot with due respect sa ating magagaling na chef. But I am doing it para mag-entertain ang mga kababayan natin na naka-lockdown sa bahay at sa mga iniidolo nating frontliners. Daming oras!
Ali: I have a Power Plate, an elliptical trainer and a recumbent bike at home, so that's how I do my cardio these days. Sometimes, I even join an online retro dance class with my zumba instructor Yoko. While I do take vitamin and mineral supplements, I prefer getting my nutrition from fresh fruits and vegetables, and we are lucky to have a stand still selling near our village. I haven't been able to do my groceries since the ECQ began because the queues are so long! It's a good thing that our subdivision has a great Viber chat group where you can source almost anything you need. Unless I am engrossed in a K-drama I can't let go of, I am able to get the required six to eight hours of sleep.
(For Arnold) Does your experience in covering crisis situations (Tacloban flooding, etc.) help in coping with the current situation?
Arnold: More than 30 years na ako sa industry as a journalist, I can say yes it helps. But Ricky this is a different battle. Invisible at walang pinipili. Yung ibang calamities ay may limited time kaya madali tayong makabangon. Typhoon, isang araw lang dadaan. Flashflood, after a few days huhupa. Earthquake, seconds lang alam mo na ang damage. Volcanic eruptions, confined and contained ang epekto. But COVID-19? Our world stops. Our lives, tumigil. Uncertainty is around us. Walang assurance if this will end on April 14. Only God knows and only Him can cure us.
So, let us take this lockdown as an opportunity to be a better person. Let us bring back humanity. Can I share what Mother Teresa said? "A life not lived for others is not a life," she said.
Lastly, the iGan ng Pilipinas Foundation, Inc. is now accepting donations to help our brothers and sisters affected by the community quarantine and the coronavirus situation.
Here are different ways to give:
Metrobank Peso Account
Account Name: iGan Foundation, Inc.
Account Number: 007 180 51100 4
Metrobank Dollar Account
Account Name: iGan Foundation, Inc.
Account Number: 180 2 18000 620 0
(E-mail reactions at rickylophilstar@gmail.com. For more updates, photos and videos, visit www.philstar.com/funfare or follow me on Instagram @therealrickylo.)