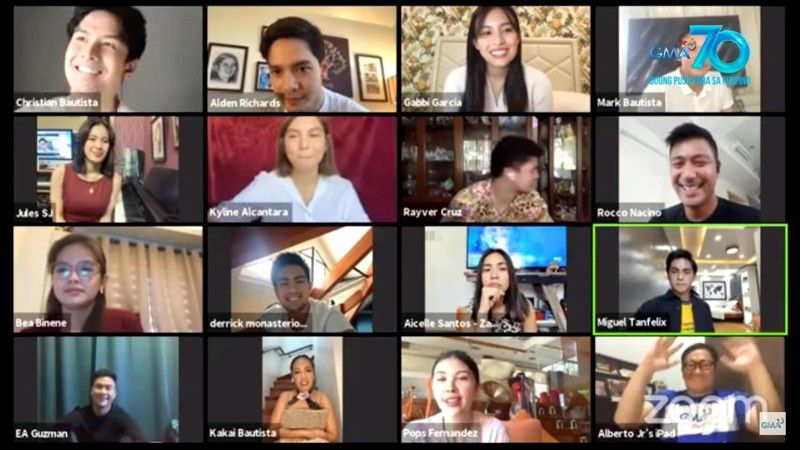 Kapuso stars take social distancing to another level during GMA's first-ever no-contact online show.
Beating the invisible enemy the Kapuso way
Much has been said and reported about the coronavirus disease 2019 (COVID-19) pandemic. And by now, a lot of us are already very anxious with everything that has been happening around us, and we are often worried about our health and safety as well as that of our loved ones.
While understanding this fully, GMA Kapuso Foundation (GMAKF) also knows that we could do more as it encourages everyone to be more informed about the situation and be more sympathetic to others through its recently-launched campaign Labanan ang COVID-19.
The GMAKF campaign began with an information drive via a series of videos featuring GMAKF founder and ambassador Mel Tiangco, along with GMAKF advocates Rocco Nacino, Bea Binene, Patricia Tumulak, Sofia Pablo and Will Ashley. Based on the Department of Health (DOH)-released guidelines, the campaign discusses the COVID-19 symptoms, proper hand washing and use of face masks, and explains some of the commonly-mentioned terms such as home quarantine, close contact and social distancing to keep the public well-informed about the health crisis that we are facing.
Also part of the Labanan ang COVID-19 campaign is a fund-raising drive to help protect those who protect us.
While most of us are lucky enough to simply be asked to stay indoors, our Kapuso in the health sector are out there bravely facing this war in the frontline — for us. However, as the days pass and the number of cases grows, our doctors and nurses are now in serious need of medical supplies to likewise protect themselves from getting infected and to continue the fight.
With the funds donated by the public and various companies, GMAKF has so far turned over thousands of surgical and N95 face masks as well as rubber gloves and alcohol to public hospitals that cater to COVID-19 patients.
Aside from the medical frontliners, who are very much at risk of getting infected, also highly affected by the enhanced community quarantine are our Kapuso who have temporarily lost their sources of income and the means to access basic needs.
To help our fellow Filipinos to stay at home and beat the deadly virus, GMAKF has rolled out the Operation Bayanihan: COVID-19.
The fund-raising project, which is still a part of the Labanan ang COVID-19 campaign, aims to distribute grocery packs and hygiene kits in poverty-stricken areas in Metro Manila. The call for donation efforts was intensified all over social media and on TV as the public is highly encouraged to donate via bank transfer instead of giving material donations to prevent anyone from possible exposure to the virus.
Last Sunday, the Kapuso Network took social distancing to another level through the Buong Puso Para sa Pilipino: The No-Contact Online Show. It was the first-ever online get-together and fundraiser with the Kapuso artists which streamed live on the GMA Network Facebook page. The three-hour online event allowed us to reconnect, stay informed and be entertained.
In between entertaining and fun mini-performances, the artists shared about how we could make the most of our time while staying at home to ensure everyone's safety. They also gave such helpful tips as on how to have fun bonding activities with the family, how to keep a healthy mindset amid the chaos happening around, how to disinfect after going outside for buying necessities, aside from thoughts on home workout exercises, cooking hacks and pet care. To lift everyone's spirits, the artists kept the viewers and their fellow Kapuso motivated that we can make it through this challenge as they prayed together for our country and the world.
The online benefit show also helped gather monetary donations from here and abroad as all the Kapuso virtually joined hands to extend help to those greatly affected by the current crisis.
As grateful as we are with the amount of help that we were able to gather through GMAKF, there is still more to be done as the battle against COVID-19 continues. For those who would like to pitch in Para sa Pilipino, check out the GMA Kapuso Foundation website for the bank details at GMANetwork.com/kapusofoundation/donate.