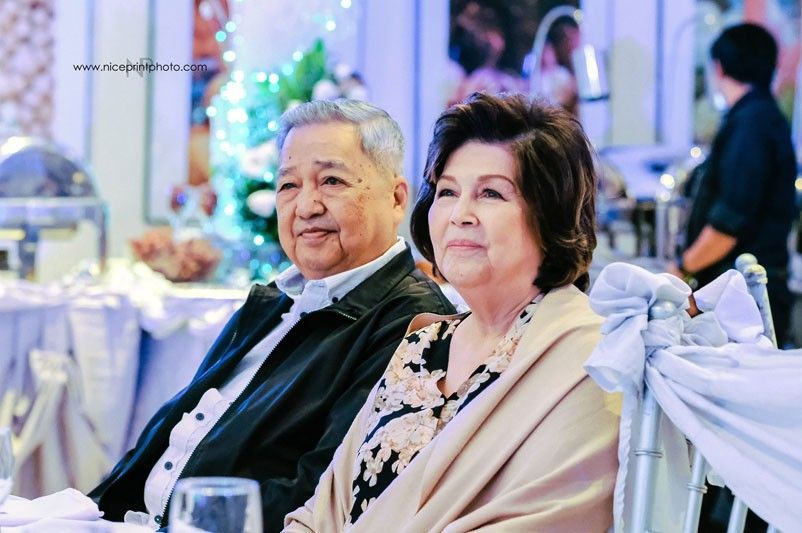 As she turns 75, Boots Anson Roa-Rodrigo (with husband King Rodrigo during her birthday party last Jan. 30) reflects on a life fully lived: Every day, my first prayer to the Lord is 'Thank you for waking up to another day,' for the 'gift of the present' which I never take for granted.
Boots leaves Mowelfund with a grateful heart
FUNFARE
-
Ricky Lo
(The Philippine Star) - March 13, 2020 - 12:00am
When she turned 75 last Jan. 30, multi-tasker Boots Anson Roa-Rodrigo decided to quit the presidency of the Mowelfund but promised to continue her colorful, multi-awarded career as an actress.
In the following letter to Funfare, Boots reflects on the past and looks at an even busier future.
Dear Ricky,
When I turned 75 last Jan. 30, in hindsight, I realized that the greatest lesson I have ever learned in my quarter of a century is to always be grateful. I think it was Mother Teresa of Calcutta who said that if "gratitude" were the only virtue we ever practised in life and if the only prayer we ever uttered was "Thank you, Lord", then we would have lived our lives fully.
Every day my first prayer to the Lord is "Thank you" ­— for waking up to another day, for the "gift of the present." Many others didn't make it to the morning, but sure as the sun has risen, I have. And I always pray that I never take this "gift of a new day" for granted.
Fifty-seven years ago, at age 18, I started my television career through Dance-O-Rama, a teen musical program where Channel 5 partnered me with Pete Roa. Little did I know that Pete would also be my partner for life. We were married in 1964 and were blessed with four children, until he succumbed to cancer in 2007, after 10 years as a stroke patient.
My media stint of 57 years have been blessed years, disrupted only by a sabbatical from 1982 to 1993 as a diplomat, banker and teacher in Washington DC. I think I hold the record of staging a most successful comeback at age 48 in 1993 after my 11-year hiatus from showbiz. Barely had my family returned, I received simultaneous offers for the Metro Manila Film Festival (MMFF) movies; four major commercials and four primetime television shows from the major networks. In an "out-of-sight/out-of-mind" industry, absence must have made the audience's heart grow fonder instead. I was overwhelmed by the industry's warm welcome.
I have been present in the industry since then: heading film and television studios; hosting radio and TV public-affairs talk shows, entertainment programs, producing and acting in teleseryes, anthology series, and dabbling even in teaching stints in Ateneo, La-Salle and UP for Mass Communications. They have all put bread on the table and, more importantly, made me fulfilled.
But perhaps the greatest source of fulfillment for me through the last 27 years has been serving the Board of the Movie-Workers Welfare Foundation (Mowelfund) both as trustee and since 2002 as president. Mowelfund was founded by former President Joseph Estrada in 1974 with a two-fold mandate to provide health and welfare benefits to members and marginalized film workers, and to offer subsidized film education for members and non-members alike. To date, Mowelfund has served some 4,500 beneficiaries and continues to serve more than two thousand active and honorary members through medical reimbursements, hospitalization, surgery, death benefits, livelihood and low-cost housing privileges.
After three years of asking for the Mowelfund board's blessings, I am finally retiring as president effective April. Board member, actor and industry leader Rez Cortez takes over the helm of the foundation. I will continue to serve the Mowelfund board. I hope to give more time now to acting for television and film for as long as producers and audiences will have me.
On a note of gratitude, I thank Mowelfund's Chairman Emeritus Joseph Estrada who founded Mowelfund on a platform of service and assistance to the last, the least and the lost among our industry constituents. I thank the members of the board headed by chairman Marichu Vera Perez Maceda, Father Larry Faraon, direk Boy Vinarao, Gina Alajar, Jim Baltazar, Rez Cortez, our legal counsel Atty. Roderick Vera and our administration department headed by Julius Topacio and Emma Mon-Alon. With their fervor, vitality and commitment, under the guidance and inspiration of Chairman Estrada, Mowelfund will continue with even higher and more formidable standards of service as it approaches its 50 years soon.
I will be remiss, dear Ricky, if I fail to thank you and our conscientious comrades in media who have always "been there" for Mowelfund and even me for me personally. Thank you for sharing with your readers your space, column and insights on the many challenges and accomplishments of Mowelfund through its 46 years of service. They have not always been garden-rosy.
On a final note of gratitude, this morning, as I woke up, I said "Thank you, Lord" for a new day and, in an even more heartfelt manner, for awakening with my husband and life partner, King Rodrigo, beside me over the last six years and for the rest of the bonus years that the Almighty will bless us both with.
Gratefully,
Boots Anson Roa-Rodrigo
What's up?
I got this thoughtful suggestion from my friend Robin Tong who said that he got it somewhere: Instead of or aside from singing Happy Birthday twice while washing your hands, say three Hail Marys to pray for the sick.
(E-mail reactions at rickylophilstar@gmail.com. For more updates, photos and videos, visit www.philstar.com/funfare or follow me on Instagram @therealrickylo.)