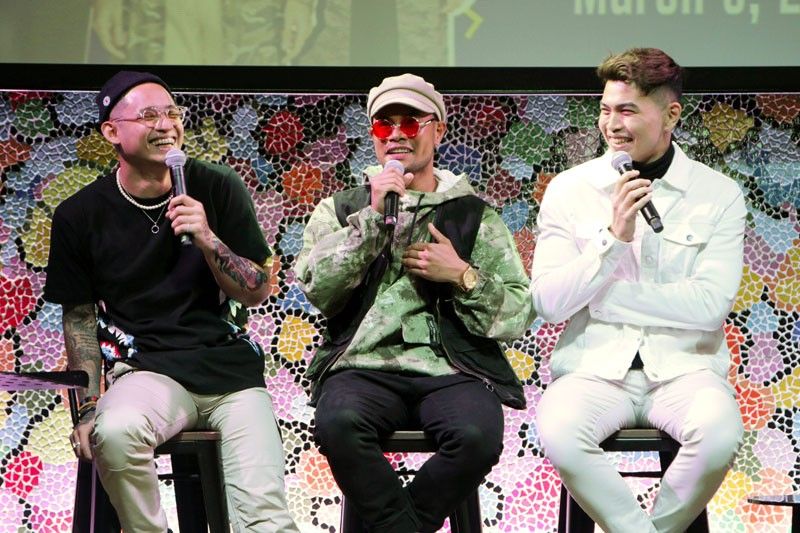 Michael Pangilinan (left) shares the center stage with Bugoy Drilon (center) and Daryl Ong in the Resorts World Manila concert BUDAKHEL LIVE: Best of the '90s.
Turn back time with BuDaKhel show
Jerry Donato
(The Philippine Star) - March 12, 2020 - 12:00am
Michael Pangilinan will turn back time through music in the show titled BUDAKHEL Live: Best of the '90s. The date is on March 20, 8 p.m., and the venue is at the Newport Performing Arts Theater of Resorts World Manila.
Also on the playbill are Michael's BuDaKhel vocal collaborators, Bugoy Drilon and Daryl Ong. The three artists who perform as one promise everyone a trip down memory lane, replete with familiar tunes from the '90s. It's a time in their lives when any of them was just a toddler or a grade schooler. That era as a milieu, however, has shaped their appreciation and passion for music.
"My mom and dad introduced me to it," Michael jump-started his interview with The STAR. "I would listen to (their songs) and in the mornings, my dad would turn on the radio." Like a sponge, the then young Michael must have picked up some musical elements from the mundane home activities, which led to his interest in music. "...yung mga melody na hindi ko inaral at narinig ko noon, pero ma-re-recall ko kapag napakinggan ko (The melodies I have listened to before, I think, I can still recall them once I hear them play again.) I would quip, 'That was the tune my dad used to sing.'" With that, singing '90s songs is somewhat challenging for Michael, and something to look forward to perform as an artist.
"I know some songs from the era, but they are only few, hindi ganun kalawak (ang song choices ko)," shared Michael, "(buti) na lang mga songs na naging hit (ang kakantahin)." As for the repertoire, BuDaKhel is up on stage to take on Original Pilipino Music (OPM) songs of the '90s and some international tunes. Their line-up is not only limited to a collection of ballads, but will include "mga rock, mga novelty songs na ginawa naming, hindi makulot, na fast songs," Michael said.
What's good about Michael, Daryl and Bugoy is the fact that they are young crooners of R&B background, who have the sensibility to tell stories and capture the songs' emotions. Michael shared that it matters that one sings straight from the heart and keeps on practicing singing. All this has helped him build his performing stance, which also reflects his musical influences. Janno Gibbs, Jay-R and Brian McKnight are Michael's three top-of-mind choices from the '90s.
"I liked his ad-libs, yung paano siya mag-ad-lib sa boses niya... magaling siyang kumuha ng audience (attention) on stage dahil sa mga kulot, kulot (vocal technique) niya," said Michael of Janno. "(His) is legit R&B, yung scooping niya. Isa siya sa mga nakatulong why my love for R&B has deepened (and strengthened). I watched Jay-R perform for the first time on GMA 7's Sis and said to myself, 'Ang galing niya.' He sang No One Else Comes Close. When I had the opportunity to talk to him, I told (Jay-R) that story and how I idolized him. (His rendition of) No One Else Comes Close was the first time that I imitated him (or channeled him). From there, I began to realize na kumukulot din ako na kagaya sa kanya (that I could do the same style) and I started to explore R&B. What I like about Brian is his style and dynamics, kung paano niya kontrolin ang boses niya, his head gestures (movements)… Parang kabisadong, kabisado niya yung muscles niya sa katawan… Kapag kumulot siya, pulido, walang mali."
Before venturing out into R&B, Michael was into rap and hip-hop. Some of his fave songs from the '90s are Forevermore by Side A and All My Life by KC and Jojo.
"When you say '90s, (you can't help but think of) old school songs na hindi mawala wala… (that stay forever)," said Michael of the classic quality of tunes published and produced from the said decade. This is also true "with songs from the '70s and '80s," he added. Again, these songs, which have become part of almost everyone's life soundtrack, will be given another interpretation through the vocal styling of Michael, Bugoy and Daryl. What Michael also treasures with being part of BuDaKhel is "the samahan (camaraderie) we have," he said, on top of the joy of creating melodies and harmonies they experience as a vocal group, one may add. "Bihira lang na may makasama ka na legit talaga mag-perform, na totoo na tao... na sasabihin sa'yo yung totoo (It's an opportunity to be working with people who are really good at what they do and are true to you)."
(Tickets to the concert are available at the RWM Box Office and all TicketWorld outlets.)
(Announcement from Resorts World Manila's Corporate Communications, Integrated Marketing : Due to the COVID-19 outbreak, the staging of BUDAKHEL LIVE will have to be rescheduled to a later date. Ticketholders will just have to hold on to their tickets for now as these will be honored when the show hits the stage at RWM's Newport Performing Arts Theater. Details on the rescheduled date will be announced soon ).