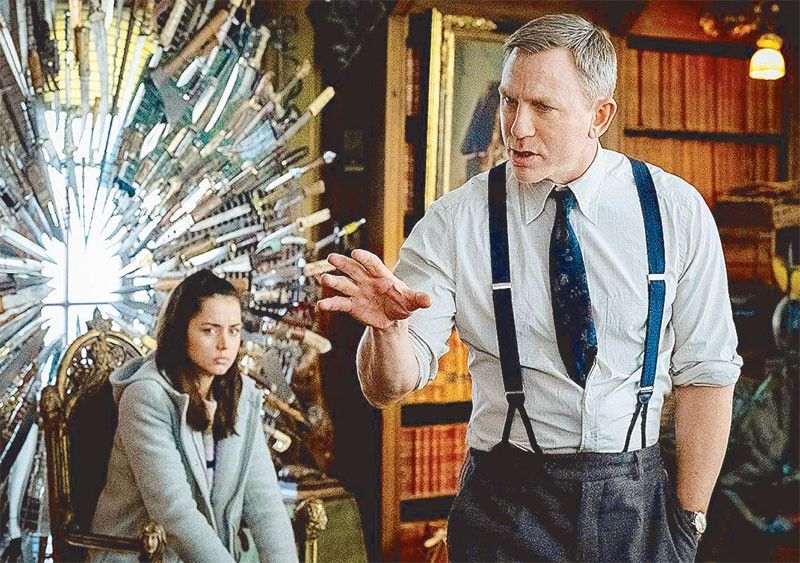 Daniel Craig and Ana de Armas in a scene from the murder-mystery film
Knives Out revives a lost genre
MANILA, Philippines — Crackling with old-school charm, electric dialogue and bombastic performances, writer-director Rian Johnson revives the murder-mystery genre in vivacious fashion with Knives Out.
When renowned author, wealthy magnate and family patriarch Harlan Thrombey (Christopher Plummer) is found with his throat unceremoniously slit after a family gathering, an investigation promptly begins into his untimely death, led by detective Benoit Blanc (Daniel Craig with a deeply Southern accent). Of course, each family member has a motive, and central to understanding each character is the testimonial offered by Harlan's nurse, and closest confidante, Marta (Ana de Armas). Daniel is boisterous as Benoit, and Ana roots the film with earnest emotion; both were recognized for Golden Globe acting nominations.
Most of Knives Out plays like a fun escape. Rian's passion for the genre and its contemporary potential are infectious, and helped by production design that's marinated in seething atmospheric tension. Even the musical theme, Knives Out! (String Quartet in G Minor), is a throwback to the campy investigations committed to film in the 1970s.
The film is pushed along by Rian's witty screenplay, which uses entertaining narrative devices to conceal novel exposition. It also flaunts clever dialogue between its layered characters, and eventually the film points (perhaps unsubtly) towards a timely message.
However, there are times when Rian succumbs to his voracious appetite to subvert audience expectations, and falls so deeply in love with the thought of his own genius that he starts throwing plot twists at the audience for the sake of having plot twists. This is particularly evident in the finale, which feels like it was stitched together in the edit room. It's a reminder that this is the same writer-director who delivered the thematically poignant, but audience-divisive Star Wars: The Last Jedi.
But films like Knives Out are where Rian truly belongs. It's an original premise, and while it's characteristically bold and goes in risky directions, Rian has the creative freedom to pay off those risks without angering a large contingent of fans.
Knives Out was nominated for three Golden Globes (including Best Picture-Musical or Comedy), was selected as a Top 10 film of 2019 by the American Film Institute, and was nominated for Best Original Screenplay at the Oscars. It is now available on digital platforms and on DVD.