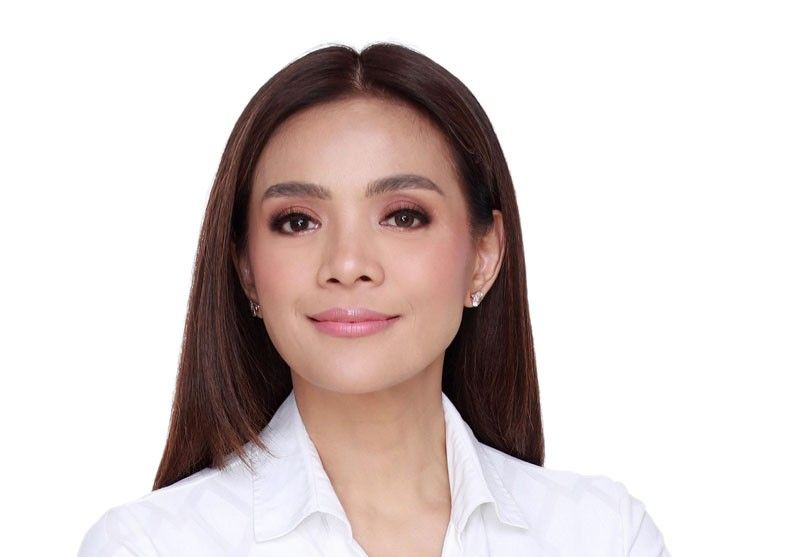 "I've been with news for 30 years now and it's been engrained in us from the very beginning that we have to always listen to both sides of the story. We have to always be fair."
Vicky on lessons and wisdom she learned as Kapuso 'pillar'
FUNFARE
-
Ricky Lo
(The Philippine Star) - February 25, 2020 - 12:00am
There's already an Ate Charo and there are several titos and titas on Philippine Television, but there is certainly one more room for another Ate --- yes, Vicky Morales who has launched as Ate ng Bayan in her show Ilaban Natin 'Yan! last Saturday on GMA.
Considered one of the Kapuso "pillars" (together with Mike Enriquez, Arnold Clavio, Mel Tiangco and Jessica Soho), Vicky has been with the network for more than 30 years, the paradigm of loyalty in an industry where denizens are easily dazzled by offers from other networks.
From news reporting to granting wishes, Vicky has shown her versatility in public service through the years. She's the perfect host for the new show in which she helps parties in conflict resolve their issues by reaching out to the people in the barangays, getting to the root of their problems, and encouraging them to make positive changes in their lives.
Ilaban Natin 'Yan! is not the viewers' typical public affairs show as it gives new flavor to Serbisyong Totoo through a traveling confessional called Palaban Express -- a modern jeep that will go around various barangays where people from all walks of life can voice out their concerns.
Ilaban Natin 'Yan! airs every Saturday after Tadhana.
In an industry where utang na loob (gratitude) is non-existent, does it pay to be loyal to your home network?
"I've been with the Network for 30 years and I stayed with the Network because I believe in its corporate culture. I've been working for news and I appreciate really how well it is run. We always get both sides of the story and that's very sacred in this industry, without exception, even at the expense of expediency. "Ang philosophy talaga namin sa Network is to always get both sides of the story and always be fair, always be objective, and always have a heart. It's approached with a lot of compassion. It's very easy to be loyal to a company that adapts these as its standards."
In your years in GMA, what lessons and wisdom have you learned and acquired?
"I've been with news for 30 years now and it's been engrained in us from the very beginning that we have to always listen to both sides of the story. We have to always be fair. We shouldn't be quick to judge, because sometimes things are not the way they seem. Sometimes we think, 'Tama ito.'
"But when you listen to the other side, it opens our eyes to a totally new reality. So it's always good to always listen to the story. And I find that I apply that in my daily life as well, in simple things like listening to my children when they fight and then solving certain conflicts. I find that that is very handy.
"I've also found that integrity is always number one. Everything falls below that. Another thing is, it's always good to be a team player. In this industry, you work with many people and it should always be a joint effort to produce a really great product. This is why you have to really get along with everyone to make that happen.
"And then, to always have kindness in your heart. I think that's the golden rule for me. It's very important."
Has there been any offer from other networks, and if any, how did you resist it?
"No formal offer, but to my mind it's very easy to stay loyal to the Network. I am very much in my element here. This is my comfort zone and I love the people here. It's like a family here and, of course, minsan meron din mga kinks along the way but it's the same in every field or company you enter. Overall, it's a family I've grown up with. It's a family I've grown to love, the producers, the bosses. I believe I am on the same page on the way they approach things, they look at things, and I'm very happy just to be here."
Tell us more about Ilaban Natin 'Yan!
"It's all about getting two sides that have conflicting opinions about certain things -- sometimes nagkakaaway sa sampayan; may isang bina-bash sa social media na nasasaktan na siya, pati pamilya niya nasasaktan; mother-in-law and daughter-in-law conflict.
"These are all very real and very relatable and I think that's what will make the show watchable for all of us kasi ito yung mga problema na talagang kinakaharap natin. Nakikita natin nangyayari sa paligid natin. And it's interesting to see how the different parties will solve their problems if ever these get resolved. And how they treat each other is something we can learn from also because it mirrors our reality."
Have you ever been put in a position where you have to fight for your principles?
"Once your principles are intact and you're solid about them, then it's a no-brainer. It's very easy to stay solid to your core if you firmly believe in that. And all these years, I can say that I've done that. Parang sa akin, never na-test. Never ako na-tempt. I could really say that with a straight face. It has never happened to me because it's just always been a very easy decision for me. Kasi sa akin I always have it in my mind na it takes a lifetime to build a reputation but just a minute to lose it so you always have to be very careful about the name that you've built."
You look so calm and cool; what makes you lose your cool?
"I guess sometimes mediocrity. When you see that people are not doing what they should be doing, that frustrates me. When you see people throwing trash all over naiinis ako doon kasi para sa akin, 'O, sino ang magliligpit n'yan para sa'yo?' Little things like that, doon ako naiinis. Another thing that makes me lose my cool also is people who are inconsiderate. They don't think of others, they just think of themselves. Very selfish."
How do you balance your time between work and family?
"I keep my weekends free. That's sacred for me. That's the time I spend with my family, doon ako nakikipag-bonding sa mga anak ko. Then also sometimes kaya minsan medyo malalim ang eyebags ko, dahil kahit anong oras ako matulog, I always make it a point to wake up and see my kids off before they go to school. Sa lahat ng programs nila, sa lahat ng parent-teacher meetings, nandoon ako, 100 percent.
"Wala silang masasabi sa akin pagdating dyan. As much as possible I also try to help them with their homework kung kakayanin. Minsan talaga hindi. Buti grade school pa lang sila kaya ko pa 'yung Math pero next year baka hindi ko na kayanin ang Math nila. I try to have a lot of conversations with them as well. I always make it a point to check with them if I am still being a good mom. I check with them every now and then."
(Note: Vicky is married to lawyer Alfonso "King" Reyno by whom she has three children, 11-year-old twins Lion and Pipo, and nine-year-old Daniela.)
Describe a typical day in your life (do you commute by public transport/MRT between home and GMA).
"I see my kids off. But once I wake up, I find it hard to go back to sleep so I start my day and do my errands. I do my shoots. I leave for work in the afternoon because it normally takes me two hours to get to GMA and then sometimes the traffic gets very bad.
"When I get to work, I do my newscast and then after that I sometimes do my voicing (voice over for other programs). And then when I get home, I try to catch my kids before I go to sleep. Sometimes I am able to catch them for just five minutes pero okay na rin 'yun and then after that, that's when I eat, and then reply to my emails. I call it a day after that."
(E-mail reactions at rickylophilstar@gmail.com. For more updates, photos and videos, visit www.philstar.com/funfare or follow me on Instagram @therealrickylo.)