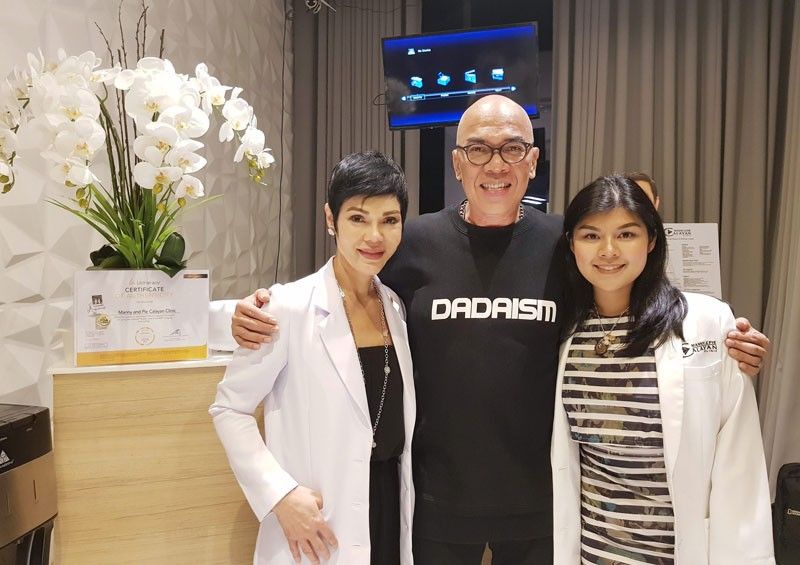 That's me with (from left) Dr. Pie Calayan and Dr. Bernice Calayan. Taking care of myself through my regular visits at Manny & Pie Calayan Clinic. Here I tried PicoTone with Skin Restoring System for the first time to rejuvenate the skin and treat fine lines and wrinkles.
Beyond the doctor-patient relationship
My relationship with doctors Manny and Pie Calayan transcends the doctor-patient relationship. In fact, they are family to me. I have known them for many years having been doctors to many stars and celebrities.
I once said that all kinds of beauty are equal at Manny & Pie Calayan Clinic. The clinic is a serene haven where clients and friends can experience solace and relaxation through its services and treatments that rejuvenate and enhance personal beauty. Clients are pampered like royals at Manny & Pie Calayan Clinic. The meticulous attention that the skillful doctors provide to their clients is nonpareil.
I try to visit the TriNoma branch whenever my haywire schedule permits. The efficient and courteous staff composed of Cat, Jamie, Mel, Sheng and Mark always greets me with friendly smiles. I appreciate how the Calayan staff waits for me even after the mall closes so I can indulge my skin in the sensorial pleasure that the treatments provide.
I recently visited the Manny & Pie Calayan Clinic branch at Festival Mall, Alabang. It took me almost five hours from Quezon City to reach the clinic due to heavy traffic. The mall was already closed by the time I reached the clinic, however, the whole staff — together with doctors Pie and Bernice Calayan — waited for me.
I had four treatments done in just an hour. All of them were minimal to non-invasive. Doctors Pie and Bernice were prepared for the series of treatments and the mother-and-daughter rapport was clearly visible inside the treatment room. My face was cleansed in preparation for the treatments and then Dr. Pie applied topical anesthesia on my forehead to prepare me for some intralesional treatments. After this, she moved aside and let Dr. Bernice do her part.
Dr. Bernice performed PicoTone laser on the lower half of my face — from the nose down to the chin — where there is no topical anesthesia. This treatment revitalizes dull skin and promotes skin rejuvenation. In simpler terms, the procedure makes you look and feel fresh in just 15 minutes. I felt little prickles when the laser hit my skin but it was not painful at all. A PicoCare machine was utilized for this procedure. I went to their Alabang branch because the treatment is exclusively being offered there, at least for now.
After the PicoTone laser treatment, Dr. Bernice applied the Skin Restoring System serum on my face after a few minutes of cooling my skin down via ice rollers. The SRS is a serum that is filled with human-derived growth factors that promote faster healing and cell renewal, and it is also anti-inflammatory. This is a nice addition to the PicoTone laser because I noticed how fast the slight redness on my face subsided.
Dr. Pie proceeded to inject me with the Elixir solution when my forehead was finally numb. Elixir is an organic and botanical alternative solution for Botox that treats fine lines and wrinkles. It promotes neocollagenesis, which is collagen building.
Collagen keeps our skin tight and supple, giving that "bounce" as a baby's skin. Dr. Pie proceeded to inject me with the Premium Lift solution with the injection sites from Elixir. It is also an organic and botanical alternative solution, but for dermal fillers. Premium Lift improves skin elasticity and provides hydration to very dull skin. Both procedures were done in just 15 minutes. There was a slight prickly pain when the needle was being injected in my skin but it was very tolerable.
The whole procedure made me feel good and the results were immediately visible. Thought I was ready for the long gown competition! (Hahaha!)
Instead, I did a quick Q&A with both doctors while waiting for the topical anesthesia to take effect. We talked about beauty tips, wellness, entertainment, and a lot more. Ultherapy is one of the non-surgical cosmetics being offered at the clinic. The procedure lifts and tightens skin that gives a younger look from brow to chest. Dr. Pie shared, "Ultherapy is very safe as it uses ultrasound energy and delivers it at the right layer of the skin safely with visualization."
Meanwhile, Dr. Bernice revealed their family's tried-and-tested tips for health and wellness, "We relax and rejuvenate by doing yoga daily and minimizing stress. We also take time to go on short vacations, away from the hustle and bustle." On a lighter note, the mother and daughter talked about their favorite Hollywood stars. Dr. Pie likes Charlize Theron and Julia Roberts while Dr. Bernice prefers Natalie Portman.
My visits to Manny & Pie Calayan Clinic always make me feel happy and good about myself. Indeed, it is important to go to trusted doctors who will make you feel comfortable in handling your skin.
If you want to know more about the procedures, visit the Manny & Pie Calayan Clinic's website (www.mannyandpiecalayanclinic.com) and follow their social media sites @mannyandpiecalayanclinic.