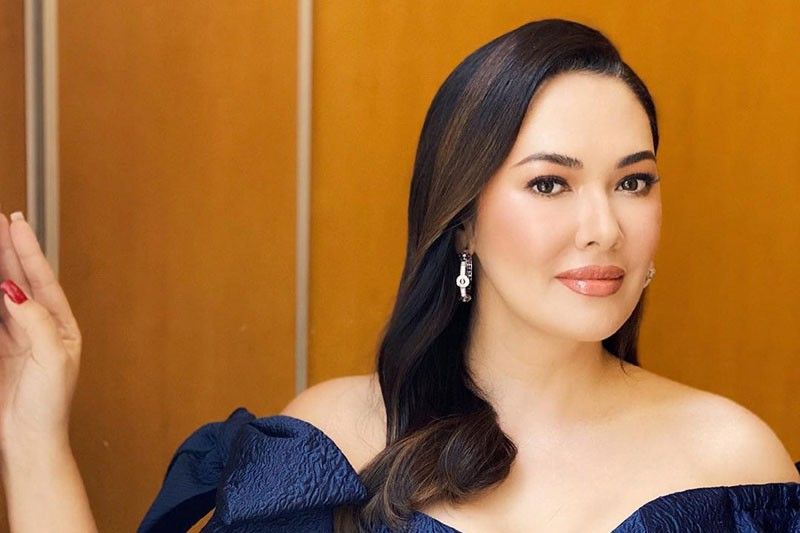 'Loveless-ly' Yours, Ruffa G!
CONVERSATIONS
-
Ricky Lo
(The Philippine Star) - February 23, 2020 - 12:00am
Mother knows best.
Had Ruffa Gutierrez let her emotion get the better of her when she was barely 15, she would have eloped with an equally young actor and regretted it for life. She has her strict mom, Annabelle Rama, to thank, for stopping her on her tracks.
Today claiming to be, ehem, "loveless" (for her mom's ears only? Hehehe!!!), Ruffa believes in the saying that looking your best is the best revenge (she doesn't say against whom), and she has to thank mom Annabelle and dad Eddie Gutierrez "for my genes" as well as Cathy Valencia who introduced Ruffa recently as her company's endorser.
Said Cathy, "Ruffa is already beautiful to start with and our goal is to make her (and our other clients) even more beautiful."
And Ruffa: "I know that she can take care of me really well. I first underwent slimming treatment. It was actually my daughters Lorin and Venice, only 16 and 15, who first became Cathy's team."
Back to Ruffa's colorful love life with portions of the tell-all book first excerpted in The STAR when it was published in 2014 (still an exciting read up to now):
A roll call is in order (at the end of each is my guess "da who" he is, but only the initials if you please).
Mr. Dreamboat — It was puppy love, according to Ruffa. Like her, Dreamboat came from a family of artistas and spent his growing-up years in the States. "He was a dreamboat — polite, romantic, not to mention very tall and quite handsome." They met at an acting workshop and soon fell into "a sweet and innocent kind of relationship" that lasted on and off for four years, with other guys getting into and out of Ruffa's life. Dreamboat is now happily married to an actress (whose first marriage to an actor was annulled) and they have two beautiful children. My guess: ZL.
Mr. Exciting — He emerged in between the years that Ruffa and Dreamboat dated. "The episode was short," wrote Ruffa, then 17, "and we barely had any time together." Dreamboat and Mr. Exciting almost got into a big fight when their paths crossed at El Niño Apartelle (oops! there's your clue!). "We were all going to the Star Awards For Movies. Mr. Dreamboat was my date, and Mr. Exciting was there to pick up my other friend, whom he was sort of dating at that time. Anyway, they almost fought. Mr. Dreamboat was trying to establish ownership — of me! He made sure it was clear I was his girlfriend. He even said to Mr. Exciting, 'Back off!'" Mr. Exciting is now married to an actress-beauty-queen with whom he has two beautiful children. My Guess: AM.
Mr. Bad Boy — He comes from a showbiz clan and Ruffa's romance with him was nipped in the bud by the interference of Mom Annabelle. He was very charming and he made the girl of the hour feel like a queen — "For me, he would inspect the toilets, wash forks and spoons before I ate" when they were on the set. One time, recalled Ruffa, Mr. Bad Boy showed up on the set with a tattoo of Miss World that said: My World. That was after Ruffa placed Second Princess (second runner-up) in the 1993 Miss World pageant. "He would make 10 people follow me wherever I went while we were doing the film together, so that's just crazy!" Mr. Bad Boy is now married to his second wife, a TV host, after his first marriage to a non-showbiz lady was annulled. My guess: RP.
Mr. Complicated — Ruffa met him during their teleserye together. They had fun moments on the set. Before long, "he started getting a little nicer, a little sweeter…he would send food to my tent where he would hang out with me." They went out on and off for about two years. One time, "his girlfriend called me in the middle of the night, crying!" But that was already after we broke up. During their "secret" romance, Ruffa and Mr. Complicated traveled together and were once caught by a paparazzi holding hands while walking outside of a posh hotel in Beverly Hills. Mr. Complicated is now fancy-free after he broke up with his second (or third?) actress-girlfriend after Ruffa…(and, may I add, a sexy actress from whom he separated after having a son). My guess: JLC.
(Note: Others have come…and gone…but that's another story.)
What is the best thing that you did for love?
"I left a thriving career in the Philippines to get married and live in Istanbul. No regrets because I have my two precious daughters Lorin and Venice." (Trivia: Ruffa married Turkish businessman Yilmaz Bektas in 2003. They separated in 2007. Their marriage was annulled. She claimed to have been a battered wife.)
And the worst thing that you "committed" in the name of love?
"Let my emotions get the best of me. It's better to have a balance — use your heart and your brain at the same time."
What is your current status, "single (ready to mingle)" or in a "secret" relationship?
"Living a HAPPY LIFE."
Haven't you developed a phobia for marriage?
"Not a phobia, actually. I wouldn't mind walking down the aisle again wearing a beautiful gown in front of my loved ones but it's not a priority right now. I am focused on raising my children and my career. It's not easy being a single working mom. FROM THE BOTTOM OF MY HEART, THANK YOU to the countless, faceless people who support me — without those who hire me for their television shows, films, brands and endorsements, I wouldn't be able to give my daughters a beautiful life."
What would make you marry again (and to what kind of guy)?
"I will marry only according to God's best plan because that's what I deserve."
Let's do some "body talk," okay? (A Cancerian, born on June 24; Ruffa stands 5'10; weighs 135 lbs.; measures 38-28-38 ["Embrace your curves!"]; and wears size-L shirts and US size 10.5 shoes.) What sort of diet do you regularly follow?
"I'm currently on a high-protein, 1,200 calories food delivery program. No carbs, no pork, no sugar and sweets. Sometimes I cheat though if it's super worth it."
What's usually for breakfast, lunch and dinner?
"Breakfast is either a matcha protein shake or a cappuccino from my De'Longhi Primadonna Exclusive."
Snacks in-between?
"Fresh delivery of suha from Davao, gluten-free snacks or kamote."
How much water do you take per day?
"Five to six glasses. I need to drink more, actually."
Food that you usually crave for?
"Tapsilog, Corned Beef, Danggit Lamayo and Champorado. Masarap ang Pinoy brekky pero nakakataba! LOL!"
What vitamins are you taking?
"Vitamin C, Unicity Probionics, Mannos and Immunizen."
What workout do you do?
"These days, two to three times a week only due to my hectic schedule. I like Pilates, boxing and cardio — workouts that make me sweat."
Any part of your body that needs improvement?
"Hmmm...my back. I have scoliosis which prevents me from lifting heavy weights."
And the most vulnerable part?
"My heart!"
Favorite part of your body?
"My long legs."
Any other beauty secrets?
"Self-love is important no matter how busy you get. I love to go to the spa, get facials and slimming treatments at Cathy Valencia Premier Aesthetic, and travel when I'm off-duty."
How much sleep do you get per night?
"At least eight hours of sleep or else I am cranky."
Favorite sleepwear?
"Nighties from nineteen kopong-kopong. The older, the more comfy. Hahaha! On special occasions, I mix it up."
How many pillows do you sleep with?
"Three — one for my head, one for tanday and one for my back."
Do you sleepwalk?
"Not lately. But when I was a little girl, Mom said I would go to the kitchen, grab M&M's and go back to sleep. LOL!"
Last thing that you do before you go to sleep?
"I pray for my family and friends…for my work and the country. I thank God for all the blessings."
And the first thing that you do as soon as you wake up?
"Check my phone."
How do you relax, cope with stress? Do you meditate? Listen to music (what kind)? Watch movies (what kind)?
"I surround myself with positive people who bring out the best in me, eliminate those that give me stress, listen to songs of worship and pray."
Favorite hideaway? Favorite city?
"London, L.A. and South of France."
Three guys that you think have nice bodies.
"Brad Pitt, Liam Hemsworth and Bradley Cooper."
Using only body language, how would you make a guy know that you admire him?
"Makuha siya sa tingin."
(E-mail reactions at rickylophilstar@gmail.com. For more updates, photos and videos, visit www.philstar.com/funfare or follow me on Instagram @therealrickylo.)