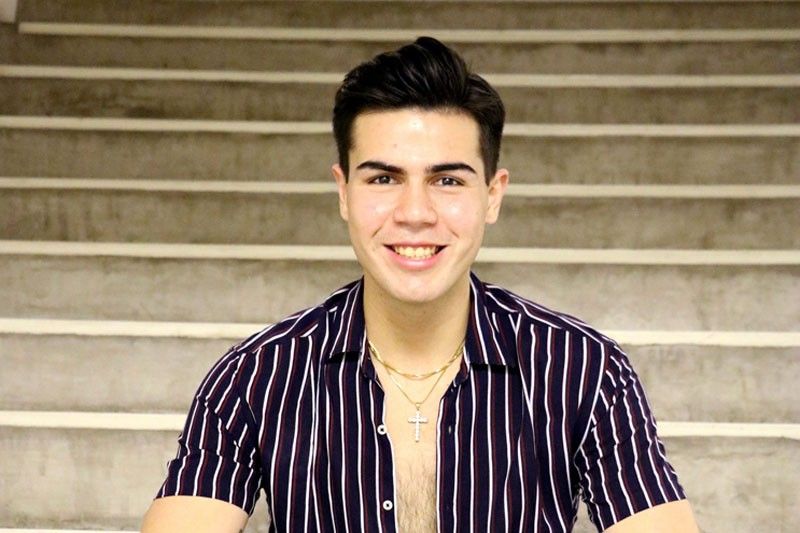 Body Talk with Edward Dixon of La Salle-St. Benilde Blazers
His mom is his best friend
FUNFARE
-
Ricky Lo
(The Philippine Star) - February 19, 2020 - 12:00am
Born and raised in Iloilo to a British-Canadian father and a Filipino mother, Edward Christopher Dixon, 21, is a Forward of the De La Salle-College of Saint Benilde Blazers.
"My first love was football," he told Funfare, so he became an official member of the school's football team and participated in tournaments. (Edward finished elementary and high school at the PAREF Westbridge School in Iloilo.)
However, at around age 10, he stood as the tallest in his class and was instantly asked if he wanted to shift to basketball. Edward, who only knew the neighborhood game he played with his cousins, decided to give it a try.
His mom, whose background involves performance art, preferred that her son explored the same creative field and perhaps focus on being a vocal solo. With her guidance, Edward ventured into the culture and arts from participating in declamation contests, song competitions and dancing to folk music during monthly school celebrations.
He graduated high school as part of the team's Mythical 5 and was invited by several universities to move to Manila and play under their banner. Edward chose Benilde because he believes and supports what the LaSallian institution stands for.
He is presently enrolled at the College's School of Hotel, Restaurant, and Institution Management (SHRIM) with a major in Culinary Arts and continues his journey in the courts. He eventually became a part of the All-Star team of the College.
Edward grew up with his mom and her side of the family, so he treats her like they are best friends who hang out over food. Frequently, she would come to visit him in Manila and they would watch the latest Filipino films, to see her mom's favorite celebrities and love teams on the big screen.
Sometimes, when there are promo airfares, it's his turn to fly to Iloilo to spend the weekend back home.
For now, Edward is capping off his college years with an incoming internship in Hotel Benilde Maison De La Salle and is looking forward to hospitality trainings in Miami, Florida.
Edward stands 6'3; weighs 190-lbs.; and wears medium-to-large-size shirts and size-14 shoes.
How do you keep yourself in tip-top shape?
"I am a candidate for graduation, so my schedule is packed. At the moment, I don't have much time to work out, so I do intermittent fasting. At times, it is difficult to comply because in the culinary program, one has to taste the food. So in turn, I just consume a little." (Laughs)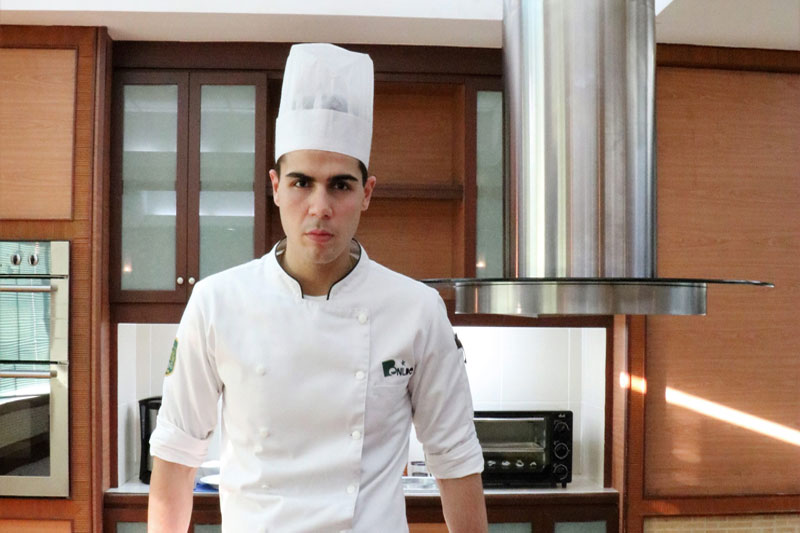 What's for breakfast, lunch, dinner?
"For breakfast, pancakes with lots of butter and syrup, scrambled eggs and bacon on the side. For drinks, choice of fresh orange juice, iced latte, or mango shake.
"For lunch, soup, pochero or similar Filipino dishes, chicken inasal, pork or chicken sisig with egg and usually just water.
"For dinner, a burger — any kind, as long as it comes with bacon. For drinks, either juice or water as I don't really like soda."
How much water do you take per day?
"Two liters. I am not a water person but I have to stay hydrated because of my training."
What workout do you do?
"In addition to the team-wide training, I work on my upper body and my lower body on separate days. However, sometimes, I do both."
What part of your body needs improvement?
"My legs. I think I have skinnier ones compared to my teammates."
What part of your body is your favorite?
"My mind! That's part of one's body, isn't it? I like thinking and analyzing. Sometimes, when I am at a restaurant, I study and observe how people move around; probably it's a little chismoso, but I enjoy it!" (Laughs)
What part of a girl's body do you notice first?
"The eyes because you can really understand the person while looking at them; you can feel their emotions."
What turns you on and off in a girl?
"I appreciate good conversationalists and if we share the same interests. I like someone with spontaneity! Dry conversations are an instant turn off."
How much sleep do you get per night?
"Whenever we have trainings, we are deprived of some sleep so I only get five to six hours of shut-eye. But during the off season, seven to eight hours."
Favorite sleepwear?
"Boxers. Just boxers."
Do you ever sleep in the nude?
"Yeah, if it's too hot."
Last thing that you do before you go to sleep?
"Go through social media. At times, I just watch a movie to be able to sleep."
First thing that you do as soon as you wake up?
"Grab my phone to check what time it is. I then scroll through social media."
When did you lose your innocence?
"Hmm….I'm still innocent." (Smiles)
Preferences: To an older woman, younger woman or a woman your age?
"Definitely older — more like three years older. I think they are more mature. At times, I tend to be childish."
Lights on or lights off?
"Off!
How do you cope with stress?
"Shoot some hoops, hang out with friends, or just do anything to rid my mind of stress."
Outlook in life?
"There's this verse, Matthew 23:12: All who exalts themselves will be humbled and all who humble themselves will be exalted. So if you are too boastful, you'll be humbled in some other way. However, if you are humble enough everybody's going to praise you and exalt you."
Three women that you think have nice bodies?
"Solenn Heussaff, Liza Soberano and Beyoncé."
Using only body language, how would you make a woman know that you admire her?
"I will approach her and just look into her eyes and engage her in a conversation."
(E-mail reactions at rickylophilstar@gmail.com. For more updates, photos and videos, visit www.philstar.com/funfare or follow me on Instagram @therealrickylo.)