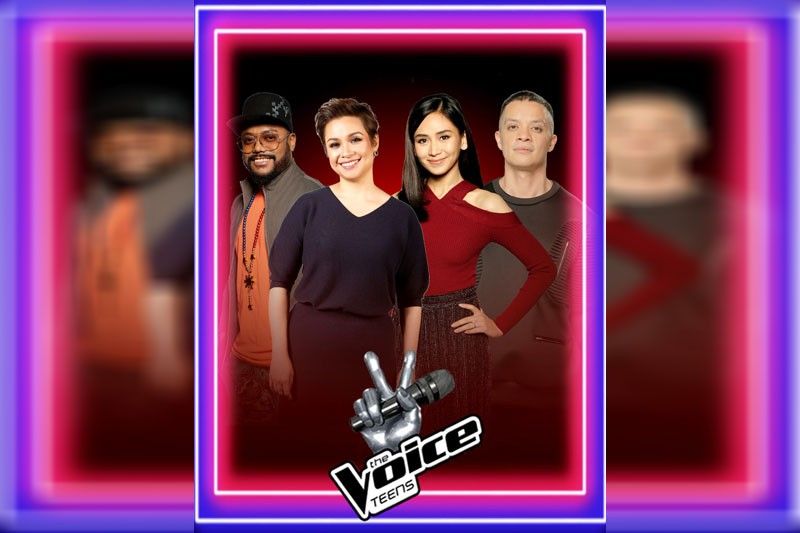 The Voice Teens Season 2 coaches (from left) Apl.de.ap, Lea Salonga, Sarah Geronimo and Bamboo
Original coaches back in The Voice Teens 2
Apl.de.ap is back to his swivel chair. And so are the original celebrity coaches of The Voice Teens 2 — Sarah Geronimo, Bamboo and Lea Salonga. With the much dreaded "Block" readily used in the pilot episode to prevent other coaches from recruiting promising talents, the reality singing competition was off to a much-awaited start.
In only the fourth talent to sing in the Blind Auditions, Sarah was immediately blocked by fellow coach Apl.de.ap from getting 14-year-old Pia Banga to join her team. A power belter from Davao City, Pia wowed the judges with Celine Dion's The Power of Love. The teenager dauntlessly joined The Voice Teens to help her parents pay off the family's debts.
Sarah was anticipating Pia to join her team. However, Sarah was disappointed when she learned she was blocked from enlisting Pia. Meanwhile, Apl was profusely apologetic and even gave Sarah his doll. But Lea said Apl shouldn't say sorry. After all, Sarah already won four out of the seven seasons of The Voice.
In the end, it was Lea who became the choice of Pia. Lea and Sarah later just did a loving hug and all's well that ends well for both coaches.
The first auditionee for the season, 16-year-old Matt Reyes from Las Piñas City, was a veritable four-chair turner after he rendered SWV's Weak. He was noticed for his "fearless swag and free styling," said coach Apl, who even imported his two previous talents, Thor Dulay and Daryl Ong, to perform and inspire Matt. In the end, Apl was the lucky coach to successfully recruit Matt into his team.
Apl was also the lone coach to turn for 17-year-old mom Tricia May "Yang-Yang" Aloya of Lipa City, Batangas, who sang Bulag, Pipi at Bingi.
Meanwhile, Sarah got two consecutive talents who auditioned in the second episode. Sixteen-year-old Jaylloyd Garche from Bacolod City impressed Sarah and coach Lea when he crooned Kung Sakali Man. Another promising male talent, 17-year-old Andrei Eusebio from Cavite, also joined Team Sarah after he belted out Superstar by The Carpenters.
A lucky singer, 17-year-old AJ Yape of Cavite, who gave the judges another song from The Carpenters, Top of the World, chose Team Bamboo. Ysa Jinson, 16, from Bacolod City also opted to select Bamboo as her coach, to the surprise of everyone after the bubbly teenager rendered Sarah's original ditty, Isa Pang Araw. A high school cheerleader, Ysa gamely challenged all four coaches to do her cheerdancing routines and even Bamboo joined the moves.
"One of the best things of being part of the show is marami din kaming natututunan sa inyong mga bata," Sarah told Ysa.
This season, each coach of The Voice Teens will be allowed to choose 16 talents, bringing the total artists to 64 before the show goes to the Battle Rounds. At that stage, the coaches will be given the liberty to "Steal" artists who will be dropped by other coaches from The Battles.
In 2017, Jona Marie Soquite of Team Sarah bagged the grand prize in the first The Voice Teens, followed by Isabella Vinzon of Team Bamboo, Mica Bercero of Team Lea and Jeremy Glinoga of Team Sharon (Cuneta).
Hosted by Luis Manzano and Alex Gonzaga, who previously worked together in the first season of The Voice Kids in 2014, The Voice Teens 2 airs Saturdays after Home Sweetie Home and Sundays after Wansapanataym.