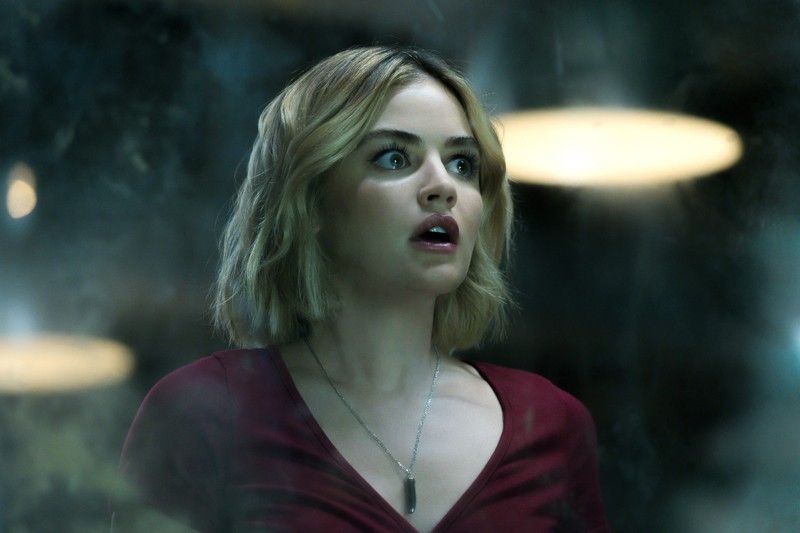 For her new movie, Fantasy Island, the actress got to live out her fantasy by traveling to Fiji and spending two months in a tropical island. 'It was amazing, like it was on my bucket list,' she shared.
How Lucy Hale lived out her fantasy
Ask Lucy Hale what her fantasy is and she'll easily tell you what it is.
"I have a lot of really unrealistic ones, like, having days with people who passed away or talking to animals and stuff. But to think of the realistic ones, I would love to just drop everything for a year and go travel."
There's a big caveat though, she will only travel for free. "Like someone else is paying and calories don't count," she joked.
For her new movie, Fantasy Island, the beautiful actress got to live out her fantasy by traveling to Fiji and spending two months in a tropical island. "It was amazing, like it was on my bucket list," she excitedly shared. The cast and crew lived on a large boat while filming.
Adapted from the classic TV series by director Jeff Wadlow, Fantasy Island tells the story of a group of lucky (or unlucky) guests who get to make their secret dreams come true at a luxurious and remote tropical resort, however, unlike the TV series, their fantasies turn into nightmares and they find themselves having to solve the island's dark mystery in order to escape with their lives.
This writer met with Lucy and Jeff this week at a hotel near the beach in Santa Monica, CA to talk about the movie. According to Jeff, it was important to him, when he was trying to adapt the TV series, to make the actual fantasies work before tweaking the formula the followers of the series are used to. "I just wanted the fantasies alone to be engaging, entertaining and have a fun twist," he revealed. "I wanted the show structure to work before I broke the structure."
Jeff insisted that the horror adaptation of the series was not a wild idea. He did his research and he discovered that it wasn't all just wholesome fantasies that the original series tackled. "Fantasy Island was a dark show! There was an episode where Roddy McDowall plays the devil!"
And, no, Jeff was not trying to follow the current trend in Hollywood where old classics like Invisible Man are being remade into horror films. "Whenever it feels forced, it doesn't work," he explained. "I am not gonna name names but there are some recent movies where they tried to change genre with the property in it and it failed. It's gotta be in the DNA of the underlying material. The horror elements were in the DNA of Fantasy Island that's why it works."
"My hope is to satisfy fans of the original and also invite a whole new group of fans to the 'island,' so to speak," Jeff added.
In the movie, Lucy plays Melanie Cole, one of the new guests on the island. She has a dark fantasy. She wants to exact revenge on a childhood bully.
"If there is a bigger message, one of them in the movie is that bullying can have a long-term effect on someone else," she said. "We can all relate to feeling like the outcast and some people deal with it more than others but I mean, it's an epidemic. It's toxic, I don't really know how you break that cycle."
Lucy shared that she understands the motivation of her character but she cautioned that she's not a fan of the revenge fantasy that played out in the film. "It was very fun to play as an actress! Obviously, like, going to that extreme is not a possibility in real life for most people but getting to have fun with it was cool because it's obviously so morbid and horrible what Melody is wishing upon this girl."
For her, the best revenge against a bully is to "take the high road."
"I want to be happy and successful and that's the best revenge you could ever, you know, live your life, don't let it have power over you anymore. Let it go, in the words of Elsa."
This is Lucy's second Blumhouse film. She previously starred in the horror film Truth or Dare, which was also directed by Jeff.
"I don't know if it's been intentional that I've done quite a few of them but they're fun to make and they're fun to watch," she said before admitting that she herself is a big horror geek. "I am a big moviegoer. I specially love this genre. I love getting scared."
"This movie is quite a bit — there's adventure and there's suspense and there's drama and there's romance and there's comedy. You know, it falls into a bunch of different categories and Blumhouse does that with a lot of their movies. There's a reason why they are, like, the king of horror right now."
With so many possible fantasies to consider, there's a big indication that this movie could launch a new franchise and, if that happens, is she in?
"I hope so!" she replied excitedly. "I don't know. I'm not sure, we'll see how opening weekend goes."
Also starring with Lucy in the film are Maggie Q, Austin Stowell, Jimmy Yang, Portia Doubleday, Ryan Hansen, Michael Rooker and Michael Peña, who plays the enigmatic Mr. Roarke.
Fantasy Island is now showing in theaters.