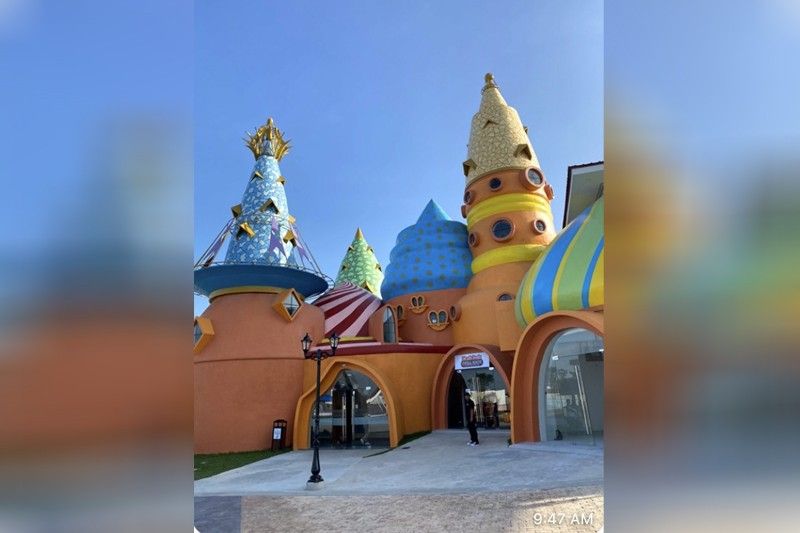 Whimsical architecture for the food court in Magikland
What to see…and eat!... in Bacolod
RAZZLE-DAZA
-
Pat-P Daza
(The Philippine Star) - February 17, 2020 - 12:00am
Two weeks ago, I went to Bacolod with four other friends from the press to visit Magikland, the theme park. I always enjoy trips to Bacolod because the people are warm and good-looking, while the food is delicious and always worth the food trip. At NAIA 2 prior to our departure, I saw my grade school and high school classmate (and tukayo) Patti Mirasol Matti and COMELEC Commissioner Rowena Guanzon. Because they both hail from Bacolod, I asked them to recommend their favorite eating places. Here's what they shared:
For Inasal: Aida's or Nena's, both of which are open-air carinderias in Manokan country. Those who prefer air-conditioned restaurants can go to Masskara Inasal or Chicken House. Commissioner Guanzon recommends Jonas for their native chicken inasal.
For cakes and coffee: Calea, Bob's, Bascon, Ann Co Cakes, El Ideal Bakeshop and Felicia's.
For seafoods: Palapala and Aboy's.
For Ilonggo food: 21 Restaurant for their batchoy and El Fisher hotel for their molo soup.
Because our group was in Bacolod less than 24 hours, we only got to eat inasal at Chicken House and dessert at Felicia's. I enjoyed the food at Chicken House down to the bones: I had two quarter legs, baticolon (gizzard) and crispy chicken skin, with a cup of garlic rice sprinkled with chicken oil. Dipped in soy sauce, sinamak, sili and calamansi, the chicken was juicy, flavorful, and absolutely namit guid! We then went to Felicia's and tried the chocolate cake, sans rival and the famous ensaymada, which is best eaten after it's dipped in the cup of hot chocolate it's served with. All these were worth the extra calories!
We then went to Silay City to visit Magikland, the first theme park in the Visayas region. Magikland is owned by the family of former Rep. Albee Benitez and his brother Jose Francisco, who is now the representative of the third district of Negros Occidental. Though we visited the park during its soft opening, Magikland will be fully operational come summer when kids are on their school break. Albee (or ABB, as he is fondly called) was our guide as we went around the park, and he explained to us that he built Magikland because Negros Occidental has been losing to Cebu in terms of tourism. He wanted tourists to have other things to do in Bacolod aside from enjoy the food. With a theme park, people from the Visayas can take the ferry or a plane and enjoy Magikland. ABB added that he's even wrapping up a movie that he solo-produced entitled Magikland (what else?) to cross-promote the theme park.
After the park tour, we went to Albee's farm in Victorias City, where he prepared steamed blue crabs, garlic buttered shrimps, sweet and sour lapu-lapu, squid adobo, apan-apan, chopsuey and lechon. For dessert, there were fresh fruits and leche flan. The conversation was light as we ate, and centered on the current state of local films. Not many know that since the movie bug bit him, Albee has co-produced movies like Buy Bust.
Asked what he likes about producing movies, he replied that making movies gives him 100 percent control during the film's creative development and its marketing and distribution phases. All this, not to mention the profit potential of ancillary businesses like merchandising, video games, etc. He also proudly explained that Magikland is 95 percent CGI (computer-generated imagery), and will vividly showcase the talents of our Filipino animators. His excitement was palpable as he spoke about the movie. With Albee's keen mind for business (he was the third richest congressman in the 17th Congress), you can be sure that all this makes solid business sense.