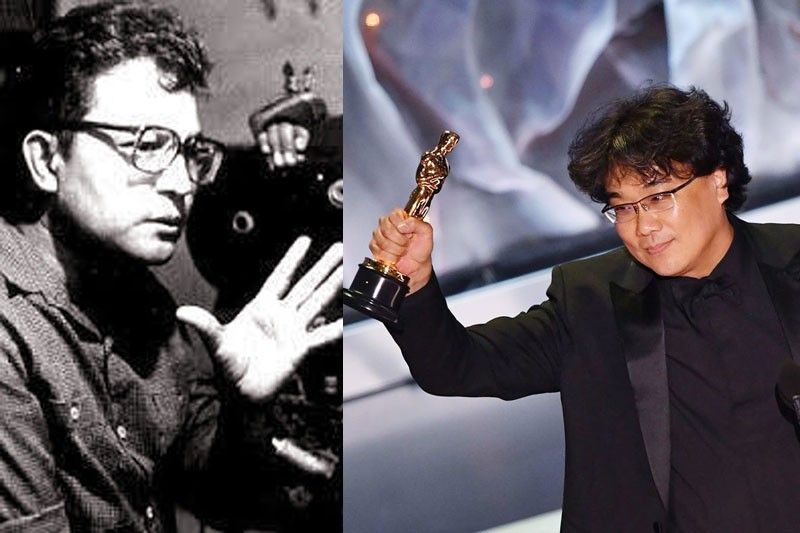 Lino Brocka (left) was among the Asian filmmakers whom Oscar Best Director Bong Joon Ho (right) counts as those who have 'influenced' him.
Brocka protégé wants to work with Bong Joon Ho
FUNFARE
-
Ricky Lo
(The Philippine Star) - February 14, 2020 - 12:00am
Before he bagged awards for major categories of the 92nd Oscars (Best Picture, Best Director, Best International [Foreign Language] Film and Best Original Screenplay) for Parasite, Korean director Bong Joon Ho won Best Picture at the Cannes Filmfest where he told interviewers that among the Asian directors who influenced him was Lino Brocka whose films ("illegal copies," he said in an interview) he had watched as student.
Presuming that Joon Ho (who won also Best Director at the Golden Globes) has watched several Brocka films, it's safe to say that he vicariously knows Christopher "Boyet" de Leon, the Brocka protégé introduced in the landmark film Tinimbang Ka Ngunit Kulang in 1975 when Boyet was 17. He was dubbed as "Brocka's signature actor" who starred in other Brocka films including Cain at Abel (with Phillip Salvador, another Brocka protégé) and Biktima (with Sharon Cuneta).
It was Boyet who took over the directorial task in Huwag Salingin for which Brocka was ready to shoot a few days before he died in a freak car accident in May 1991. Brocka had also started shooting another film, Kislap sa Dilim, and it was the late Bey Vito who finished it.
"I don't usually enjoy watching films with subtitles but Parasite is different," Boyet told Funfare last Tuesday when he signed on as endorser of Beautederm's Men's Line (Charcoal Soap, Pomade, Brawn Deodorant, Hugh Shaving Cream, Charcoal Mask) with the brand's head Rhea Anicoche-Tan who is an avowed Christopher de Leon fan. "I love that film."
Told about the possibility of Joon Ho getting him for a movie (who knows?), Boyet exclaimed, "That will be the day!"
Asked what's the best lesson that he learned from Brocka, Boyet said, "The highest form of art…discipline!"
At the moment, Boyet is starring in the Kapamilya series Love Thy Woman and has just wrapped his scenes (as Secretary of National Defense) in Alpha Kid, Javi Benitez's launching movie.
At 63 (turning 64 in October), Boyet has played all characters in the book (including as Geny Lopez in Eskapo with Richard Gomez as Serge Osmeña, which is about the Lopez-Osmeña great escape from the Fort Bonifacio detention center in 1977 during the Martial Law days), so what's his criteria in accepting an offer?
"None," he said. "Basta mag-e-enjoy ako sa gagawin ko, I will do it."
Same goes when accepting an endorsement (like Beautederm).
"Like Gabby (Concepcion, another Beautederm endorser)," noted Rhea, "Boyet embodies the Beautederm Macho Man. I'm glad that he readily said yes to our offer."
Boyet doesn't look his age, thanks to his healthy regimen ­— a diet of no pork (but beef is okay), no crustaceans, quarterly executive checkup and regular workout at a gym at home.
"Before a shoot," added Boyet, "I don't eat too much or not at all. Mahirap umarte with a full stomach. You feel sluggish."
Incidentally, Mariel (2017 Bb. Pilipinas-International), one of Boyet and wife Sandy Andolong's eight children (counting Ian de Leon, Boyet's son with ex-wife Nora Aunor, and Lotlot and Matet de Leon, his and Nora's adopted daughters) is making good in her modeling career in New York City. On her Instagram, Mariel, 26, reported that she walked for @skims @kimkardashian for her first fashion show in NYC. Mariel's post: I'm so proud to share this experience with beautiful women of all shapes+sizes+ages+colors. It's so amazing to see how the fashion industry here has evolved into a more inclusive and diverse one. The women who stand up for inclusivity, diversity, strength and self-love inspire me to love myself unconditionally and to be okay with the body I have. Thank you.
"I'm so proud of her," admitted Boyet. "We know that she's auditioning for something but not about her first fashion show. She's Plus Size. Bagay siya sa America where most women are Plus Size."
What you should know about Pro-Mag 300
Ricky Reyes swears by it. And so do many of my friends, lately including Lolit Solis and Ronald Constantino, who claim that, yes, after only several days, they have felt "lighter" and a sense of heightened well-being. I can say that it has improved my blood-sugar reading which has been satisfactorily normal (far below the 120 maximum beyond which you are diagnosed as pre-diabetic).
I am talking about Pro-Mag (as in Magnesium which is "an essential ion to the human body, playing an instrumental role in sustaining health and life…"). According to experts, "without magnesium, we could not produce energy, our muscles would be in a permanent state of contraction and we could not adjust the levels of cholesterols produced and released into the blood stream…"
You dissolve a tablespoon-ful of the Pro-Mag powder in a basin full of warm (warmer is better) and soak your feet (covering your ankles) 10 minutes every time (preferably before bedtime) for one week, and then 30 minutes every other day the following weeks. At least, that's how my friends and I have been doing it. It works on us and you can try it.
Aside from stabilizing blood sugar, the benefits of magnesium are: promotes better sleep, reduces inflammation, helps regulate blood pressure and in relaxation and stress management, provides healthy skin and reduces outbreaks of eczema, and helps relieve depression/anxiety (and improves moods).
According to lawyer Alfredo Villamor, exclusive distributor (since 2016) of Pro-Mag, "It has saved diabetics from gangrene, and therefore from having their legs (or arms) amputated)."
(For more updates, photos and videos, visit www.philstar.com/funfare or follow me on Instagram @therealrickylo.)