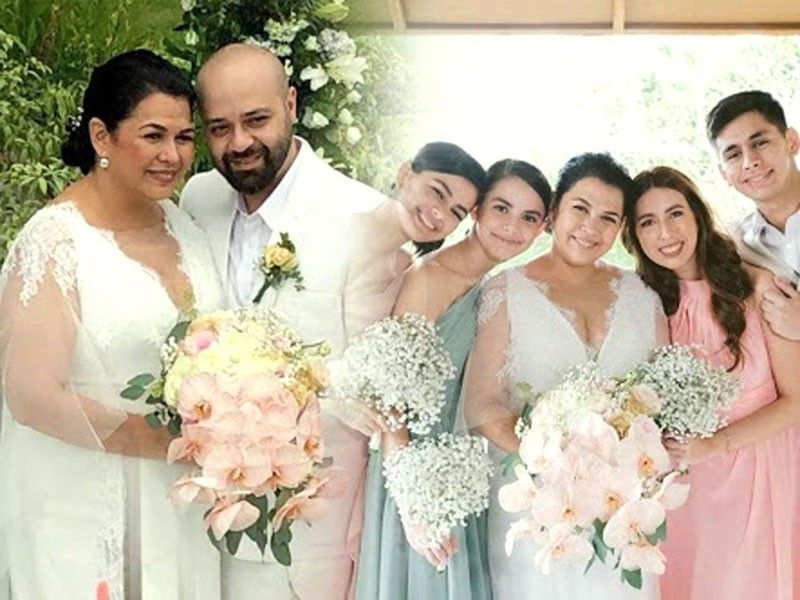 Lotlot de Leon and Fadi El-Soury during their December 2018 garden wedding in Batangas, with Lotlot's children (by ex-husband Ramon Christopher) Janine, Jessica, Maxene and Diego.
Lotlot de Leon's Instagram
More comfortable the second time you fall
FUNFARE
-
Ricky Lo
(The Philippine Star) - February 6, 2020 - 12:00am
The song aptly puts it: Love is lovelier the second time around, more comfortable the second time you fall…
It's true in the case of Lotlot de Leon and Fadi El-Soury, the Lebanese businessman she married in December 2018. She's Catholic and he, a Moslem. No conflict there.
"Sometimes, he goes to Mass with me at the Padre Pio Shrine," said Lotlot who lives in Parañaque City. "After all, even if we belong to different religions we pray to the same Supreme Being."
Lotlot, 48, and Fadi, 47, lived together for seven years before they decided to get married. During their garden wedding in Batangas, Fadi admitted (addressing Lotlot) that, although he didn't believe in love at first sight, "from the moment I met you I knew that I was going to build a life with you. You complete me. I love you with all my heart, and I'm going to spend my whole life proving to you the love that I have for you."
In a throwback interview with Funfare, Lotlot reiterated what she said in the same event about being "scared" of falling in love again and having prayed hard for God "to fix the things that I couldn't fix," thanking Fadi "for not making me feel alone when I'm sad and putting a smile on my face all the time and making sure that I am okay."
Lotlot was 17 (and pregnant) when she and Ramon Christopher (who was also barely out of his teens) got married in 1989. The marriage lasted for more than 11 years, blessed with four children (Janine, the eldest, was the one Lotlot was conceiving during the wedding; followed by Jessica, Diego and Maxene). The marriage was annulled. Fadi was divorced from his first wife (with whom he has a six-year-old child).
As a nod to Valentine's, Funfare interviewed Lotlot Monday last week when she signed a three-year management contract with Leo Dominguez.
She's busy with three big projects: On The Job (OTJ) 2, directed by Erik Matti (who also directed her in Kubot); Almost Paradise, an international movie produced by Dean Devlin (the half-Filipino producer in Hollywood); and the six-episode Beauty Queens for iWant in which she plays the lover of Gloria Diaz.
"It's my first time to play a lesbian," said Lotlot (who won Best Supporting Actress at the 2017 Houston International Film Festival for her performance in First Sem as a supportive mother of a problematic college student). "The script is beautiful. Our relationship is more on the romantic than on the physical level. Hindi malaswa."
Incidentally, Lotlot confirmed that she approves of Rayver Cruz, Janine's boyfriend.
"Mabait si Ray. He and Janine are doing good together. They are focused on their careers. Mahal nila ang isa't-isa at 'yan ang importante sa akin."
Having "been there, done that" at an early age, Lotlot is in a position to give Janine pieces of advice.
"Janine can take care of herself. She has been living independently. All I remind her is to work hard and to save. I don't mind what kind of man she marries, whether rich or poor, basta mahal siya. But I remind her to have her own money. Good thing that she has put up two businesses, a salon and a laundry service."
Sen. Grace leads guests at surprise B-day bash for Lovi
Sen. Grace Poe and son Bryan were the first to welcome Lovi Poe into the Frazzled Cook Café (on Scout Gandia, Quezon City) Monday night at the surprise birthday dinner hosted by Lovi's manager Leo Dominguez. Lovi's 29th birthday is on Feb. 11 yet.
"Oh my God!" the visibly surprised Lovi kept on saying as she greeted her other well-wishers including Joel Lamangan, Ricky Lee, Benjamin Alves, Albie Casiño, Dina Bonnevie and a group of movie writers. Also present was Tony Labrusca, Lovi's leading man in Viva Films' Hindi Tayo Puwede, but had to leave early for another appointment. Absent was Lovi's other HTP leading man Marco Gumabao.
Before blowing the candles on a huge Estrel's cake, Lovi told Funfare that she had nothing more to wish for.
"I am happy with my life," said the star of the GMA TV series Anak Ni Waray vs Anak ni Biday.
And her lovelife?
"Very happy! Yes, with Mont," referring to Montgomery Blencowe, the film producer she met in California. "Yes, he's The One!"
(E-mail reactions at rickylophilstar@gmail.com. For more updates, photos and videos, visit www.philstar.com/funfare or follow me on Instagram @therealrickylo.)